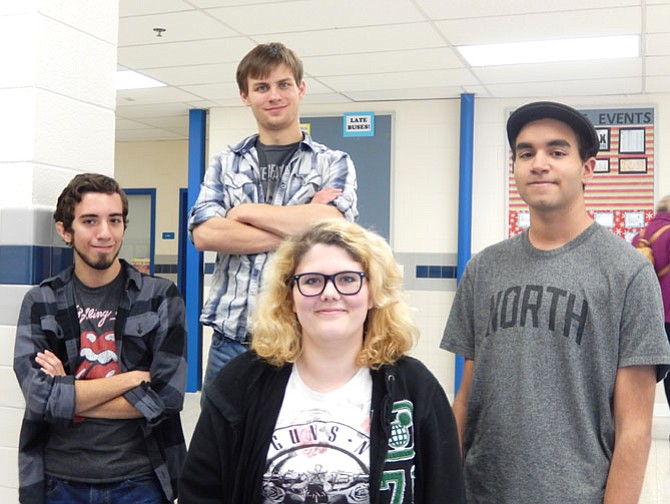 Both comedy and drama will take the stage when Fairfax High presents its student-directed, Winter One-Act Festival. The curtain rises Thursday-Friday, Jan. 8-9, at 7:30 p.m. Four plays are offered; tickets are $5 at the door.
'Opening Doors'
A mix of comedy and drama, "Opening Doors" is directed by senior Mykael Hyman. "It's about some people living in the same apartment in New York City," he said. "They each give a monologue about their personal stories and how they connect with other people; but they interrupt each other and talk over each other."
Hyman said the play's coming along well for his eight cast members. "They've all been working hard and tried to make this production their best work," he said. A first-time director, Hyman said the toughest part is "getting an image of what you want initially. But that also allows you to be more creative. You need good organizational skills but, on the whole, directing has been easier than I thought it would be."
He said the audience will especially like this play's "visual aesthetic. They'll see the side of a building with graffiti representing each character's personality traits and what they're going through. And we're using lighting to portray those concepts, as well."
'Any Body for Tea?'
Senior Allison Grainge is directing a nine-person comedy led by a student who just goes by ZJ. "He plays a homicide detective investigating a murder at a house where six, elderly women live," said Grainge. "They see him through their window every day and they're in love with him. So they kill one of the six to get him to come over."
"It's such an absurd concept that it's really funny," she continued. "And everyone in the cast is so talented; I've really enjoyed working with them."
Grainge said directing taught her the importance of good communication with a show's management team. She also much prefers directing to acting. "I'm a perfectionist and I like being able to change stuff and be in control," she explained.
The hardest part, she said, is "realizing that everything can't be as you first imagined it. Things change and, usually, it's for the better."
'Tracks'
Directing a drama called "Tracks" is senior John Vazquez. "Eleven people find themselves together in a subway station – and none of them are exactly sure how they got there," he said. "They're all from different places and they have to figure out where the next train is going."
This show features an ensemble cast and, said Vazquez, "It's surprising to see how fast these actors have come into their characters, and they're really talented." A first-time director, he's discovered he likes doing it.
"In acting, you're just concerned about your own part," he said. "But as a director, you control the entirety of the show and get to project your vision on all of it. And by the end, you get to see the big picture and what you've created." However, he added, "The toughest thing is learning to be the leadership figure with people you know so well and commanding their respect."
As for the audience, said Vazquez, "They'll like the twist this story takes and the message behind it – how your past actions affect your future."
'First Lady Suite'
Senior Doug Klain is directing the musical drama, "First Lady Suite." It's taken from a full play with various vignettes about four American first ladies. This one focuses on Jackie Kennedy aboard Air Force One while she and her husband, President John F. Kennedy, are en route to Dallas on the day he's assassinated.
"I think people will like it because it's about such a pivotal, defining moment of the 20th century, and we take an interesting look at it," said Klain. "That's one of the reasons I picked this show."
There's a cast of five, with junior Abigail Johnson portraying the lead character, Jackie's secretary. "She's excited to be going to Dallas and riding in the motorcade," said Klain. "But during the flight, she falls asleep and has a premonition of something bad happening there. So people will see this historic event told from a different point of view than normally."
Regarding his actors, he said, "It never ceases to amaze me how professional they are, considering they're high-school seniors. They're doing in two weeks what professionals take two months to do. And I selected my cast members because I knew they could do an astounding job."
Klain also enjoyed directing. "The toughest part is the stress," he said. "As an actor, you worry about yourself and getting your scene right. But as a director, you worry about everyone and everything. But when I see the actors doing fantastic work – and I get chills seeing it – then I'm so proud of them. And if I feel that way, knowing the script so well, I think the audience will feel that way tenfold."