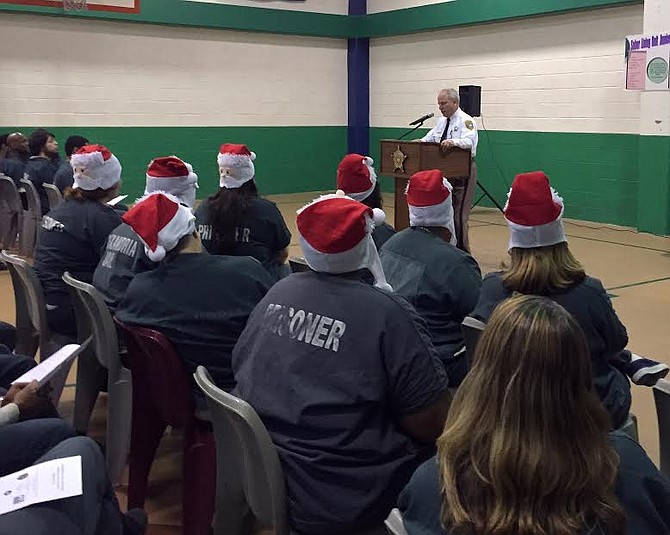 Alexandria — A recurring theme of loss and hope for recovery weaved through the songs, poems, and presentations at the Sober Living Unit's 26th anniversary. Inmates and alumni of the program shared their stories of addiction and the long road to recovery.
The unit, a department of the Alexandria Detention Center, specializes in treating inmates dealing with substance abuse problems. The inmates of the the unit performed a series of sketches, songs, and poems expressing the difficulty of staying clean. One poem, written and read by an inmate in the women's unit, described the loss of her family and her self-respect as she fell deeper into addiction.
Members of the Sheriff's department expressed their pride in the recovery the inmates have made.
"In times of fiscal belt tightening, and with many discussions of what to keep and what to cut, this program has endured," said Jon Teumer, mental health supervisor at the Sober Living Unit. "I think that alone shows the value of this program."
"You've made a decision that you're going to try to do something about your situation," said Sheriff Dana Lawhorne to the inmates. "The fact that you're willing to make a difference, and how important that is for your family...is commendable."
Lawhorne shared a story of a young man applying to work in the Sheriff's Department whom he had interviewed earlier that day. The man revealed that he was inspired by his parents, who had both been in jail and had dealt with substance abuse issues. When Lawhorne asked the applicant how he'd overcome a childhood in a household with drug abuse, the man replied that he'd seen what drugs did to a person and didn't want that in his life as an adult. But with both of his parents recovered, Lawhorne said the young man reported that he'd begun having a healthy and positive relationship with them.
"The doors don't have to be closed to your relationships and your family," said Lawhorne.
A few graduates of the program returned as guest speakers and shared their experiences both in the facility and after graduating. Walston Barbour graduated from the program in 1992 after years of addiction. While on probation, he'd gotten high with a woman he was living with and immediately regretted it. He failed his drug test the next day and appeared back in court where he was sent back into jail.
"I was 41, I had used for as long as some of them had been in the world," said Barbour. "I had children their age. It started to dawn on me that I needed to do something with my life or I was going to die. I had been caught up in the disease of addiction for 25 years by then. I wanted to stop but couldn't stop."
Even in the Sober Living Unit, Barbour said he was in denial of his addiction, until one day he struck up a conversation with a man he met in the program who told him: "You're no father, you're a doper."
"I know what pain is, but that was an emotional shock," said Barbour. "He had just replaced a thing that needed to be touched. I was a scared little boy, I wasn't right with myself. It was always a spiritual warfare. I was a kid with real low self-esteem that grew up into an ego-maniac. I was a walking contradiction, a ball of confusion."
After that, Barbour says he opened up to healing. A major part of the program is giving the addicts a chance to tell their story, which Barbour said surprised him as one of the hardest parts of the program.
"I had never grieved my father's death," said Barbour. "I had anesthetized myself to everything. I couldn't be cool, and when I started breaking down, someone in the back said, 'Son, it's all right. Free yourself.'"
After 23 years of addiction, Barbour completed the program and left prison for the last time as an inmate. He started to speak again, but struggled with the words for a moment and wiped away a tear. The room was filled with calls from the inmates and guests of "it's all right" and "free yourself".
"I don't take any credit," said Barbour. "There's a part of m e… that still wants to use. The disease doesn't go anywhere, but I've bought myself enough time that there seems to be just enough soul to keep doing this."
Barbour went back to school when he was 50, got his master's degree, and is currently a licensed therapist, but says he's still haunted by his old addictions.
"I can't explain to you the miracles that have occurred to me in my life as a result of just not using," said Barbour, including reconnecting with a daughter he abandoned when she was young, "but I'm not going to be able to stay stopped if I keep going around Queen Street or if I keep going around 14th Street. So I implore you, give yourself a chance. If you're here, it isn't by coincidence. We don't get here because we're doing swell. Nothing's changed out there. There's two truths: what got you here is still out there, and there's a way out. The way out is to get with people, find a foundation, of folks trying to do what you want to do. Find something you're passionate about, something you could do with no pay."
After the ceremony, inmates and guests mingled and shared their experiences with addiction and life. Renee Jones, an inmate currently living in the unit, said that she needed to get clean for her children, her family, and for herself.
"I needed a better way of life," said Jones, "I found that at the sober living unit here. They're teaching us really great things; how to deal with our feelings and our emotions, how to put things into perspective."
Tiwana Brown has been clean since 1989, but the 53-year-old woman was incarcerated for selling drugs years after she stopped taking them.
"I was feeding my addiction because I was hanging around people who were still using," said Brown, whose preparing to leave the facility and return home in two weeks. "I got a thrill off of that, from what I used to do. I don't want to sell drugs any more. I will lose the rest of my life because I will not see the outside again. I was a PCP user and a cocaine user, I don't want to do that anymore. I'm tired, and I don't like living in jail."
Brandon Wilson, who entered the unit on a court order and initially fought against treatment, was the master of ceremonies during the presentation and shook his head at those earlier memories.
"I hated it down here at first, but as I went through the program and progressed, I learned responsibility," said Wilson. "I accepted it. It's a hard unit to stay in. You don't get to do everything you want to do. You have to go to three groups a day; there are a lot of responsibilities. But the best part is my recovery, and it's worth it."
William Anderson came to the program willingly but said it was still a difficult transition from life even in other parts of the prison.
"I came into the sober living because I wanted a change, so I came down and got in," said Anderson. "Hardest part is the structure, but in order to change I need that structure in my life. I didn't want it at first, I have this pride, but then I saw these young guys and I realized 'these young guys need my help.'"
Anderson said that listening to the speakers at the presentation gave him more perspective on his time at the unit and inspired him to apply his skills as an ironworker once he leaves the program.
"I realized that I want what they've got," said Anderson. "I want that living, I want that job. I've got the skills, I just need to prove to myself that I can stay away from drugs and alcohol."
For many of the inmates in the program, recovery inside the facility is just training for what they'll experience once they return to their homes and neighborhoods. One of the sketches performed by the men of the unit highlighted how easy it is to get drawn back into substance abuse by returning to the places where their addictions began. Barbour encouraged the inmates to find a life and to surround themselves with healthy friendships, but acknowledged that the process is difficult and never ends.
"[Recovery] helped me become a man, and I'm still struggling with that," said Barbour. "The road to recovery is always under construction."