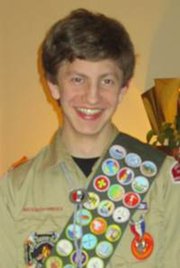 Ben Wengert of Troop 111, sponsored by St. Agnes in Arlington, was awarded the rank of Eagle Scout in a ceremony in Arlington on Jan. 12.
Ben has been active in scouting since he joined Cub Scouts as a first-grader. He has participated in numerous service projects, his favorites being Scouting for Food and assisting with the Marine Corps Marathon.
One of Ben's most challenging projects was, as a 10th-grader, planning a camping trip for more than 30 campers with the aim to teach younger scouts basic camping skills. "How on Earth am I supposed to get all these little kids to listen and focus on what they're supposed to be doing?" said Wengert, upon his return home from the trip.
His Eagle service project was to build and install six bat houses at Potomac Overlook Park in Arlington to help the bat population which has been decimated by "white nose" syndrome.
Ben joins four family members who have earned the highest levels in scouting: Grandfather Gene Wengert and Uncle Stewart Hart both earned Eagle and Great-Aunt Ida Timpson and mother Denise Hart both earned the Girl Scout Gold Award.
Ben is a graduate of Washington-Lee High School and is now studying physics and engineering at Virginia Tech.