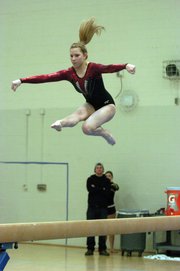 The final results surprised Herndon's Alexa Bradley. She had a strong effort on bars and gave an adequate performance on vault, but from an all-around standpoint, the freshman gymnast knew she could have done better.
While she had reason to doubt, Bradley's performance at the Conference 5 meet on Feb. 6 at Centreville High School proved strong enough to earn her an all-around berth in the regional meet.
Bradley tied for third in the all-around, totaling a score of 34.5. The top four all-around competitors advance to regionals, along with any other gymnast who produces a score of 35 or better.
Bradley placed second on vault (9.05) and bars (8.825), fifth on floor (8.575) and 15th on beam (8.05). The top eight in each event secure a regional berth, along with any other gymnast who scores a 9 or better.
"I was really surprised that I made it for the all-around," Bradley said. … "I knew I was going to make it to some events, but top four for all-around is really surprising because I didn't do my best."
Herndon sophomore Shannon Kelly will join Bradley at the 6A North region meet on Feb. 12 at Lake Braddock. Kelly qualified on floor with a fourth-place finish (8.725) and on vault, tying for fifth (8.7).
Westfield senior Katie Freix won the all-around with a score of 36.925. She placed first on floor (9.525), vault (9.5) and bars (9.1), and finished in a fifth-place tie on beam (8.8).
"I had probably close to my best performance," Freix said, "except for beam."
Robinson freshman Caroline Burda finished second in the all-around (34.9) and Rams senior Sarah Gross tied for third (34.5).
In the team competition, Oakton entered the Conference 5 meet with the smallest roster of the six competing schools. The Cougars performed well in multiple events, but failed to have an individual advance to regionals in the all-around.
None of it stopped Oakton from advancing as a team.
"I was really surprised that I made it for the all-around. … I knew I was going to make it to some events, but top four for all-around is really surprising because I didn't do my best."

--- Herndon freshman Alexa Bradley
The Cougars finished runner-up, securing one of two team region berths. Oakton had the top score on bars and had the second-best score on beam.
"We feel that's where we differ from a lot of teams, especially being the smallest squad in our conference," Oakton coach Frankie Orbacz wrote in an email. "Everyone has a ton of talent and everyone contributed equally to our fantastic team score. Most other teams have a few standouts that lead the team and sweep the medals, but we really have so much talent in every girl. We are very well-rounded. Standings-wise, four of our eight girls medaled and placed, which means half of our team would have advanced to regions if we hadn't made it as a team. We were so impressed! That's a pretty fantastic showing."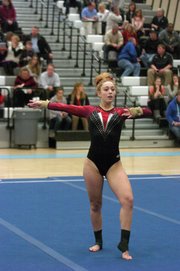 Sophomore Natalie Weaver was Oakton's top individual performer. She placed fifth in the all-around with a score of 34.475, including a second-place tie on beam (9), a fourth-place finish on bars (8.55) and an eight-place tie on floor (8.375).
"Natalie, as always, pulled of a near-flawless night," Orbacz wrote. "We felt she was underscored on floor but regardless of that, she was still successful. She was one rank away from placing in all-around. With the talent that was there, that is a huge accomplishment. Our conference is very close and has many great high-level gymnasts, and we feel that Natalie is right up in the mix with them, despite placing fifth."
Oakton sophomore Amanda Gore tied for fifth on vault (8.7) and freshman Stephanie Weir finished fifth on bars (8.5). Junior Nathalia Rojas tied for fifth on beam (8.8).
Robinson won the team championship with a score of 135.4. Oakton finished second with a score of 132.575, followed by Westfield (130.575), Chantilly (129.65), Herndon (122.45) and Centreville (105.375).
"They definitely performed very well today," Robinson head coach Charlotte Edwards said. "They were more consistent than they normally are. … We're definitely peaking at the right time."
It was Robinson's second conference/district title in the last three years (2012).
More like this story