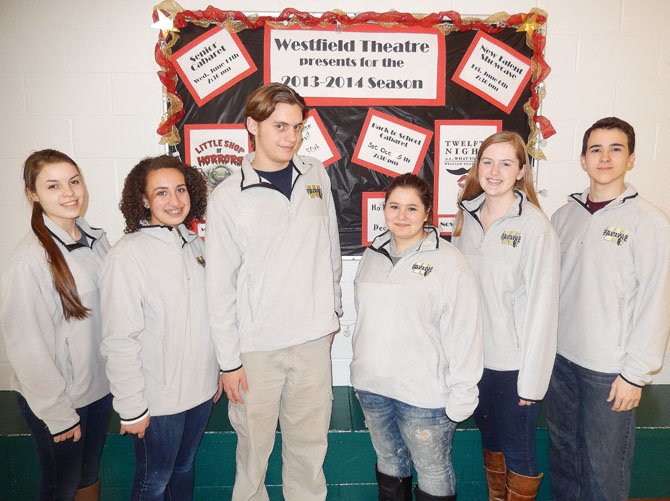 Comedy, drama and even a full-length musical are all part of Westfield High's Winter One-Act Play Festival. The curtain rises this Thursday-Saturday, Feb. 13-15, at 7 p.m., in the school theater.
Tickets are $10 for one night, $18 for any two nights or $25 for all three nights. Go to www.westfieldtheatreboosters.com. Here's what's on tap:
Thursday, Feb. 13: "The Dance" and "Jared"

Friday, Feb. 14: "13 Ways to Screw up Your College Interview" and "Suddenly Last Summer"

Saturday, Feb. 15: "The Two-Character Play" and "The 25th Annual Putnam County Spelling Bee."
'The Dance'
Sophomore Catherine Crossett is directing "The Dance;" classmate Gabby Moses is assistant director. A comedy about a high-school Valentine's Day dance, love and how things can change, it's an ensemble piece with 16 characters.
"There's the popular clique, the awkward couple and the boy-crazy girls," said Moses. The entire Theater II class chipped in story ideas and she wrote the script, which Crossett describes as "witty and heartwarming."
"It's realistic and people will be able to relate to it," said Moses. "These are things that actually do happen in high school."
Having a good time directing, Crossett said, "It's a new experience for me and it's fun. Instead of being an actor, it gives me a new perspective. And it's hard establishing a professional relationship with your peers. But seeing your ideas be put into action onstage is a really cool feeling. And it's interesting being the one giving the directions, instead of receiving them.
'Jared'
Westfield Theater Director Shannon Lynch is guiding "Jared" with help from Assistant Director Morgan Perigard, a sophomore. Featuring a cast of about 12, it focuses on three teens — portrayed by Misha Mullany, Jason Lucas and Keegan Garant — and a therapist, played by Perigard.
"The teenagers recently lost a friend to suicide and, by talking about it, they take the audience through their own, personal stories about depression," said Perigard. "It's a drama but, at the end, it gives people hope for the future."
She said it's relatable because "suicide and depression are tough to talk about in high school, but we handle it well. And I think everyone has had something in their lives that's hard to deal with, such as problems with parents, school or friends."
In addition, Westfield took third place in the Jan. 30 VHSL theater competition at Hendon High with this play. "There's a strong ensemble, and we also incorporated aspects of physical theater into it," said Perigard. "I helped do that and did the costumes, too." Regarding directing, she said, "I learned that you have to go with your instincts and do what the director thinks is best."
'College Interview'

A comedy, "13 Ways to Screw up Your College Interview" is directed by senior Colin Edner. "It's about two interviewers who need to get one more student to enroll in their college or they're fired," he said. "The dean still blames them for accepting the pyromaniac who burned down the science center."
There's a cast of about 13 and some roles are double-cast. Playing the interviewers are Selena Clyne-Galindo and Andrew Brockmeyer. Said Edner: "It's funny, fast-paced and farcical, so the audience will really enjoy watching it."
Calling directing challenging, he said, "At first, I had a hard time speaking out for what I wanted and explaining it to the actors. And directors have to keep track of every, single second of the play and how it's going to appear onstage."
'Suddenly Last Summer'
A drama by playwright Tennessee Williams, "Suddenly Last Summer" is directed by senior Hanna Soudah. "It's about a girl in her mid-20s, Catherine, who's been put into a mental asylum by her aunt," she said. "The aunt blames Catherine for her son's death while they were in a foreign country together."
There are seven people in the cast. Elizabeth Coo portrays Catherine; Jake Ehrlich, a doctor at the asylum; and Estella Massey, the aunt. "It's different from the other plays because of the dark subject matter and because the way Catherine describes her cousin's death isn't something anyone would believe," said Soudah. "I think the audience will like this play's oddity and its surprise twist."
Besides that, she added, "My cast is amazing. For example, Stephen Cox joined, the last minute, and picked up his character immediately."
As for directing, Soudah said, "I've absolutely loved it. We're all really good friends, which helps with the process. And they understand what I mean when I say, 'I need you to do this,' which is fabulous. I also learned that directors have to be patient with people. I love acting, but I'd definitely try my hand at directing again."
'Two-Character Play'
Senior Julian Sanchez is directing Tennessee Williams's "The Two-Character Play," part comedy and part drama. "It's about a brother-and-sister acting duo abandoned in a theater by their acting troupe," said Sanchez. "So, left with an expectant audience, they decide to do an original play of their own, 'The Two-Character Play.'"
Portraying the duo are Brandon Sanchez as Felice and Olivia Witt as Claire. "Over the course of the play, reality and fiction start to blur," said Julian Sanchez. "So you never really know what's the truth and what's fiction onstage."
He said directing this show made him empathize with "the director's plight. You need to elicit the performance you want from your actors without telling them exactly what to do. You walk a fine line so their performance is both natural and structured. I've enjoyed it so much; I like working closely with my friends and exploring vulnerable places with people I trust."
As for this play, Sanchez said, "I think the audience will enjoy it because it's not a traditional, Williams piece with Southern accents and set in New Orleans. Ours is set in a nonspecific place with high drama."
'Spelling Bee'
"The 25th Annual Putnam County Spelling Bee" is directed by senior Zack Walsh. "It's a musical and, unlike the other one-acts, we're doing the full, 90-minute show," he said. "It takes place in a school, and some spellers are scripted characters, but others are improvised by people we pull from the audience."
The play has a cast of nine and, during the course of the story, the audience learns about each character's life. "We're having so much fun with it," said Walsh. "The script is excellent and it's one of the funniest shows I've ever seen, but with a heart to it. The songs are entertaining and the improv makes it a constantly changing show."
He's also enjoyed directing. "I've never directed anything this long, or a musical, so it's different and new," he said. "And directing my friends is fun. I learned how much of the show is the director's responsibility and how much effort and time goes into it. I understand better some of the directions that were given to me as an actor, and I think I'll be a better actor now because I was a director."
Walsh noted that this play is "PG-13" because "it's fairly edgy in some of the language and subject matter," and he said the audience should really like it. "My cast is fantastic," said Walsh. "They're hysterically funny and excellent dramatic actors, as well. And they're completely committed to this play; it's really coming together and I couldn't be prouder."