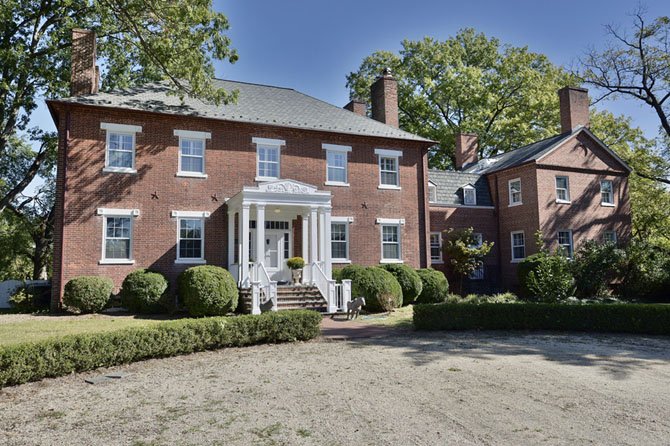 Petition Halts Plan for Cornwell Farm Development
"It's really heartening to see how much passion there is from people who have lived in Great Falls from all over the world."
— Dr. Jonathon Merril, president, Cornwell Farm Homeowners Association
An outpouring of opposition from the Greats Falls community quickly halted a developer's application to purchase and re-zone the historic Cornwell Farm Property on Monday, Feb. 3.

Clark Realty had proposed building 39 senior living residences on 20 acres of land on and around the property. But in a matter of days, more than 700 community residents signed an online petition, titled "Oppose Zoning and Cluster Development of historic Cornwell Farm Property," and the developer withdrew its application the following week.

"It's really heartening to see how much passion there is from people who have lived in Great Falls from all over the world," said Dr. Jonathon Merril, president of the Cornwell Farm Homeowners Association. The homeowners association represents the interests of Great Falls residents whose homes border Cornwell Farm, a 13.1-acre property listed on the National Registry of Historic Places since 1977.
Chief among petitioners' reasons for opposing the development proposal were the contrary notion of higher-density housing for the largely rural community, potential congestion on nearby Georgetown Pike, and detrimental environment effects to Potomac Watershed areas. In addition to Georgetown Pike's designated status as a historic byway — meaning it cannot be widened — Great Falls relies on well water as a community. Petitioners said that their land and water supplies would be put at risk by this type of higher-density development.
When Clark Realty submitted their application for development of the property to Fairfax County, Supervisor John Foust (D-Dranesville) replied that it would be a very controversial plan to run by community residents. "Our approach is that when someone comes in with an application like this, we send them out to the surrounding community to get feedback," said Foust.
Shortly after Clark Realty began seeking community feedback, Foust said he received a number of emails from concerned residents and saw the petition signatures grow by the hundreds over several days. The supervisor's office received an email a few days later from a Clark Realty attorney saying that they decided to withdraw and discontinue their application in favor of exploring alternate sites.
Despite the withdrawal of its development application, Clark Realty is still looking for potential locations to build housing for seniors in Great Falls.
Robert Lundegard, a Great Falls resident and alternative housing proponent, said that there is an unmet need for alternate housing for the community's senior population. "The problem is the absence of solid documentation on the need," said Lundegard. "Neighbors and homeowners will always resist higher density construction next door. In the absence of democratic procedures or solid professional surveys of the 5,000 homes in Great Falls we do not know what the larger community wants."
The Great Falls Senior Center, established in 2012, could serve as a voice for advocates of alternate housing for seniors in Great Falls, according to Lundegard.
While support for alternative housing options remains unmeasured, Clark Realty will continue to explore other locations for its development plans. Cornwell Farm, however, has been ruled out of the equation.
"People want to enjoy horse riding land, arts, and nature. That type of development would have been a fundamental change in the character of the community," said Merril.