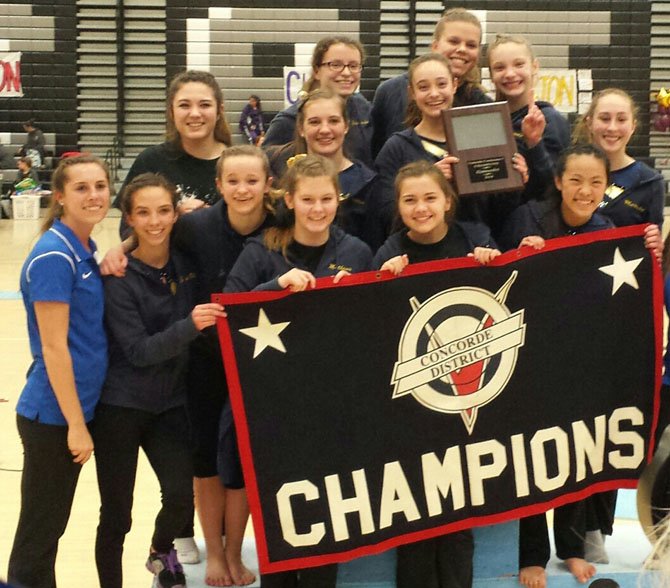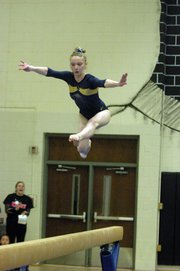 A talented freshman and a senior in her final conference meet helped the Robinson gymnastics team capture its second championship in three seasons.
Caroline Burda placed second in the all-around and Sarah Gross tied for third, leading Robinson to the Conference 5 gymnastics title on Feb. 6 at Centreville High School. The Rams won, or tied for first, in each of the four events and produced a total score of 135.4. Oakton finished second with a score of 132.575, followed by Westfield (130.575), Chantilly (129.65), Herndon (122.45) and Centreville (105.375). The top two teams, Robinson and Oakton, qualified for the 6A North region meet.
Robinson won the Concorde District championship in 2012. The six schools became Conference 5 after the VHSL's six-class realignment prior to the 2013-14 school year.
"They definitely performed very well today," first-year Robinson head coach Charlotte Edwards said. "They were more consistent than they normally are. … They're definitely peaking at the right time. Our first couple meets weren't that successful."
Burda, a freshman, placed second in the all-around with a score of 34.9. She finished first on beam (9.15), third on bars (8.625), fourth on vault (8.75) and tied for eighth on floor (8.375).
"She is only a freshman and she did a great job," Edwards said, "but there's definitely some things we're going to work on before regionals, so when we look at their score sheets we'll see if we can make some more adjustments so she can get a couple more points on some event."
Burda said beam was her best event. She was one of just three gymnasts to score a 9 or better.
"I thought that I did the best I could and I'm really proud of myself," Burda said. "This has been my best meet so far this season."
Robinson's Sarah Gross, a senior, tied with Herndon's Alexa Bradley for third in the all-around with a score of 34.5. Gross placed third on floor (9) and vault (8.85), tied for fifth on beam (8.8) and finished 11th on bars (8).
"She performed very well," Edwards said. "Even on her [least]-favorite event, balance beam, she had a solid routine, so that was very exciting and I think that made a big difference in her all-around score."
"It's amazing. We've worked so hard this season. It's just great to have it all come together."

--- Robinson freshman Caroline Burda
Robinson freshman Emily Gross placed third on vault (8.85) and tied for sixth on floor (8.4). Junior Bailey Young tied for second on beam with a score of 9.
The top eight individuals and any other gymnasts who scored at least a 9 qualified for regionals in each event. In the all-around, the top four finishers and any other gymnasts with a score of 35 or better earned a regional berth. Westfield senior Katie Freix repeated as all-around champion with a score of 36.925. She placed first on floor (9.525), vault (9.5) and bars (9.1), and tied for fifth on beam (8.8).
"I had probably close to my best performances on all my events, except for beam," Freix said. "… I definitely had my best bar routine. I've been having trouble hitting bars recently, so it was really cool to actually hit the bar routine."
Oakton advanced to regionals with a runner-up team finish despite having the smallest roster in the conference with just eight healthy competitors.
"We feel that's where we differ from a lot of teams, especially being the smallest squad in our conference," Oakton head coach Frankie Orbacz wrote in an email. "Everyone has a ton of talent and everyone contributed equally to our fantastic team score. Most other teams have a few standouts that lead the team and sweep the medals, but we really have so much talent in every girl. We are very well-rounded. Standings-wise, four of our eight girls medaled and placed, which means half of our team would have advanced to regions if we hadn't made it as a team. We were so impressed! That's a pretty fantastic showing."
The 6A North region meet was scheduled for Wednesday, Feb. 12, but was postponed due to the threat of inclement weather. The state meet is scheduled for Feb. 21-22 at Salem High School in Virginia Beach.
"It's amazing," Burda said of winning the Conference 5 championship. "We've worked so hard this season. It's just great to have it all come together."