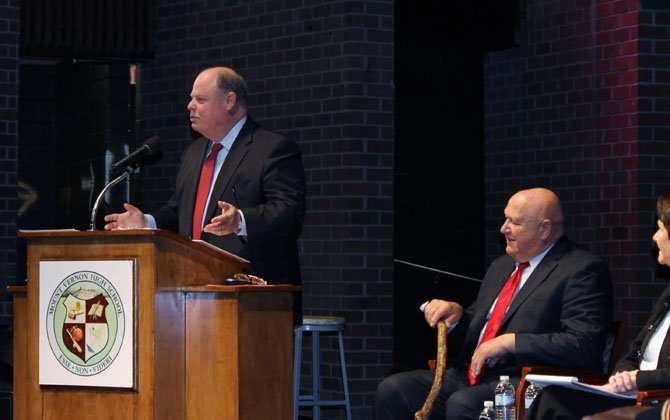 Mental health reform, women's health, health care and transportation were major topics at the Southern Fairfax Town Hall Meeting held in Kingstowne on Feb. 1.
State senators George Barker (D-39), Toddy Puller (D-36) and Adam Ebbin (D-30) joined Del. Mark Sickles (D-43) and Supervisor Jeffrey McKay (D-Lee) at the town hall. Sickles announced on Jan. 27 that he would be running for Congress in the 8th District for Congressman Jim Moran's seat.
On Jan. 30, Ebbin officially announced he would run for the seat as well.
The officials addressed questions relating to mental health reform and transportation, including where exactly funding will be allocated in Fairfax County from last year's General Assembly Bill.
Barker is the sponsor of a bill that passed the Virginia Senate Friday that establishes minimum and maximum holding periods for individuals under psychiatric evaluation. The bill (SB 115) passed unanimously.
Down the road in the Mount Vernon District, Board of Supervisors Chairman Sharon Bulova addressed attendees of the 27th annual Mount Vernon Town Hall.
Bulova recapped her January State of the County address, and spoke about the upcoming advertised budget which will be released at the end of February.
"The budget is a moral document," Bulova said.
Bulova also spoke about the Lorton Workhouse Arts Center situation. The Board of Supervisors voted in January to provide $30 million to Wells Fargo Bank to cancel the Lorton Arts Foundation's debt, and the county will now appoint a new board to oversee the center.
According to Bulova, restricting the Lorton Workhouse Arts Center was the best decision, and the Workhouse will continue to provide revitalization for the area.
"It's a wonderful facility," Bulova said.
County executive Ed Long also spoke at the Mount Vernon Town Hall about the economic challenges facing the county.
Long said that there is a lot of revitalization going on in Fairfax County, and he is cautiously optimistic that investment will be reflected in FY 17.
According to Long, county and school facilities cannot be ignored, and future funding for schools will be considered.
"What we put into the budget is sustainable," Long said.
On April 8, Fairfax County will host a public hearing on the advertised budget.