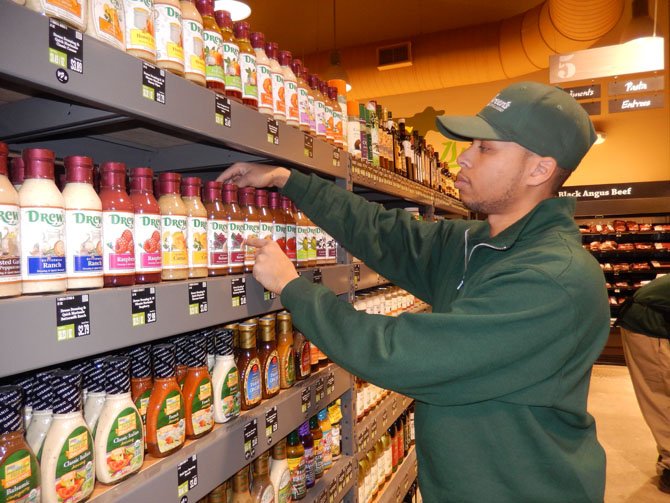 A new grocery store, aimed at customers interested in buying natural and organic foods, has opened for business in Fair Lakes. It's called Mrs. Green's Natural Market and it's sandwiched between DSW Shoe Warehouse and World Market in the Fair Lakes Shopping Center.
It offers 100-percent organic produce, all-natural meats and dairy, artisanal baked goods, supplements, beauty-care, household, pet and baby products. And Regional Director Rick Hoffman believes it can hold its own against the nearby Whole Foods, as well as other grocery stores.
"We feel like we can bring a unique store to this area," he said. "We're not like a conventional grocery store – all our products are either all-natural or organic. So people can feel comfortable shopping here and not have to worry about pesticides, hormones, dyes or GMO items."
THE 20,000-SQUARE-FOOT STORE opened to the public Jan. 24 and is the first Mrs. Green's in Virginia and the Washington Metropolitan area. It's a subsidiary of the New York-based Natural Markets Food Group, which operates more than 30 food-related businesses in the U.S. and Canada.
"We're very excited to bring the first Mrs. Green's Natural Market to the Washington area, and we're especially happy to make the wonderful community of Fairfax our first address here," said company CEO Robin S. Michel. "The desire among consumers to eat healthier food has become an important trend across the country."
"We source with local-area producers and farmers as much as possible," continued Michel. "And we hope residents will visit [our store] to experience for themselves what makes us unique and a place to explore and discover new, healthier foods and living."
Hoffman said several factors figured into the decision to locate here, including the large population and the availability of a site that was the right size. (It was formerly a furniture store and, when it closed, World Market took one half and Mrs. Green's moved into the other). And, added Hoffman, "We knew we could complement this shopping center."
The new store is open daily from 8 a.m.-9 p.m. and has more than 100 employees, almost all from the local community. Hoffman says Mrs. Green's is competitive in prices for its natural and organic items, and he's proud of all the store's offerings.
"Our produce and salad bar are all organic," he said. "Other stores, for example, won't have organic strawberries and grapes, but that's all we'll have. We have close to 300 organic items in our produce department now – which is a tough time of year – and we'll have even more in the summertime."
Customers may purchase sustainable seafood and all-natural, grass-fed, Black Angus beef that's hormone and antibiotic free. And products in the all-natural bakery are made with no dyes or artificial preservatives.
"Most of it is locally made to fit our recipes," said Hoffman. "We even have a vegan chocolate cake and Cosmic Cookies high in protein and fiber and made with natural sugars. There are also lots of gluten-free, soy-free or nut-free items." The deli section also offers foods, including a variety of tamales and Chicken Tikka paninis.
Thirsty? Inside Mrs. Green's is a beverage bar featuring Fair Trade, organic and locally produced coffee, plus smoothies, tea, fresh-squeezed juice, hot chocolate and even wheatgrass drinks. There's also a large, prepared-foods section where customers may buy breakfast, lunch and dinner.
"Every day, we'll have a special item on sale at a hot price," said Hoffman. "For example, we'll have Muffin Monday or Salad Bar Wednesday. Or our signature, 9-ounce meat sandwich – made with turkey, pastrami, beef or ham – that's normally $9.99 will be $5."
In addition, two registered dieticians are there every day. One can answer customers' questions and suggest foods to, for example, lower cholesterol or provide less sodium. And the other, also a yoga instructor, will teach yoga classes in the store's back room.
"We also have a massage therapist who'll give 10-minute massages for $10," said Hoffman. "And we'll hold cooking classes for particular, dietary needs in our community room."
Besides promoting healthy and green products, Mrs. Green's is also pleased to help out its new community. Shortly after its Jan. 23 ribbon-cutting ceremony, it donated more than $2,500 each to Life with Cancer and Food for Others.
"We're excited to be part of this shopping center," said Hoffman. "Lots of people come here, and our store manager hand-selected the team [of employees]. He's very proud of them and wants this to be the friendliest store in town."
SO WHAT DO THE CUSTOMERS THINK? "We're trying to eat more organic food, so it looks like a nice place to shop," said Erin Chubb of Little Rocky Run. "And the bakery looks good."
Fred Polasky of Fair Ridge wondered if Mrs. Green's would survive "because there are so many stores around here, and Whole Foods is nearby." But he did purchase a loaf of whole wheat bread.
Centreville's Diana Davila was there Jan. 29 to "pick up something for dinner." She liked the way the fruits and vegetables looked and said the avocados looked "really big and healthy. And the prices seem comparable to other grocery stores."
Dawn Beatty works at GMU so, she said, "I hear about what's trendy to eat from the young people there." Last week, she was buying maple-raisin-flax instant oatmeal plus coffee roasted in Floyd, Va., to send to her daughter at college.
For herself, she bought organic spinach and spring-mix lettuces. "It's like Whole Foods and Trader Joe's, but I'll be back because they have some good sales," said Beatty. "It's a big store and I like the idea that you can eat here, too, in their café."