F. William Bauers Jr. was just 18 years old when he joined the Texas National Guard with plans of getting an appointment to West Point. But he was called to active duty less than a year later, qualified for Officer's Training School and went on to get his pilot's wings before ending up in Europe in January of 1944 flying B-26 Marauders.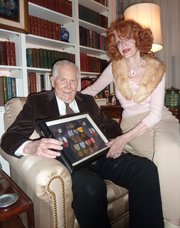 "It was exhilarating to be a pilot back then, to be in Europe and to be part of a force fighting against what we perceived as the enemy," Bauers would recall of his service during World War II. "The war created a sense of urgency because we never knew when we said goodbye if it would be our last time."
Bauers flew 68 combat missions before transferring to Reims, France, where he planned and executed combat missions until the end of the war. Upon his return to the U.S., Bauers received his Air Force Commission and was assigned to the headquarters at the Pentagon.
"Returning from World War II was different from the military engagements that the U.S. has subsequently become involved in," Bauers said in a 2013 interview with the Alexandria Gazette Packet. "Our country had been attacked, we had a common enemy and the pubic supported the U.S involvement and the military forces."
Born to an Army family in San Antonio, Texas, Bauers served in the U.S. Army and U.S. Air Force during WW II. His awards included the Distinguished Flying Cross and the Air Medal with 11 oak leaf clusters; he was Assistant Air Attaché to Pakistan prior to retiring as a lieutenant colonel.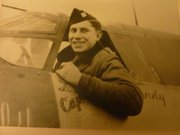 He became a partner in Robert C. Hills Associates in New York City and returned to Washington to join A. G. Van Metre Associates; he joined Panorama International as vice president and general manager of international real estate and later became vice president of Begg International in resort residential and commercial real estate. He founded Edgewood Publishing Company and authored "Where There's a Will … a Guide for the Executor or Administrator of an Estate," "Memoirs of a Marauder Pilot" and "Gaining and Maintaining Wealth."
Bauers was a graduate of The George Washington University, BA, MBA, the Air Force Command and Staff School and the Strategic Intelligence School. He was a member of the Georgetown Club, Army & Navy Club and the Army Navy Country Club. He served on the vestry of Christ Church, was past-president of the Rotary Club of Crystal City, a member of the Military Order of the World Wars and a Knight in Justice of the Order of St. John.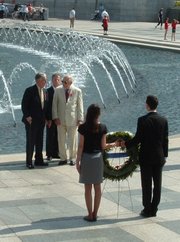 In 2011, he was awarded Knighthood in the French Legion of Honor for his service to France during World War II. It is the highest honor bestowed by the government of France.
"I was very surprised," said Bauers, who received the award on the anniversary of the D-Day invasion during a ceremony at the WWII Memorial in Washington. "There were only three of us honored and I'm very humbled and grateful to the French government."
Bauers is survived by his wife of 63 years, Joanne Turney Bauers, two daughters, Christine Loran Hills (Gary), and Joni L. Currier (David), and two granddaughters, Alyson and Amber Hills-Martin.
"I know just how lucky I was to survive without any serious injury," Bauers said on Veterans Day in recalling the many friends he lost in combat during the waning months of the war. "But seeing the death of a number of my friends has affected me strongly to this day. Unfortunately, I don't think people today give Veterans Day much attention. But the men and women who have defended our country deserve a lot of credit, or at the very least, our nation's respect."
Burial will take place at Arlington National Cemetery at a future date.