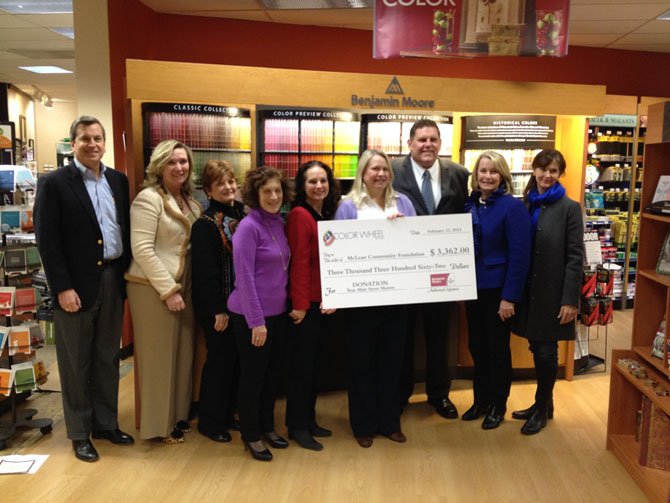 Color Wheel in McLean presented a check for $3,362 to the McLean Community Foundation on Wednesday, Feb. 12. The paint store raised the money as part of a fundraiser sponsored by its supplier, Benjamin Moore & Co., called Main Street Matters, which the company began last year to re-energize small businesses and towns around the country. For the fundraiser, Benjamin Moore donated $1 for every premium can of paint the Color Wheel store sold from Aug. 15 through Sept. 30, 2013.
"Because all of our stores are independently owned, the importance of Main Street Matters is giving back to each individual store's neighborhood in their towns," said John Sullinger, regional representative for Benjamin Moore.
Color Wheel owner Renate Eschmann presented the check to Demetra Matthews, President of the McLean Community Foundation. The money will go toward the general fund for the organization, which funds educational, civic, arts, and environmental projects around McLean.
"Every citizen in McLean, form children to adults, as well as the financially disabled and handicapped, benefits from the money given to the foundation. This donation will go toward our general fund, but it goes toward projects all over," said Matthews.
The Color Wheel is located at 1374 Chain Bridge Road in McLean and has served Northern Virginia since 1965.