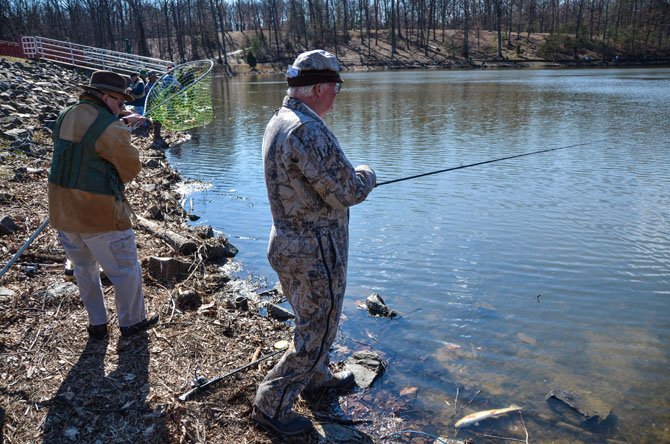 Fishermen who enjoy catching trout are invited to participate in the 2014 trout season Feb. 14 through May 4. Due to inclement weather, the county delayed the event for a week. "The county was trying to not encourage water activities when the lake was frozen over," said Lake Fairfax park employee Dustin Meyers. One thousand pounds of rainbow trout and 200 pounds of golden trout will soon be in the waters of Lake Fairfax Park in Reston. This 20-acre lake will be restocked five times during the spring season by Cast-a-line of Goshen, Va.
"We just need the weather to cooperate," said Lake Fairfax park manager Dan Grulke. "Our opening event is all dependent on when the ice is off the lake." Fishing regulations at the lake require that passes are displayed at all times. In addition to a Virginia state fishing license a trout fishing permit from the park is required for the duration of the season. A Virginia state trout license is not required.
Passes are now available for purchase between 10:30 a.m. and 5:30 p.m. at the park's administration building. Daily passes are $15 per adult, $10 per senior, and $7.50 per child. Spring passes are $60 per adult, $45 per senior, and $30 per child. Fall passes are $22 per adult, $17 per senior, and $12 per child. The cost for an annual pass is $70 per adult, $52.50 per senior, and $45 per child.
A second fall stocking season will run from Oct. 11 through Nov. 9. The fall season includes two stockings and is covered by the annual pass. The park is open dawn to dusk. Only one pole and/or line may be used at one time, and there is a six fish daily limit. Netting, snagging, and chumming are prohibited.
To learn more about Lake Fairfax, visit www.fairfaxcounty.gov/parks/lakefairfax/