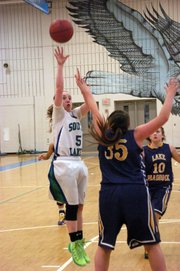 With nine returning athletes on the roster, the South Lakes girls' basketball team is heavy with postseason experience after last season's trip to the state tournament.
South Lakes played in seven playoff games during the 2012-13 campaign, five of which were decided by three points or less.
But while the Seahawks are no strangers to the postseason, South Lakes on Saturday accomplished a level of playoff success that eluded the program during its cardiac run to states.
South Lakes won the Conference 6 championship on Feb. 22, beating Madison 60-42 in the tournament final. It was the program's first postseason championship of any kind since winning a district title in 1997.
Last season, the Seahawks lost to Madison in the Liberty District semifinals, but secured a spot in the region tournament. After three regional wins by a combined five points, South Lakes lost to Edison in the championship game. After finishing region runner-up, the Seahawks lost to Stonewall Jackson by two points in the state quarterfinals.
The Seahawks entered the 2013-14 season with their sights set on more than just advancing in the postseason. They wanted to win championships --- or "cut nets." Beating Madison on Saturday gave South Lakes something to show for its postseason success.
"It was almost surreal," senior guard Caitlin Jenson said about the experiencing of cutting down the net after winning the conference title. "It didn't really hit you until you were up on the ladder and [thought], holy crap, I'm here. But, that being said, it just made us hungrier to get that regional net that we almost had last year, and then maybe even go for that state net.
"… It is weird because you go all the way to states and people assume you've cut a net or you've won something and we're like, no, we were right there. So, to follow through with that, it was a great feeling."
Head coach Christy Winters Scott said not winning any titles last season made the postseason experience "incomplete."
"It is weird because you go all the way to states and people assume you've cut a net or you've won something and we're like, no, we were right there. So, to follow through with that, it was a great feeling."

--- South Lakes senior Caitlin Jensen
"[Winning championships] was a vision that the team had after last season because at each segment of the postseason last year we came up short and it felt incomplete," she said. "… Last year, without [winning titles], it was kind of left up in the air. We were in limbo all summer, waiting for our opportunity."
Aghayere was named Conference 6 tournament MVP. Rendle was named to the all-tournament team. Each earned first-team all-conference honors.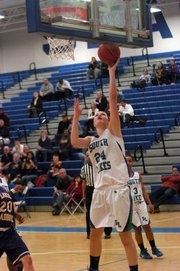 The Seahawks capitalized on their opportunity to win a conference title. On Monday, South Lakes started its quest for a region championship by beating Lake Braddock 71-43 during the opening round of the 6A North tournament at South Lakes High School. The Bruins kept things close for 18 minutes, pulling within four when a 3-pointer by Caroline Jones cut the Seahawks' lead to 29-25 with 6:31 left in the third quarter. South Lakes took over from there, however, outscoring Lake Braddock 18-8 during the remainder of the quarter and 42-18 for the rest of the contest.
Was there a chance South Lakes initially overlooked the No. 4 seed from Conference 7?
"I was hoping that wasn't it," Winters Scott said, "and I did mention that at halftime."
The Seahawks responded in the second half and took care of business. Rendle finished with 18 points, Aghayere scored 15 and Jensen added 11, including a trio of 3-pointers. Senior guard Natalie Toma knocked down a pair of 3-pointers and scored nine points, and Brenda Kamga had seven points.
South Lakes will host Centreville, the No. 2 seed from Conference 5, at 5:45 p.m. tonight in the region quarterfinals.
The Seahawks last won a region championship in 1986.
Winters Scott said last season's postseason experience should benefit the Seahawks.
"It will make them more hungry, as well, because they came up [just] short last year," she said. "It was just right there and we had all those one-possession games down the stretch. It was like a roller coaster, and insane and emotional. At the same time, I think that fueled this group in terms of having that experience to rely on and understand that they didn't want to feel that way [again]."