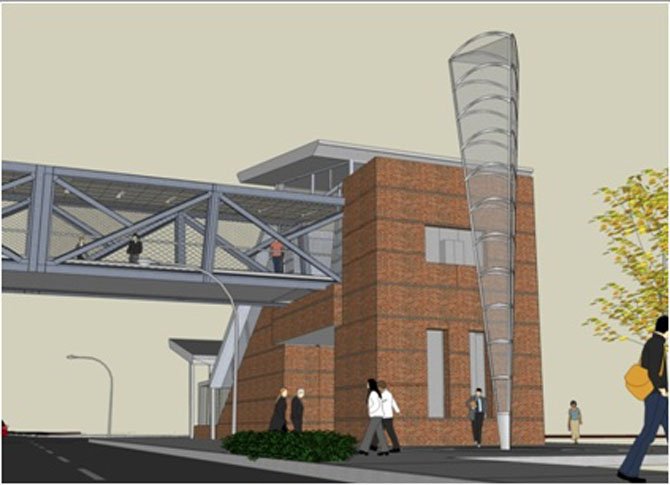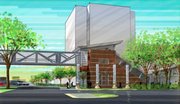 "We feel strongly that public art enhances and makes the metro stations more attractive, and if you make more attractive stations, you enhance travel."
— Michael McBride, WMATA Public Art Coordinator
WMATA Presents Proposals for Silver Line Public Art in Reston
Washington Metropolitan Area Transit Authority has unveiled its plans for public art to be placed outside of metro stations built in Phase I and Phase II of the Silver Line project.

Among the proposed projects are a colorful, light-reactive glass display outside of the Tysons Corner station by Philadelphia artist Ray King; a series of lighted metal and concrete columns at the Greensboro station by Iowa artist David Dahlquist; and a 30-foot tall, light-integrating metal work by Arizona artist Barbara Grygutis for the Spring Hill station.
The proposed display for the Wiehle–Reston East station will feature blue and orange mirrored panels of stained glass by New York artist David Wilson. The panels, designed with a relaxed feel, will appear around the walkways to the station over the Toll Road.
The Reston Historic Trust and the Initiative for Public Art-Reston (IPAR) presented the plans for the stations at their Art in the Silver Line presentation at Lake Anne Thursday, Jan. 23. Michael McBride, public art coordinator for the Washington Metropolitan Area Transit Authority, moderated the presentation, which included three panelists from Reston who served on the selection committee. The panel included Anne Delaney, executive director of IPAR, Pat Macintyre, founder of Reston Art Gallery and Studios, and Maggie Parker, director of communications for Comstock Partner LC, Fairfax County's development partner for the Wiehle-Reston East station.
The presentation also introduced proposals for Phase II stations, including granite and concrete structures by Florida artist Brad Goldberg at Innovation Center near Route 28, as well as motion-activated interactive walkways for the Herndon Station by Florida artists Laura Haddad and Tom Drugan.
Two 12-person selection committees, one for each phase of the Silver Line project, selected artists who kept the cultures and local histories of the surrounding communities for each station in mind. In addition to being community-specific, chosen artwork had to be universally age-appropriate, capable of being safely engineered, and easy for Metro personnel to maintain.
"It was rather daunting when we all arrived the first morning," said Macintyre, a longtime Reston artist and resident.
"It's a whole lot more than walking through a museum and saying, 'Hey, that's snazzy,'" added Parker, who emphasized the need for appropriate community character and functionality when selecting each artist.
"Daunting" may have been an understatement looking at the overall pool of applicants — the committee began with over 360 artists' portfolios and more than 3,000 proposed slides for the 11 stations, and over time managed to whittle them down to three finalists per station.
Artists had to work within the confines of Metro's $250,000 commission for each project, a figure that is relatively limiting for projects that must be large enough to be visible from both sides of the nearby Toll Road.
The panel also stipulated that projects needed to maintain a life cycle of at least 50 years, and cited input from architects and engineers when picking among the finalists for the stations.
Though no Virginia artists were chosen for any of the stations, certain stations would incorporate poetry from Virginia artists, including Grygutis' planned stainless steel structure outside of Spring Hill station.
Overall community reception for the proposals at the meeting was generally positive, though some questioned whether "stakeholders," rather than community citizens, had been given favor in the selection process. The panel responded that their own input as Reston residents and public art advocates strongly represented the interests of the McLean, Herndon and Reston.
Additional suggestions from the audience included using the same community-oriented selection process for designing bus stations and transportation shelters where area commuters might travel to get to metro stations. Panelists welcomed that thought, and Delaney added that IPAR's master plan includes installing art at locations like bus stations and pedestrian paths. McBride and the other panelists agreed there were many opportunities for more public art in the evolving transportation system in Reston.
"We feel strongly that public art enhances and makes the metro stations more attractive," said McBride. "And if you make more attractive stations, you enhance travel."
Silver Line Recap: Phases I and II
Phase I – Complete - Will Open in Spring 2014
McLean (Start of Silver Line)
Tysons Corner
Greensboro
Spring Hill
Wiehle–Reston East
Phase II – Incomplete, Planned to Open in 2018
Reston Town Center
Herndon
Innovation Center
Dulles International Airport
Route 606
Route 772 (End of Silver Line)