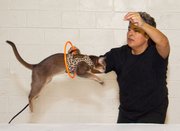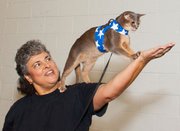 Abyssinian cat trainer Lisa-Maria Padilla, 52, of Reston, is quite a fixture in the world of cats. Her performance cats called "Abys" do feats of athleticism all over the U.S. – at cat shows in Madison Square Garden, Orlando, and Las Vegas. The prize money is about $400 for the agility ring, so she does it mostly for the bragging rights.
After she performed last September at the National Capital Cat Show at Dulles Expo Center in Chantilly, she took Racy Mooner to the World Cat Show in Novi, Mich., in November. There, Racy was featured on the Detroit Fox News doing tricks. In January, Racy and nephew Cyan Mooner took second in agility at the Cat Fancier's Show at the San Diego Cat Club. Last weekend, she attended the Black Diamond Cat Show near Philadelphia where she showed Cyan and brother Reggie.
Padilla's Abys are famous for doing tricks or "behaviors" similar to dogs -- like rolling, jumping or maneuvering through timed obstacle courses. They can jump on shoulders, plunge from pedestal to pedestal, and sit on command. They can also leap through high hoops, tunnels and steeples.
"A lot of people think cats can't be trained, but they are very trainable and they can be very outgoing as well." She added: "The agility competition shows cats in movement, and how graceful they are," she said. "It's another way to show how our cats are quite beautiful creatures."
Padilla is originally from La Mirada in Los Angeles where her mother Pat bred Siamese cats. Now she operates Hitails Abyssinians Cattery in Reston where she breeds warm, grayish-blue felines that originated in Egypt.
She lives with six cats, two of whom are breeding cats, and is friends of pet owners all over the U.S. with her cats. She calls her core group of performance cats "Mooners in Motion" (for being happy cats). There's Racy Mooner, age 6, who has her own Facebook page (called racymooner and who loves performing at airports); her mother Twyla Mooner, age 9; and Racy's sister, Lulu Mooner, age 6, who is also a breeding cat who had four litters. Twyla was the very first National Feline Agility Champion in the Cat Fanciers Association (CFA) with a time of six seconds – a 2005 record. She has two retired Bengals -- one called Spicymooner, age 10, and Callie Mooner, age 16, which are brown-marble colored Bengals. She also shows two, five-month-olds named Cyan (a blue Aby) and Reggie (a ruddy Aby).
She trains them twice a day, about two minutes at a time and keeps the time period short because cats have short attention spans -- Abys in particular. Sometimes, within a day or two, a kitten may learn a trick.
To get them to roll over, she uses the phrase "roll over," and has their eyes follow her hand. Then after they learn to roll over, they learn to sit, to stay and jump through hoops (a crowd favorite). Training for kittens can start at six weeks.
"I sit the hoop on the ground and have them walk through it. Then I raise the hoop up and eventually have them leaping through it," she said.
For treats, she feeds her Abys freeze-dried chicken treats, which she calls "kittie crack" (Whole Life Pet Treats); it makes them very excited and likely to pay better attention. "I try to get them to recognize the fun aspect that they will get a treat," she said.
Some tricks involve leaping with a pointed finger and jumping to her shoulder. The more advanced tricks involve getting a cat to understand directional signals and jumping from one raised object to another -- or through a raised, four-foot hoop.
"I tell people it's generally easier when you start young, but you can train an adult cat," she said. "Most people want to know how to train a cat to walk on a harness," she added. "One of the best ways to do that is to bribe them with their favorite treats," she said. It creates the impression that wearing the harness is a good thing -- not that the cat is going to the vet.
In her role as a cat breeder, she makes sure she is pairing two healthy cats that are genetically compatible. An expert on Aby standards, she wants to be sure her cats will be free from genetic diseases. And she is present during the kittens' actual birthing so everything comes out OK. Her cats usually have one to two litters per year. Then, there is a 14-week period of feline socialization that she oversees, and four trips to the vet where cats are micro-chipped and given shots.
Harness training starts when the kittens turn 10 weeks old. "Some kittens will take 25 minutes and some will take longer," she says. Usually that means trips to parks with a harness and leash. "They should be comfortable wearing the harness or leash," she said. "They are less likely to fight it… they look at it as another thing to wear. And it actually makes for a more confident cat."
"Lisa-Maria is fabulous with training cats," said Marsha Ammons, of Ft. Worth, Texas, an Allbreed cat show judge with the Cat Fanciers Association who has been showing cats for 24 years. "I own a cat I got from her and she just knows the cat's behavior. She's able to get them to perform."
When she's not breeding cats, Padilla is a feline humor writer, contributing stories to Chicken Soup for the Cat Lovers Soul; Your Cat from the U.K.; All About Cats -- a magazine in South Africa, and Cat Talk Magazine published by the Cat Fanciers' Association.