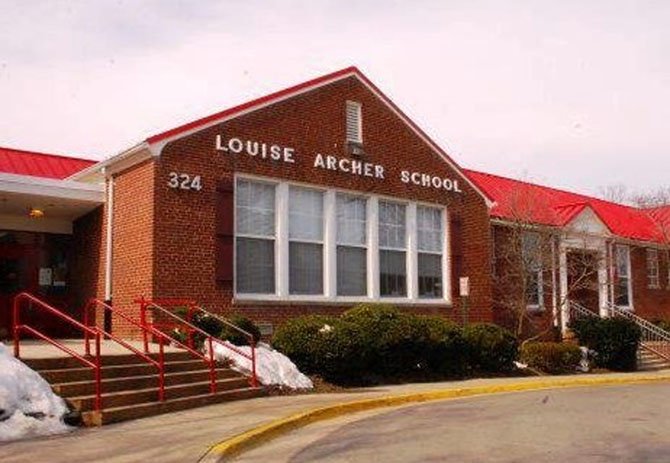 Louise Archer Elementary and Principal Michelle Makrigiorgos are celebrating the school's 75th anniversary and the community is invited. An open house is slated for Friday, March 7, from 6-8 p.m., at the school, 324 Nutley Street, N.W., in Vienna.
Community members, local businesses, former and current staff, students and families are welcome to join in the festivities. In honor of the occasion, Archer will be transformed into a historical museum featuring founding artifacts, as well as new displays made by current students. Besides the library "museum," activities will include student-led tours plus light refreshments.
"We are very excited to be hosting a 75th anniversary celebration because we have a rich history and long-standing traditions that make our public school a wonderful and unique place to learn," said Makrigiorgos. "We want to share this celebration with everyone in our community who has so generously supported our school for more than three quarters of a century."
But there are still more things the school would like to do for its students, so the Louise Archer PTA is also accepting "$75 for 75" birthday donations. Tax-deductible contributions may be made in the names of current or former students, relatives, friends or community members. All donations will be acknowledged on a paper present surrounding a giant birthday cake in the school's front hallway.
The goal is to raise $28,000 by March 7. The funds will go toward purchasing two, technology-based, 75th-birthday gifts to the school: 32 laptops for a student mobile lab for use in the 3-6 classrooms and eight SmartBoard projector mounts for the K-3 classrooms. For more details, go to http://www.louisearcherpta.org.
Besides the evening event, the school will hold an assembly that afternoon for the students and invited guests only. Madison High Principal Mark Merrell will be the guest speaker, and former students will also be in attendance. In addition, the current students will perform tributes to the school's namesake, Louise Reeves Archer.
Archer's goal in life was to make sure African-American children in Vienna received an education. For 26 years – from September 1922 to March 1948 – she was the principal of what was then called the Vienna Colored School. She also taught grades five through seven at the same time.
Highly respected in her profession, Archer imbued her students with valuable life skills, as well as academics. She died in April 1948 and, afterward, the community wanted to honor her memory in a significant way. So parents petitioned the School Board and, in 1950, the school's name was officially changed to Louise Archer Elementary.