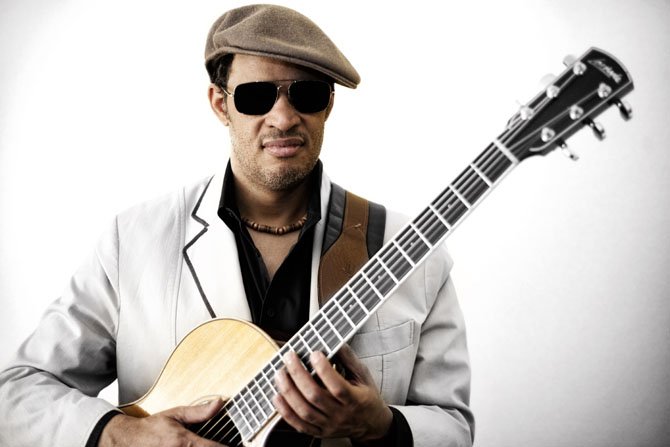 Reston Community Center (RCC) continues its 2013-2014 Professional Touring Artist Series at the CenterStage with an eclectic mix of musicians, dancers and theatre performers. RCC Arts and Events Director Paul Douglas Michnewicz says that his choices for his inaugural season were personal. He specifically chose many of these performers for their intriguing backgrounds and how that has inspired the work they present. "The personal stories and backgrounds of these artists are as fascinating and compelling as the performances they present on stage," Michnewicz says of the season. "My hope is that audiences will personally connect with both the artists and the art they present."
In addition to the performances, Reston Community Center has announced the addition of the Parents Time Out Series. During select PTAS performances, parents will have the opportunity to sign up children ages 4-9 for activity-based childcare while they attend the performance. This option is available for Modern Moves (May 28) and Raul Midón (May 31).
Tickets are still available for most performances. RCC introduced tiered ticket pricing in August 2013 in order to make CenterStage performances more accessible for the entire community.
Featured performances in the spring series include:
Rennie Harris' RHAW, Sunday, March 9 at 8 p.m. ($15 Reston/$30 Non-Reston). Conceived in 2007, RHAW was founded by Dr. Rennie Harris as a youth dance organization driven by outreach and education, as well as mentorship. RHAW will showcase Harris' newest and brightest street dancers as they bring it back to basics by presenting hip hop in its "RHAW-est" form.

Lúnasa, Wednesday, March 12 at 8 p.m. (SOLD OUT; Wait list will form an hour before show time at the CenterStage Box Office). This group of Irishmen continues its 20-year tradition at the CenterStage with their famed Celtic music that blends intelligence, innovation, virtuosity and passion.

Mr. Vaudeville and Friends with Mark Brutsché, Sunday, April 6 at 3 p.m. ($5 Reston/$10 Non-Reston). Buddy Silver, the self-proclaimed Mr. Vaudeville and alter-ego of local funny man Mark Brutsché, returns to the CenterStage Motion Picture & Vaudeville House to prove, once again, that nothing can take the place of live entertainment. With help from friends and the audience, it's an afternoon of fun that will leave the whole family in stitches.

Trout Fishing in America, Sunday, April 27 at 3 p.m. ($15 Reston/$30 Non-Reston). This duo's infectious mix of folk/pop and family music is enriched by the diverse influences of reggae, Latin, blues, jazz and classical music. Since forming the duo in 1979, Keith and Ezra have produced 15 albums, received four Grammy Award nominations, and delighted CenterStage audiences time and time again.

Modern Moves, in partnership with Dance Place, Wednesday, May 28 at 8 p.m. ($15 Reston/$30 Non-Reston). Three of D.C.'s most prominent choreographers – Daniel Burkholder, Daniel Phoenix Singh and Erica Rebollar – come together to create an eclectic evening of thrilling and fascinating modern dance. Each choreographer brings a different perspective, resulting in an innovative and exciting evening of dance.

Raul Midón, Saturday, May 31 at 8 p.m. ($20 Reston/$40 Non-Reston). Singer-songwriter and guitarist Raul Midón has collaborated with legends Herbie Hancock, Stevie Wonder and Spike Lee while contributing to recordings by Jason Mraz, Queen Latifah and Snoop Dogg. Blind since infancy, Midón uses his songwriting and musical talents to shatter stereotypes while establishing himself as one of music's most distinctive and searching voices.

SpeakeasyDC's Born This Way: Stories About Queer Culture in America, Sunday, June 8 at 3 p.m. ($15 Reston/$30 Non-Reston). One of the region's premiere storytelling theatres presents an afternoon of entertaining and thought-provoking true stories that showcase a range of perspectives from the Lesbian, Gay, Bisexual and Transgendered (LGBT) community. Their stories of challenges and triumphs will resonate with anyone who has engaged in the universal search for belonging and self-discovery. Strong language and sexual content; suitable for adults only.
All performances take place at the CenterStage, located at Reston Community Center Hunters Woods. Additional information about each of the performances is available online at www.restoncommunitycenter.com.
Tickets may be purchased online at www.restoncommunitycenter.com or through the CenterStage Box Office. Box Office Business Hours are as follows:
Tuesday, Wednesday, Thursday: 4 – 9 p.m.; Saturday: 1 – 5 p.m.
Two hours prior to curtain time for each performance.