Interesting, exciting and dramatic events happen all year long in the Centreville-Chantilly-Clifton area. Below were some of the top local stories of 2013: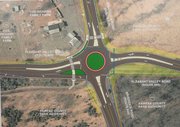 Pleasant Valley/Braddock Roads Roundabout
The most contentious and controversial issue in the local community in 2013 was VDOT's proposal to build a roundabout to eliminate rush-hour traffic gridlock at the Pleasant Valley/Braddock roads intersection in Centreville.
It's near the Fairfax/Loudoun border so, at Loudoun's urging, VDOT plans to build a 105-foot circle to move vehicles through there more quickly. But many residents in nearby Centreville communities are furious and adamantly opposed to the idea.
Sully Station II Community Association President Bill Perry said his community believes the project "will facilitate unabated traffic flow from Loudoun County into the communities of western Fairfax, further clogging our rural and residential roads with traffic. It will negatively impact all residents in western Fairfax."
In addition, people living along Braddock and Pleasant Valley roads say they won't be able to get out of their streets due to the steady stream of Loudoun drivers on both roads if a roundabout's built. They stress that the circle would skew dramatically in Loudoun's favor, with Fairfax drivers being mostly out of luck.
"Right now, the majority of the traffic comes from Loudoun and, once they're in the roundabout, no one else will be able to get in," said Judy Heisinger of Bull Run Estates. "I think there'll be accidents and people from Loudoun won't slow down."
Virginia Run's Ted Troscianecki also has a safety concern. "Just east of Braddock Road is the notorious S-curve," he said. "And improving that intersection puts more pressure on the other substandard roads there, as well as on the S-curve."
But Michael R. Frey (R-Sully) says many residents have wanted something done about that intersection for years. "At some point, you've got to build roads," he said. "More traffic's going to come on Braddock, not matter what – Loudoun County development plans call for it. If I thought not fixing the intersection would stop the traffic, I'd be all for it. But that won't stop the traffic increase."
Nonetheless, many Centreville residents worry about the potentially harmful environmental impacts a roundabout could have on the wetlands surrounding that intersection. And still others contend that it won't be needed, anyway, once the Route 50 widening is completed.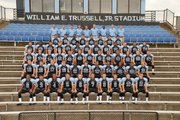 Centreville High Wins State Football Championship
Under Coach Chris Haddock, the Centreville High Wildcats racked up a school record of 15-0 and defeated perennial powerhouse Oscar Smith, 35-6, to win the Virginia 6A state football championship. The game was Saturday, Dec. 14, at UVA and marked Centreville's second state championship in varsity football.
10 Years in Prison for Former Principal
For most of his 62 years, Little Rocky Run's Thom Clement led an exemplary life. He was a 28-year employee of Fairfax County Public Schools and was Bull Run Elementary's principal for seven years until his July 2006 retirement.
But on Oct. 2-3, 2009 in Burke Lake Park, while leading a church Scouting troop, Clement sexually molested an 8-year-old boy. The crime came to light in February, when the victim, now 13, told his family and the Virginia State police that he'd been inappropriately touched by Clement during an overnight camping trip.
Following an investigation, Clement was arrested May 23 and charged with two counts of felony aggravated sexual battery of a minor. He later pleaded guilty in Fairfax County Circuit Court and, on Nov. 22, he returned for sentencing. First, though, his attorney asked Judge Gaylord Finch to factor in Clement's lifetime of "good character" when sentencing him.
But prosecutor Kathy Stott urged the judge to remember the victim. "This defendant put himself in situations, throughout his employment and personal life, where he was entrusted with other people's children," she said. "But he knew, starting in his 20s, that he had feelings for children in this age range — and that's frightening."
Ultimately, Finch sentenced Clement to 10 years in prison, telling him, "I can't get past the enormous, unforgivable betrayal of trust and moral authority this crime represented."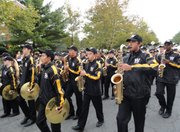 Westfield Marching Band Preps for Rose Parade
On Jan. 1, Westfield High marching band members and their parents watched the 124th annual Tournament of Roses Parade on a big screen in the school auditorium. But on New Year's Day 2014, they'll be in it.
It's viewed live in Pasadena, Calif., by more than 1 million people and televised to more than 50 million people in the U.S. and 100 million worldwide. And Westfield will be only the third Virginia public high school to ever march in this pre-Rose Bowl parade.
No band from Virginia has been in the parade since the early 1960s, and never one from Fairfax County. Out of 120 applicants, only 18 bands total — and just 12 from high schools — were selected.
So all year long, the more than 200 band members have been busy perfecting their marching routine and music, while raising funds for the trip. And excitement is running high.
"It's just exhilarating — a bucket-list achievement for a band director," said Westfield Band Director Stephen Panoff. "It's one of those iconic moments you hope for, and I'm thrilled for the kids."
In June, Parade President R. Scott Jenkins came to the school to officially extend the invitation to Westfield's band. "There are over 25,000 high-schools in the U.S., so for you to be selected for the parade is really extraordinary," he told the young musicians. "Your music is not only technically really good, but your emotions come through, as well – it's a powerful thing. I look forward to seeing all of you in Pasadena in January 2014."
Rocky Run Girls Win National Competition
In June, a team of three, seventh-grade girls from Rocky Run Middle School won the national championship in the U.S. Army's 11th annual eCybermission competition.
The members of Team STEM Ninjas were Divya Mereddy, Rachana Subbanna and Sneha Thandra. Each girl received a $5,000 U.S. Savings Bond (matured value), besides the $1,000 bonds awarded to them as state winners in April and the $2,000 bonds as northeast regional winners in May.
The online science contest cultivates interest in science, technology, engineering and math by encouraging students to develop solutions to real-world problems. Team STEM Ninjas investigated algal biofuels derived from algae as an alternative source of energy to replace fossil fuels and foreign oil.
Not only can their creation remove pollution from bodies of water, it can also turn algae into oil which can become biodiesel fuel. "We wanted it used in a car [in place of gasoline] without changing the vehicle's infrastructure," said Rachana.
"Our team worked hard and was very professional," added Coach Ranjit Mereddy. "The judges were impressed by the team's research focus, live presentation and benefit to the community and nation."
Chantilly Academy wins CyberPatriot V competition.
On March 15, Five Chantilly Academy students captured the championship in the Air Force Association's (AFA) CyberPatriot V National Finals. Working together, Team VOID — seniors Weyland Chiang, Chris Kim and Bryan Nguyen and juniors Anirudh Bagde and Tim Rothschild – defended computer networks and systems from external threats.
For their efforts, each received a $2,000 scholarship from the Northrop Grumman Foundation, presenting sponsor for CyberPatriot V. They also brought home a trophy for the Chantilly Academy — a Governor's STEM Academy.
"Right from the beginning, they were driven, focused and passionate about it," said their academy coach, computer-systems technology teacher Davi Anson. "So it doesn't surprise me, at all, that they won."
The competition was held in the Gaylord Hotel at Maryland's National Harbor. Some 28 teams participated after battling through three rounds of virtual competition to reach the national finals.
"This year, the [initial] field of competitors was 1,225 teams, so making it to finals was a big deal," said Marynoele Benson with Northrop Grumman Information Systems. "[The challenges] also get increasingly more difficult, so these kids are really impressive."