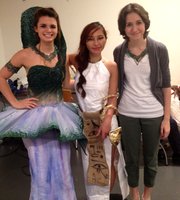 Chantilly High students Mia Rickenbach and Diana Tsoy won design awards recently in the Virginia Museum of Fine Arts (VMFA) Teen Stylin' program. Both created dresses based on museum works of art.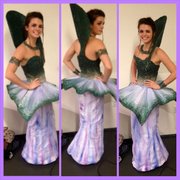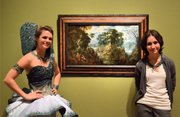 Teen Stylin' Costume Couture is designed for students with a passion for clothing design, studio arts, installation art and/or sculpture. It provides aspiring designers with the guidance and assistance to create their own, one-of-a-kind, wearable works of art.
Rickenbach, a junior, and Tsoy, a senior, were among more than 80 Virginia student designers in grades 6-12 who worked over the course of eight weeks to create wearable works of art. The girls are in Chantilly's Studio Art program, and their weekly classes for this program were conducted at the McLean Project of the Arts and taught by VCU fashion instructors.
Their creations were then showcased Dec. 7, both on the runway and in the galleries, during the Teen Stylin' exhibition at the VMFA. Awards were presented in five categories: Best Use of Alternative Materials, Most Wearable, Best Use of Creative Construction, Best Interpretation of a Work of Art and Most Green Conscious. Judges were instructors at VCU and Pratt.

Rickenbach was the winner of the Best Interpretation of a Work of Art and was awarded a trip to New York City as her prize. Tsoy was runner-up in the Best Interpretation of a Work of Art and received a Fashion Designer Portfolio Kit. Both students' creations will remain on display at the VMFA through the end of January.
"It was all quite impressive," said Chantilly Art Department Chairman Donna Sinclair. "I was very proud of them both; they worked very hard to create their work and have it ready on time. In addition, Mia is a member and Diana is an officer of the National Art Honor Society."