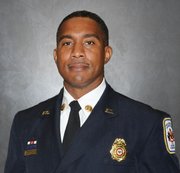 The Leadership Fairfax 23rd Annual Board of Supervisors Breakfast will be held on Tuesday, Feb. 18, 7 - 9:30 a.m. at
Hyatt Fair Lakes in Fairfax.
In its 23rd year, the breakfast provides leaders from business, government, and the non-profit sector an opportunity to hear straight from the Supervisors about happenings in Fairfax County, including the "State of the County" address from Chairman Sharon Bulova.
Leadership Fairfax will recognize Capt. Willie F. Bailey, of Fairfax County Fire and Rescue Department, as the winner of the 2014 Katherine Hanley Public Service Award.
Capt. Bailey is recognized for his service, not only to the fire department, but also to the community. Throughout his career, he has spearheaded efforts to collect much needed items (such as backpacks, school supplies, and winter coats) for children in need in Alexandria and the South County area. He has been honored by the Mount Vernon Chamber of Commerce, Alexandria City Schools, the Rotary Club of Tysons Corner, Commerce Bank, Volunteer Fairfax, the Fire and Rescue Department, and Fairfax County Government, and was named a 2013 Living Legend of Alexandria.
Tickets are $55 LFI member/ $70 general public) or a corporate table of ten seat.