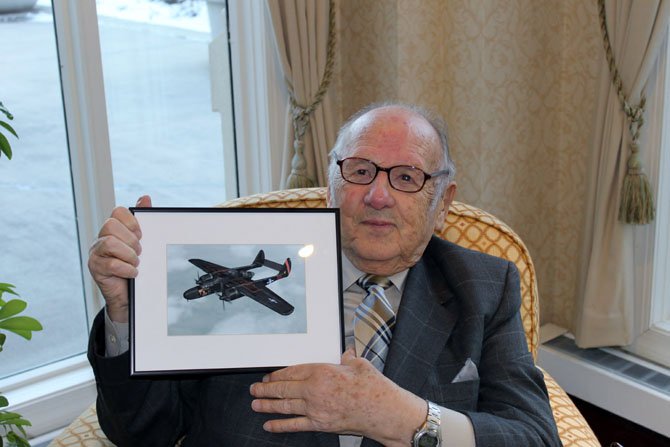 As long-time Springfield resident Raymond Gilbert prepares to turn 90 years old on Jan. 23, he will continue working on his autobiography and reflect on his time in World War II and as a value engineer for the Department of Defense.
During the war, he served as a radar operator in Europe in a P-61, called a Black Widow.
Gilbert now lives at The Fairfax near Fort Belvoir, and as he sits back in a chair in the one of the living rooms, he explains that he has been captivated by airplanes and flying since he was a boy in Oregon.
He said that he sometimes meets people at the Fairfax who ask him about his background and his history in the military.
"Well, that all started when I was a kid," Gilbert said. "At 10 years old, my sister and I would listen to the radio: Jack Armstrong, the all-American boy. He was very interested in flying."
JACK ARMSTRONG'S ADVENTURE STORIES on the radio intrigued Gilbert, and he sent in 25 cents to Armstrong's sponsor, Rich Petroleum, to receive a tube full of blue prints on flying airplanes in return.
"It meshed my interest in flying and airplanes with how to read blueprints," Gilbert said.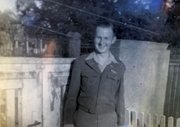 Gilbert had his own paper route as a teenager, and read the newspaper every day.
"The newspapers were the way we learned things when I was a boy 80 years ago," Gilbert said. "I would pay a lot of attention to the news articles about the Army Air Corps and the Navy."
Gilbert said he wanted to go to college, but wasn't sure of a way to fund the tuition.
"My dad helped me learn how to be a machinist and I could save a lot of money. Eventually, I was able to save $3,000. That doesn't seem like a lot of money, but it was at the time," Gilbert said.
It was through the newspaper that Gilbert saw the advertisement looking for people to join the Air Corps. Gilbert passed the tests when he was 19, and soon learned to fly.
"This was when Hitler was wreaking havoc all over Europe, and President Roosevelt was shaking up Congress about having enough airplanes and enough airplane crews and so-forth. President Roosevelt greatly accelerated the plans for enough airplanes," Gilbert said.
Gilbert was qualified to be a pilot, navigator, or bombardier, and learned to fly on a Stearman, an open-air biplane. After he learned to fly, he flew B-25s, and was then trained as a radar operator.
"The happiest moments I had were learning to fly. When the war was over, I continued to fly with a Tri-Pacer," Gilbert said.
Gilbert was invited to attend radar school, which was very high-tech at the time. Gilbert's time in Europe began in England, and then moved through France towards Germany. His missions primarily took place at night, Raymond's son Paul said.
"The goal was to keep enemy airplanes out of the sky at night," Paul Gilbert said.
After World War Two, Gilbert was able to attend college due to the GI Bill, which he describes as a "wonderful thing." He attended Oregon State and earned an industrial engineering degree, and received an MBA from Stanford.
Gilbert decided he wanted to be an engineer because he saw there was need for it, and he loved the work.
"It seemed to me, from my view of all the things that were changing, and all the new economics that were coming into place, that engineering was the heart of the whole thing. My instruction during all of pilot and radar school was how to take principals of engineering and apply them to weapons at the time and the economy at the time," Gilbert said.
Gilbert began working in New York with a firm that saved companies money by using Value Engineering, and continued to help save the government millions of dollars through value engineering when working for the Department of Defense from 1964-1991.

"I decided to focus on cost visibility and reduce cost in a responsible way. That has been the underlining theme of my experience," Gilbert said. "My focus has been doing good economic work."
GILBERT MOVED to Rose Hill in 1964 when he began working for the Department of Defense. In 1965, he bought his house in Springfield, and lived there until last year.
While living in Springfield, Gilbert sang in his church choir. He enjoyed Springfield's proximity to Washington, D.C. and all of the museums and concerts the city had to offer. Gilbert also owned and flew small planes, and flew his kit built airplane, the Bede 4, to the West Coast and back with his son Paul in 1983.
In 1974, Gilbert invented a way to improve the fuel economy of cars.
According to his son, Raymond Gilbert became a Patent Agent and created patents for the automatic transmission bicycle and an alternative system to fly and control large airplanes in the 1990s and 2000s. In the early 2000s, he served as president of the Inventors Network of the Capitol Area.
Gilbert enjoys staying active at the Fairfax by exercising in his room and working on his autobiography.
"I'm looking now to how to plan my life at 90 plus. I was thinking about it, and realized that marvelous things happen when you remember the patterns of life," Gilbert said.