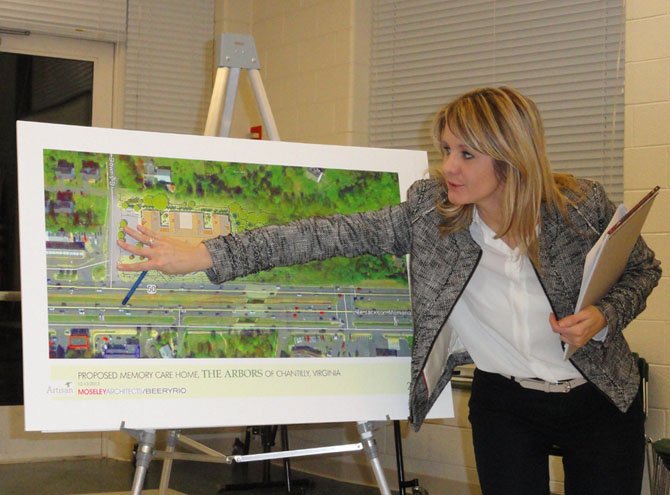 As the number of senior citizens in Fairfax County continues to rise, so does the need for assisted-living facilities — and especially those focusing on people with Alzheimer's and dementia. That's why Artisan Land Group LLC wants to build just that in Chantilly.
It would be at 13622 Lee Jackson Memorial Highway, off Downs Drive which runs alongside the Sunoco gas station on Route 50 west. And since assisted-living facilities require a special-exception permit, Artisan is seeking one from Fairfax County.
"I'm a big advocate for Alzheimer's and dementia care," said Artisan President and owner Sean Ambrose. "And I thought this would make an excellent site because I know the demographics and the tremendous need for senior care within Fairfax County."
He and land-use planner Lisa Chiblow presented details of the proposal during the Dec. 17 meeting of the West Fairfax County Citizens Association (WFCCA) Land-Use Committee. The six-and-one-half-acre site is zoned residential and is currently a vacant lot.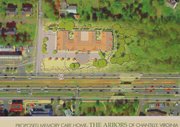 Planned is a one-story, residential-looking building that would face Route 50. Chiblow said traffic counts for this 48-unit facility would be less than if that site were developed with the 13 homes that could be constructed on it by right.
"We project the facility would generate 132 vehicle trips per day, but the houses would generate 161, so this would have a lower traffic impact," she said. "And the residents won't be traveling, so the only traffic will come from the employees."
Considered a "memory-care home," this one would be called The Arbors of Chantilly. Sully District Planning Commissioner John Litzenberger said it's "the third, senior-living application the county's gotten in the past year."
Added Ambrose: "It's staggering how many people are diagnosed with Alzheimer's or dementia, throughout the county, every day."
Chiblow said the 35,000-square-foot facility would be compatible with the surrounding land uses, plus the abutting residential area. It'll have 69-percent open space and a large rain garden. But, she said, "We want a waiver to the transitional-screening requirement to the rear because there'll be plantings within a 15-foot easement that's already there."
Noting that he's been in the assisted-living business for nearly 20 years, including as senior vice president of development with Sunrise Senior Living, Ambrose told the panel, "I think this is a great opportunity for us here. We had the chance to go to two stories, but we kept it small. And we're only using two out of the six acres."
Furthermore, he said, "The Arbors is a great company. It's from Atlanta and has a very good reputation. The Arbor Company is focused on patient care and is on the cutting edge of technology to monitor the senior citizens' conditions and help the staff take care of them. Locally, they're managing a 120-unit project in Herndon, so I'm looking forward to working with them."
Ambrose said the garden would be secured and so would the doors and windows. For example, he said, "When a window's opened, a silent alarm will go off for the caregivers. And we'll also have fencing going all around the property."
He also said the home's atmosphere would be cheerful and pleasant. The kitchen, dining room and activity areas would all be open spaces "with lots of windows letting in sunlight."
Remarking that English isn't the first language for many health-care workers nowadays, the WFCCA's Judy Heisinger was concerned about the staff's training and "their ability to speak English and be understood by the residents."
But, replied Ambrose, "I know the Arbor team, and what really matters to them is the care the residents and families get. They realize that communication is important."
Land-Use Chairman Jim Katcham asked about the patient-to-employee ratio. "In this field, it typically averages seven to nine patients to staff and more [staff] for memory-care patients," said Ambrose. "Generally, there are 18 staff members — including an RN and an LPN — working staggered hours, but not all of them are caregivers. There's a full- and part-time activities director, with five to six activities every day."
If the facility has 100-percent occupancy, he said, it would have 54 patients. "But typically, it would be less," said Ambrose. "The ratio [of staff to residents] will depend on the acuity of the residents. But this is The Arbors's reputation and how they've continued to grow, so patient care is very important to them."
"I don't think you'll have trouble filling it," said Heisinger.
Agreeing, Ambrose said, "I'm already trying to find another good site right now because the need seems to be incredible."
As part of the special-exception process, Chiblow said the applicant will go before the county's Health Advisory Board. She also disclosed that the Chantilly property contains an unmarked grave and that investigation revealed it to be of a man named James Davis who died in 1863.
"We don't know if he's been relocated," she said. "We did an archaeological study and an archaeologist will make sure the grave's not disturbed during construction."
However, At-Large Planning Commissioner Jim Hart wondered, "If one grave was found, if there might be other ones that haven't yet been found."
Chiblow said they already notified the neighbors about their plans to build an assisted-living facility. Ambrose said it'll be raised up a little higher than Route 50 and "we're going to try to buffer the noise. We'll also landscape it so it'll look nice."
He said the proposal hadn't yet been submitted to county staff. "We wanted to come and present this to you first," he told the WFCCA. "We plan to file in January and will return here after we get some feedback from staff."