Details
Alexandria resident and retired military pilot James Toler will be displaying his collection of photographs showing the graffiti painted on the walls of the Kandahar military base at St. Elmo's Coffee Pub, 2300 Mt. Vernon Ave., Alexandria, from 2-4 p.m. this Saturday and Sunday, Jan. 18 and 19. He'll also be selling a limited number of self-published books featuring his entire collection, the funds from which will be used to create more books. More photos are available online, at http://cargocolle... and http://www.youtub....
Under the cover of darkness, soldiers and civilian contractors are taking to the walls of the Kandahar military base in Afghanistan.
They're using spray paint and stencils, along with their sense of humor and expression, to make the beige concrete walls a little more colorful.
"This is far better than the street art you see around here," said James Toler, who walked around the base, both as a military "VIP pilot" and civilian, with his camera and captured dozens of photos of the graffiti that is filling the walls not just on the Kandahar installation, but smaller bases as well.
Photo Gallery
Military Base Creative Wall Art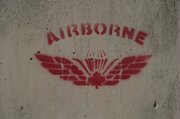 Creative art including graffiti have been painted on the concrete walls of the Kandahar base in Afghanistan.
Click Photo for Flash
The artwork is better because "it's done in a stressful situation," he said. He first noticed the tags in 2011 or 2012, but during his last visit he saw that the numbers had multiplied and the theme of the work had changed.
At first it was military unit logos, a way for a unit passing through to physically mark their presence. But it has evolved, now including characters from movies, such as Will Farrell's Ron Burgundy, TV shows like Beavis and Butthead, sports team logos like the NHL's Detroit Red Wings, and more traditional street art fare, like scantily clad women.
"It's awesome," Toler said of the artwork.
The soldiers are there for undetermined lengths of time and it's likely they've turned to graffiti to make the base homier, in addition to letting off a little steam, he said. They can't hang pictures on the walls, so they make their own on the concrete.
Art therapy is recognized as a treatment for post-traumatic stress conditions, he added.
What's surprising is that the images are staying on the walls and not being washed on or painted over, he said. How long that will remain true, however, is uncertain.
Toler is using his photos and the stories they tell to try and create a movement to gain support for bringing a segment or two of these walls back to the United States as a monument or memorial for the war in Afghanistan. It wouldn't cost the government anything to build, and as a pilot in the military for 29 years — he was told his retirement was being delayed after the September 11, 2001 terrorist attacks — he believes it would be possible to ship a wall out on some of the larger cargo jets, which sometimes fly "in and out" without any cargo.
"Those jets carry tanks and big pieces of equipment," he said. "A piece of cement is nothing."
What he needs to make that happen is the support of the right people in the right places, Toler said. He's been in contact with the Smithsonian and some high-ranking military officials, but so far there are no guarantees or commitments.
"It's like the Berlin wall," a portion of which is on display at the Newseum downtown, he said. The tags in Kandahar are a physical, real-time documentary of life in that space, and a reflection of the men and women working, living and fighting there.
Also like the wall that divided Berlin for decades, the artwork appears at night, and the risk of getting caught with a spray can of paint in hand is very real.
Ideally, he'd like to see the walls, or segments thereof, on the Mall in Washington, "maybe at a big end of the war party with the USO band playing."
Toler said he doesn't know the names of any of the people responsible for the artwork, but he'd like to eventually track some of them down and write a book. For now, he's got the photographs.