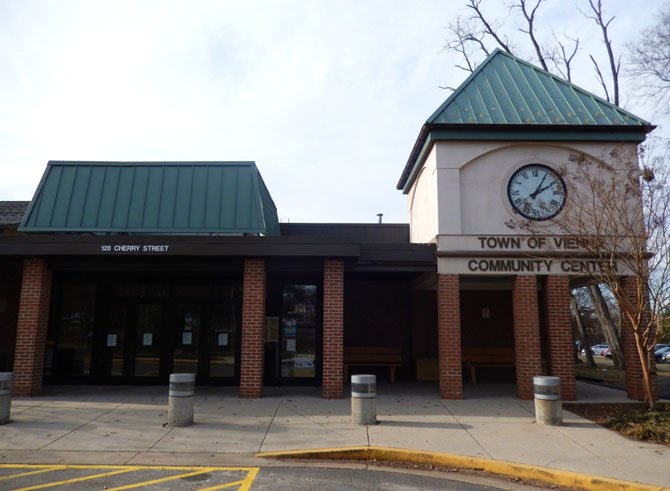 For nearly half a century, Vienna's community center has served its residents. Whether hosting classes, meetings or special events, it's one of the most heavily used buildings in town.
Since its dedication on April 17, 1966, it's been renovated three times. But the last time was in 1998 and, now, it'll be repaired again, and enlarged, as well.
"We're trying to bring it back into the 21st century with modern amenities that'll appeal to our residents," said Cathy Salgado, director of Parks and Recreation. "They deserve quality facilities."
The two-story building on Cherry Street S.E. is 28,814 square feet, and people don't need a pass to enter it. They come for classes in everything from art to music, dance, athletics, martial arts, Jazzercise and fitness. Youth groups, the Vienna Women's Club, AARP and bridge clubs meet here. And people from all over flock to the community center for special events including craft fairs, antique shows and bazaars.
"You name it, we do it," said Salgado. "In the summer, this place is full of summer camps; and all year 'round, there's a teen center in the basement. Plus the gym is used for activities such as volleyball, basketball, tennis, pickle ball and table tennis."
But as the building has aged, so have the various systems that keep it humming. Now, it needs a new HVAC (heating and air conditioning) system, as well as a new roof.
"It's leaking in multiple places and, sometimes, people have to move to another room," said Salgado. "And the last thing people want to do is take yoga class in a room that's 50 degrees. We also need a new electrical system. We have older wiring, so our classrooms aren't high tech for laptops."
Besides all that, she said, "The floors and walls of the classrooms are in need of repairs. And the windows need to be replaced because they aren't energy-efficient. Basically, the building has been well-used and is in need of a facelift."
Salgado also noted that the gym is "too small for league play because it's not regulation-sized and the ceiling is too low. But we'll keep it for our programs such as gymnastics and indoor tennis."
So the town plans to add a new, full-sized gym in the back. It'll be 8,000 square feet and will be used for programs and athletics. And once it's operational, Vienna Youth Inc. (VCI) will be able to play basketball in the community center for the first time. Now, said Salgado, "They play in the schools and wherever else they can find space."
Furthermore, the parking lot will be reconfigured to add more spaces. Overall, said Salgado, "We're about to go to request-for-proposals for architectural services. We plan to pick the architect in the next month or two and get the design started. We hope to have the design done by the end of the year."
Then, she said, construction is expected to start early next winter and take about 16 months. Dedication of the new portion is earmarked for the community center's 50th anniversary in April 2016.
The work is funded by the town's Capital Improvement budget, courtesy of a $4 million bond issue in fall 2013. "But we'll probably need to raise another $1 million to pay for everything we'll need," said Salgado. "Hence, we're looking for partners." Anyone interested may contact her at csalgado@viennava.gov.
A task force of citizens and user groups, plus open houses and a town-wide survey asked residents what they wanted in their revamped community center. Some 97 percent requested a swimming pool, a new gym and a fitness center.
A pool would be more expensive than the amount of money the town has for this project so, for now, it's tabled. But there will be a new gym and Salgado said the old one could become a fitness center in the next phase.
However, in phase one, the focus will be on the renovation plus the construction of the new gym.
"Then we'll discuss future plans if the Town Council chooses to do so," she said. "There are a lot of needs in town and we have a finite amount of money, so we have to balance all the needs and be fiscally responsible."
Meanwhile, said Salgado, "We want the community center to continue serving the town residents. They give a lot of their time to the town and participate in events and programs here. So it's nice to allow them to partake of their recreation in town, without traveling elsewhere."
So how does she feel about the project? "I'm extremely excited," she said. "I think we can really incorporate some neat things into this building and make it hospitable, light, bright and airy. I want to make it feel like our community, which is very caring, giving and supportive. This is the town's building, so we want it to be inviting — and the best way to do that is to make sure it represents the values of our town."