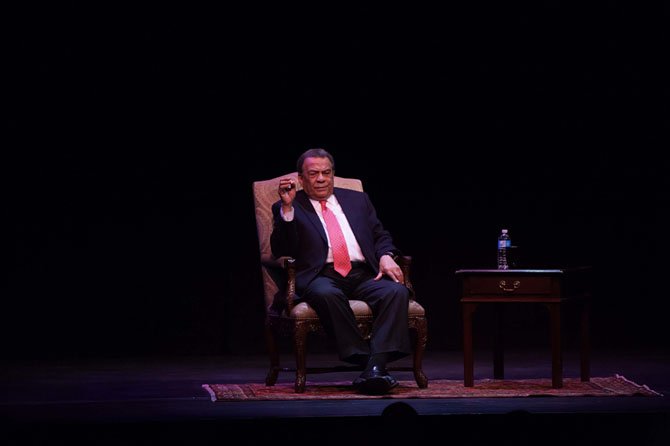 "We believed there was something inside, and we didn't count the costs or make the plans. We just took it one step at a time and it happened."
— Andrew Young, Ambassador and Civil Rights Leader
"When you talk about the tenure and legacy of Dr. Martin Luther King, it's something I've now been struggling with for 45 years," said Andrew Young to a crowd in the McLean Community Center's Alden Theatre.
The former United Nations ambassador visited McLean on Friday, Jan. 17, to speak about his career spent fighting against poverty and racism. Young, 81, was one of the leaders of the civil rights movement and worked closely with King as executive director of his Southern Christian Leadership Conference, right up to the day King was assassinated in Memphis, Tenn. in 1968.
Visitors from throughout Northern Virginia came to see Young speak about his career and views on issues such as racism and world poverty. Avis Bracey, who traveled from Woodbridge, has followed Young's career as a former congressman, mayor of Atlanta and civil rights leader since she was a child.
"I know a lot of people don't really take the time to commemorate Dr. King's legacy, but I always make sure I take the time during that day every year," said Bracey.
Young reflected on how he and his fellow movement members were religiously devoted to their peaceful protesting. "We believed there was something inside, and we didn't count the costs or make the plans," said Young. "We just took it one step at a time and it happened."
According to Young, there were "three evils" that the world had to deal with: racism, war, and poverty. The first two, he said, had been dealt with somewhat, even pointing out the decreasing death tolls over time in major U.S. wars. But poverty, he said, was the one that still clearly remained unresolved.
After his time as a civil rights leader was over, Young had a successful career as a Democratic congressman from 1973 to 1977 and mayor of Atlanta from 1982 to 1990. As mayor, Young famously transformed the city into an international marketplace by drawing thousands of businesses into the city from overseas.
Young emphasized the power of economic development in dealing with poverty, particularly with the black community in Atlanta.
"We formed a coalition between the business community and the black community," he said. "White people were concerned about profits, black people were concerned about jobs, and really, both groups were saying the same thing."
HALFWAY THROUGH, the former U.N. ambassador opened the event up to questions from audience members.
Chuck Smith of Reston asked how he thought President Obama could deal with vast income inequality within the U.S. due to a majority of the income being owned by the super rich. Young responded that it was difficult for any leader, himself included, to deal with 1 percent controlling all of the country's money, but that the president could still work to enable the poor with economic opportunity.
He cited his own history of using international investment to fight poverty, and said that the same approach could be applied to African countries with slow economies and high poverty.
"How can we take the economy to the next level in a way that will stabilize the planet, at least for the next century?" asked Young to the audience.
Despite the world's current inability to properly address poverty and sickness, Young told the audience that he remained optimistic. As a testament to both the civil rights movement's legacy and his own hope for the future, Young quoted King: "All that's necessary for the triumph of evil is that good men do nothing."