Arlington resident Peter Tomlinson's nature and wildlife photos will be displayed at the 2014 Sugarloaf Crafts Festival from Friday, Jan. 24 until Sunday, Jan. 26 at the Dulles Expo Center in Chantilly.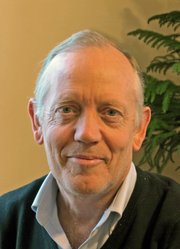 Tomlinson has participated in the Sugarloaf Crafts Festival every year in January. However this was the first year he was involved also with the festival in December.
"In January and February it's particularly cold outside so if I can be at an indoor market I'd much prefer to do that," he said.
After more than 20 years in the film and international television distribution industry in London, Paris, Africa and America, he decided to pursue photography full time when he was laid off from a distribution company based in McLean in 2001.
Tomlinson sells most of his photographs at the Georgetown Flea Market on Sundays and Montgomery Farm Women's Cooperative Market year round.
AT THIS YEAR'S FESTIVAL, Tomlinson will be displaying a collection of nature and wildlife photography including pictures of Great Falls, Shenandoah National Park and the two Sumatran tiger cubs at the National Zoo.
"I hope to have pictures of Bao Bao, the new baby panda, by the time of the Sugarloaf Festival," he said.
His photography is his livelihood but it is also a hobby.
He is a native of southern England and has an extensive collection of travel photos from his homeland and many other countries he has traveled to including India, Africa, Southeast Asia and Europe.
Since childhood, Tomlinson has been intrigued by photography. However, his true focus is nature and landscape photos.
"Since arriving in America, I've taken quite a few pictures of the Cherry Blossoms in Washington, D.C., the Great Smokey National Park and the Shenandoah National Park," he said.
According to Tomlinson, the greatest challenge with shooting nature or landscape photos is having to get out in the elements especially in environments where it is extremely hot or cold or shooting on dangerous cliffs or hills to get a certain shot.
He remembers his wife worrying about his safety when he had to photograph a frozen waterfall in the Great Smokey National Park and to climb a cliff that was very icy.
Some of his favorite photographers include Jim Brandenburg, Steve McCurry and Dutch photographer France Lansing.
The Sugarloaf Crafts Festival, formerly Sugarloaf Mountain Works, was created with the mission of providing a "low-overhead marketplace where artists and craftspeople could sell their unique creations direct to craftlovers." In 1976, the first Sugarloaf Crafts Festival was held in Gaithersburg, Md. with 200 artisans.
This year's festival will be held over three days (Friday, Jan. 24 and Saturday, Jan. 25 from 10 a.m. to 6 p.m.; and Sunday, Jan. 26 from 10 a.m. to 5 p.m.), featuring more than 250 artists.
Adult admission is $8 online and $10 at the door, and free for children under 12. Admission is good for all three days of the festival. Free parking is available on site.
"Treat Yourself" is the theme for this year's Sugarloaf Crafts Festival and shoppers will have the opportunity to view and buy from "the latest trends in handcrafted arts, including those in jewelry, fashion, leather, home accessories, functional and decorative pottery, sculpture, glass, wood, metal, furniture, photography and fine art."
In addition, individuals can also enjoy small-batch foods to try and buy from specialty purveyors, demonstrations by master craftspeople, interactive children's activities and live music.
Shoppers can speak directly to the artists instead of salespeople.
The nationally-known, jury selected artists/craftspeople are chosen based on "the quality of their design, workmanship and materials, and the uniqueness of their items."
For more information on the Sugarloaf Festival, show previews, exhibitor lists and admission discounts, see www.sugarloafcrafts.com or call 800-210-9900.