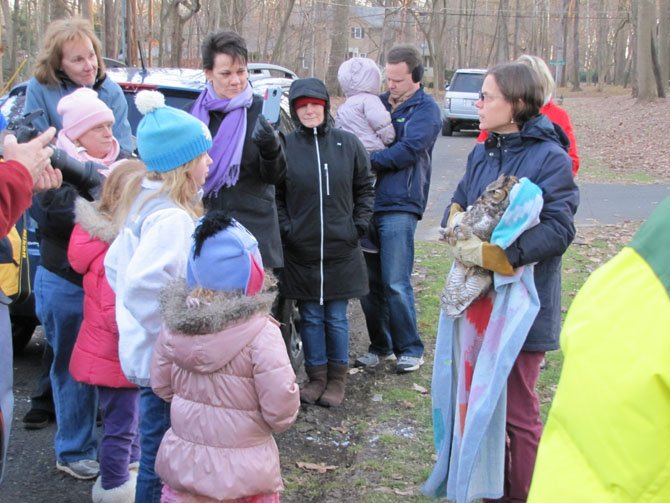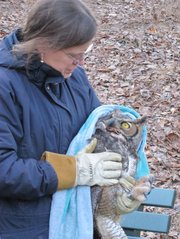 Potomac — A group of curious well-wishers looked on as a Great Horned Owl spread her formidable wings and lifted off from the arms of her rescuer back into the Potomac forest. It was a happy ending to a brief saga that could have ended much differently.
On Monday, Jan. 13, John Phillips noticed two hawks on his Brickyard Road property looking intently at something on the ground. When he looked to see what they were looking at, he discovered a huge Great Horned Owl with its leg trapped in netting.
His wife Jill Phillips had recently read about an owl rescue and placed a call to Suzanne Shoemaker at Owl Moon Raptor Center in Boyds. Shoemaker made her way to Potomac to see if the owl could be save. The Phillips own Squeals on Wheels mobile petting zoo.
"The owl was admitted exhausted and dehydrated, with a swollen and abraded left foot, with the [plastic] netting still attached, and a strained, sore left leg," Shoemaker said. "She required fluid therapy, soaking and wound cleaning and dressing of the left foot, and ... anti-inflammatory medication."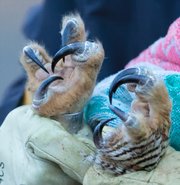 Shoemaker bandaged the owl's foot, but the owl pulled the bandages off her first night. Once the owl was re-hydrated, Shoemaker fed her frozen rats and mice, thawing them first.
The female Great Horned Owl was the biggest owl Shoemaker had ever seen.
By Saturday, the owl was ready to go back to her own habitat, where she likely has a nest and a mate waiting. The owl showed no signs of appreciating how lucky she was to be rescued as she spread her wings and took flight as Shoemaker let her go.
"If John and Jill had not found the Great Horned Owl in time, clearly she would have suffered a slow death from dehydration and starvation, or eventually another predator might have gotten up the nerve to attack her," Shoemaker said.
The Great Horned Owl is one of the most common species of owls and is a year-round resident of most of the U.S. They are often more than two feet tall with a wingspan of up to five feet across. The females are larger than the males.
Netting used in landscaping to keep deer out, or as fencing to keep poultry in, even the netting for trampolines and soccer, all pose a threat to raptors (birds of prey like owls and hawks) and other birds, Shoemaker said. Other potential entanglement hazards include fishing line and hooks, barb-wire and electric fencing.
Other dangers include second-hand poisoning when hawks or owls eat dead poisoned rats and mice and lead from hunters' ammunition and fishing tackle poisoning.
"I have seen the effects of all of these things in Montgomery County birds of prey," Shoemaker said.
Owl Moon Raptor Center is a licensed wildlife rehabilitation center specializing in birds of prey which cooperates with the Maryland Department of Natural Resources, Wildlife & Heritage Service, and local animal control offices and humane societies to answer calls concerning injured, orphaned, or otherwise jeopardized birds of prey.
Visit http://owlmoon.org/