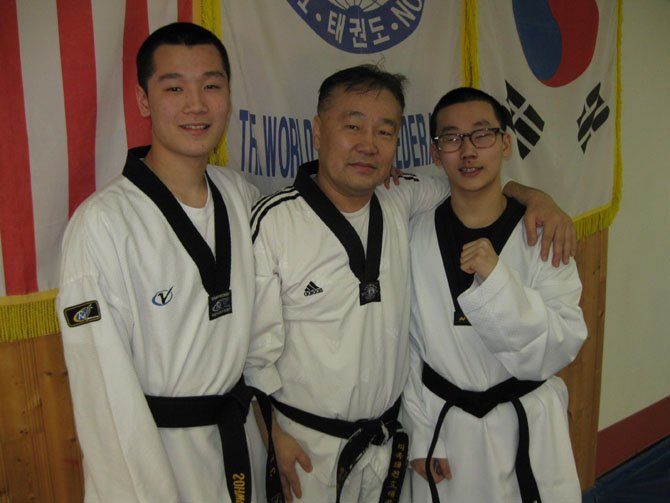 Chantilly — Before they've even graduated from high school, two Chantilly brothers — Sohwon, 17, and Siwon Kim, 15, have each won national taekwondo titles.
Their father Master Han Kim has been running the U.S. Taekwondo College in Sully Plaza off Route 50 in Chantilly for 21 years. Sohwon started taking lessons from his dad at the age of 5 and started competing at age 7. And he hasn't stopped since.
"I wouldn't be where I'm at without him," he said of his dad. "It's a blessing; there's always emotions involved."
Sohwon won the gold medal in the 2012 U.S. National Championship in the Junior Featherweight Division for ages 14-17. He was a member of the U.S. Junior National Team. He also won the 2013 U.S. Senior National Championship in Chicago for the 18-32 age group. And he's the youngest male athlete ever to win gold at senior championships.
"He's a very talented kid, but he's too nice," said his father. "He's a tremendous athlete, but he doesn't have that killer instinct." He said with more time and age that, "I hope he'll get it soon."
To maintain his 127-pound weight, he runs about three to five miles a day, does sprints and weight training at Gold's Gym. He eats a strict diet of proteins and mostly vegetables with no sugars or carbs.
Sohwon transferred from Chantilly High to Mountain View in his senior year. He hopes to graduate in February or early March so that he can devote more time to taekwondo.
Because his dad Han was a former professional boxer, they incorporate boxing strategies into both of his sons' taekwondo training.
"We would treat our taekwondo matches like it was boxing," Sohwon said. "I use my footwork and throw one shot at a time — just to get my opponents out of balance."
If his opponents make mistakes, Sohwon says he tries to take advantage of them. "My fights are very entertaining and dramatic … Me and my brother always have a big fan base."
Sohwon describes himself as a "technical fighter," using clean techniques when he kicks and punches. He's best known for his 540-degree kicks spinning in the air. But he prefers to stick to the basics. "Everyone knows about my left-front leg kick, but they always have trouble containing it," he added.
His next step is to compete in the Canadian Open in Montreal next month where he hopes to receive ranking points. The top 35 athletes in the world are ranked and thus qualify for the World Grand Prix. And the top six athletes automatically qualify for the 2016 Olympics in Rio de Janeiro.
"That is a dream of mine," he said. "But my dream cannot be obtained unless I go to international competitions."


SIWON KIM, 15, started taekwondo when he was 3 years old. In March he will be competing in the Junior World Championships in Taipei, China, in the lightweight taekwondo division (130 pounds).
In 2012, he won the national championships in Dallas in fin weight (under 99 pounds) in the 14-17 age division against 32 people from around the nation. In 2013, he won the national championship in Chicago in the flyweight (under 105 pounds) in the 14-17 age division against 20 people from around the nation.
He went to the Pan Am Championship in Mexico in 2013 as a national team member and competed against eight people and took home the bronze. He also made the U.S. National Team in 2012, 2013, and 2014.
"I just love physical contact," said Siwon, a sophomore who is home-schooled. "I'm very aggressive; I just go forward with a lot of attacking."
For his workout regimen, he runs about five miles a day and trains in taekwondo for about three hours. He says he stops going on Facebook and Twitter, eats lots of protein and drinks lots of water.
"He has the killer instinct," said his father of Siwon. "He always finds his way to win," He added that Siwon is the youngest junior national team winner at 14, repeated it at 15, and made it again at 16.
His dad says he's got a small chance of qualifying for the 2016 Olympics. In April, he will be 16 and have to compete against grown men. "But I believe he can do it through hard work," added Han Kim.
In order to compete, it costs Han Kim about $20,000 a year for the airplane flights, hotels, meals and registration fees. They are hoping to receive donations and sponsors to help with the high costs of training and travel. To donate, contact 703-909-8077 or email sughan12@hotmail.com.