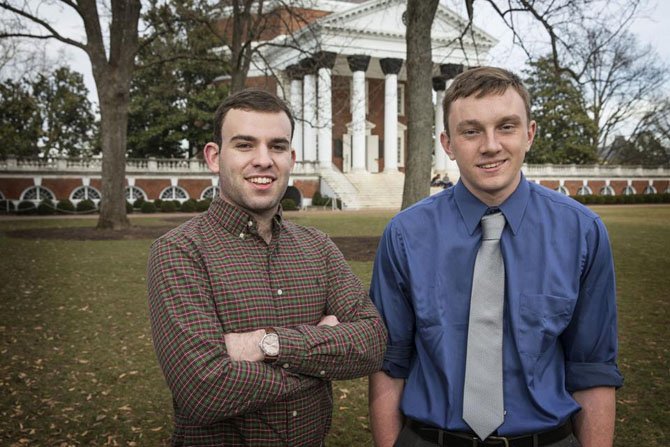 Arlington — Two University of Virginia students, Jarrod Nagurka and Rachel Deitch, both of Arlington, helped craft a bipartisan mental health bill that Del. Patrick Hope (D-47) and Del. Joseph R. Yost (R-12) have introduced to the Virginia House of Delegates. The legislation, officially called HB 206, will require Virginia institutions of higher education to dedicate a portion of their websites to mental health resources available to students on campus. Additionally, the bill requires college governing boards to educate its students, faculty, and staff on signs of depression, anxiety, self-destructive behavior, or suicidal tendencies.
HB 206 is the product of Legislators of Tomorrow, a group that Nagurka, a self-described proud progressive, founded with Patrick MacDonnell, a Republican student across the aisle. Larry Sabato, the director of the UVA Center for Politics, calls Nagurka and MacDonnell, the "odd couple" due to their polar opposite political views. The odd couple knew they would not agree on hot button issues, but could come to a mutual understanding on less partisan issues such as mental health. Nagurka and MacDonnell quickly recruited members through different list serves at UVA. Soon enough Rachel Deitch joined Legislators of Tomorrow and brought her expertise as a third year government student to the table.
Deitch said the bill "would provide a great benefit to students at a low cost." An ardent Democrat herself, Deitch noted that "being bipartisan, we bring different considerations to the process. For example, we had to balance the desire to provide government services with the interest in being fiscally conservative." At the end of the day, the 13 members of Legislators of Tomorrow had enough in common to reach significant agreement.
The bill was already in the works when news broke about the son of state Sen. Creigh Deeds, who took his life due to mental illness. That strengthened Legislators of Tomorrows' determination to craft meaningful legislation to impact mental health. When it comes to the issue of mental health, Nagurka said, "As college students we all know someone who has, at one point in their life, suffered from mental illness." He added, "For many students, the pressure of school and being away from home for the first time can manifest itself into depression and risky behavior, and so we wanted to attack the problem from its source."
The issue of mental health became fodder for potential legislation by the UVA students when the group met in the library one evening and asked themselves what they would do if a friend was exhibiting signs of depression. The room fell silent. No one knew. The group looked online and found that mental health resources were largely obscured on web pages and difficult to find. The group then realized that they could make a difference by simply educating students on what resources were available and where to find them.