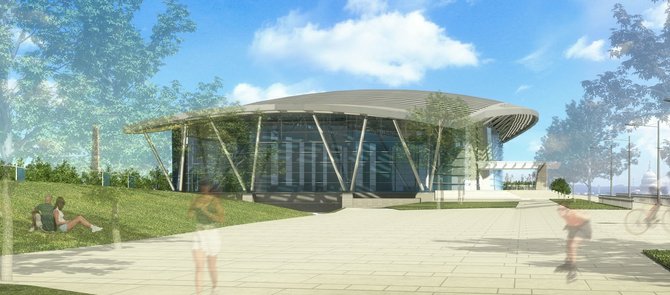 Four Bids at Long Bridge Park
Christman/Apex, a Joint Venture Partnership: $82.8 million
Gilbane Building Company: $82.5 million
Balfour Beatty Construction, LLC: $82.2 million
Hess Construction + Engineering Services, Inc.: $81.9 million
Document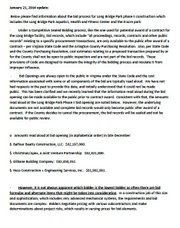 New documents released by Arlington County officials show the four bids for the new aquatics center at Long Bridge Park range from $81.9 million to $82.8 million. County Manager Barbara Donnellan describes these as "significantly higher" than the estimate from county architects, although Arlington leaders still refuse to say what the estimates were.
When asked about the bids earlier this month by Connection Newspapers, county officials said the amounts were secret and they would be concealing them from the public. But last week, Arlington leaders changed course. In a Jan. 21 memorandum, county officials explained information read aloud during the bid process is part of the public record and should not be concealed from the public.
"We have not had requests in the past to provide this data, and initially understood that it could not be made public," explained the unsigned memorandum. "This has been clarified and we recently learned that the information read aloud during the bid opening can be made available to the public prior to contract award."
The bids range from $82.8 million to $81.9 million. Reston-based Christman/Apex had the highest bid, and Gaithersburg-based Hess Construction had the lowest bid. Although Donnellan said those are "significantly higher" than estimates from county architects, Arlington leaders repeatedly declined requests to make this information public. They cite the same law they previously said should make the bids secret.
"Unfortunately, that's not public information," said Jane Rudolph, director of the Arlington Department of Parks and Recreation. "It's based on Virginia procurement rules."
THE AQUATICS CENTER has been a source of controversy since it appeared on the ballot in 2012 as a bond initiative. County records say the total cost of the project is expected to be $79.2 million.
County Board member Jay Fisette says he made a presentation to the Arlington Committee of 100 in October 2012 outlining annual operating costs of the park as somewhere between $700,000 and $2.5 million. More recently, county officials acknowledged that the operating cost of the facility has more than doubled to $3.8 million a year — a figure that has caused some consternation.
"When you convert that 2012 dollars to 2020, which the latest figures were," said Fisette, who is now County Board chairman, "and when you take out an error by the staff of including the Phase One, which they should not have done, the high range from my presentation a month before the vote and the most recent one by staff is 15 percent."
When asked about the county's unwillingness to share basic information about what Arlington leaders anticipated the constrictions bids to be, Fisette had little to say. He referred questions to senior members of the county staff, who said that they remain unwilling to share information with the public.
"I don't think there's anything I can add to what is written," said Fisette.
THE LONG BRIDGE Aquatics, Health and Fitness Facility has been designed to be a regional draw to Arlington, that could host international competitions. In addition to the 50-meter competition pool, the facility will have teaching, family and therapy pools as well as "wet classrooms" and "party rooms." Donnellan describes the center as an "ambitious project" to transform a "once-industrial wasteland" from a brownfield to an "iconic gateway." But leaders in neighboring Alexandria are also planning a 50-meter pool. Now Arlington leaders are refusing to release basic details to the public about what the expectations were for the bids.
"I don't know why they are not releasing the information," said Frank Shafroth, director of the State and Local Government Leadership Center at George Mason University. "Somewhere, there's a big problem here and I'm sure they are doing everything they can to get to the bottom of it and then to figure out what do and how to come back."
County leaders say they hope to be able to bring a contract to County Board members this spring, just in time for the project to be part of the budget season. Meanwhile, budget officials say the county is facing a potential budget gap of $20 million to $25 million in the next fiscal year, which will mean projects like the aquatics center and the streetcar proposal are certain to take center stage.
"I think we should circle back to our community and have perhaps a difficult but I think very important conversation and discussion about the aquatics center — how it will benefit Arlington, and what it will cost — before we move forward," said County Board member Libby Garvey.