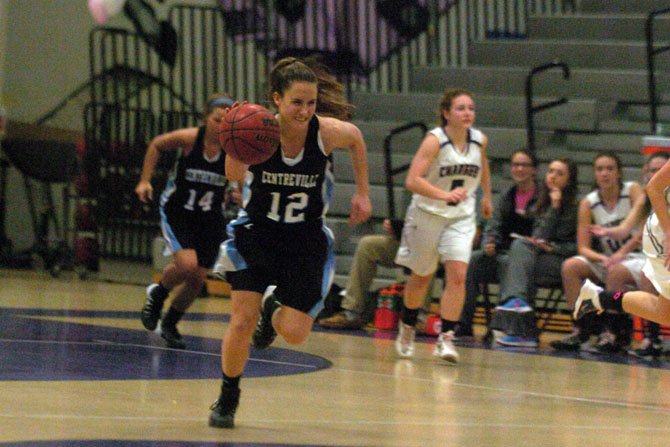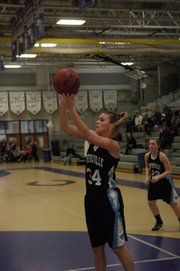 Centreville girls' basketball coach Tom Watson said a loss to Chantilly three weeks prior provided no additional motivation for Tuesday's rematch. His players, on the other hand, felt differently.
Chantilly defeated Centreville 46-45 on Jan. 10. It was one of only two losses for the Wildcats this season and one of only five since the start of the 2012-13 campaign. The two teams met again Tuesday and an injury-riddled Chantilly team kept the game close for a half. But in the second half, Centreville pulled away like a team with legitimate hopes of making a deep postseason run.
The Wildcats defeated the Chargers 58-39 on Jan. 28 at Chantilly High School. Centreville led 29-25 at halftime, but built a comfortable lead by outscoring Chantilly 18-6 in the third quarter.
"We definitely owed them from last time," Centreville junior Caroline Wakefield said, "and we worked 10 times harder to beat them."
Centreville has many of its key players back from last season's team that finished 24-3 and reached the region semifinals. The Wildcats were 10-1 this year when they lost on their home floor to Chantilly. Since that loss, Centreville has won six straight games, including a 55-38 victory against perennial power Oakton.
"There really wasn't any added motivation [to beat Chantilly]," said Watson, who is in his second season as Centreville head coach. "We have a goal and our goal is to get deep into the regionals, so I'm not really trying to get somebody back because they beat me. Actually, I was happy that Chantilly won. I've coached a lot of girls on that team for Chantilly in AAU and they hadn't beat us in about four years and, you know what, a loss doesn't hurt once in a while. That loss motivated us and I think the reason that we beat Oakton handily is because of that loss to Chantilly."
Chantilly entered Tuesday's rematch without the services of starters Kelsey Young (knee) and Mary Clougherty (elbow), who are out for the season with injuries. A third starter missed the game for team reasons. Still, the Chargers hung around for a half and were within three points late in the second quarter.
"We definitely owed them from last time and we worked 10 times harder to beat them."

— Centreville junior Caroline Wakefield
"I came out and challenged the girls in the third quarter," Watson said. "I said this is your season. If you go out there and throw an egg out there, win by two points, nobody's going to respect you."
The Wildcats responded with a strong second half and improved to 16-2.
Centreville point guard Jenna Green, who said the Wildcats had "a lot of motivation" to win Tuesday, led all scorers with 20 points. Senior guard Ashley Brusick, who recently made her 100th career 3-pointer, scored 10 points and made a trio from behind the arc. Senior guard Katie Blumer, who is approaching 100 career 3-pointers, finished with 10 points and made two from long range.
While there were some strong offensive performances, Watson and Green made an effort to praise the defensive performance of Wakefield, a 5-foot-8 forward.
"I think we played a lot better on defense," said Green, comparing Tuesday's performance to the early-season loss against Chantilly. "Defense was huge this game. Caroline played an awesome defensive game."
Wakefield scored six points and grabbed five rebounds to go with her strong defensive effort.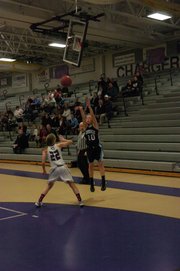 "I think Caroline is the best defensive player in the region," Watson said. "Caroline is the reason we're winning these games — I truly believe that. I know Jenna is the stud of the team, but without Caroline, we don't get the rebounding. I put her on the hardest player on every single team and she shuts them down. … Without her, we're sunk."
Injuries have taken a toll on Chantilly, which has dropped five straight games after winning 10 of its first 12.
"We took a huge hit last week with all the injuries that we have, so our goal today was to get out and contain and maintain the best that we could against a team that is one of the top in the region," Chantilly head coach Kurt Sporkmann said. "… We're rebuilding. We're trying to figure it out. I'm proud of my girls. They did what they had to do."
Senior post Shawnice Gresham led Chantilly with nine points.
"Shawnice is my go-to player right now, she really is," Sporkmann said. "We hope that we can continue to go to her for the remainder of the season."
Chantilly guard Allison Kemp has been playing through a hip injury, but Sporkmann said the senior will soon undergo a corrective procedure that will end her season. Kemp finished with seven points on Tuesday.
Sporkmann, who is in his second season as Chantilly head coach, said the team's 10-2 start makes things even more disappointing for the Chargers.
"My heart breaks for them," he said. " … What hurts is all the work that these girls did, the trust that they put into me, the belief they put into this system."
Centreville will travel to face Westfield at 5:45 p.m. on Friday, Jan. 31. Chantilly will travel to face Herndon.