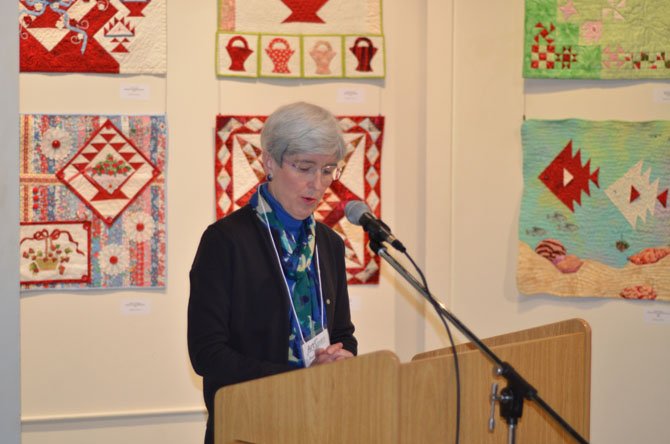 Fine textile art with quilts of many shapes and designs are showcased in the exhibit "Something Blue" at ArtSpace Herndon. The show features 75 pieces of quilt art, and it was organized with the help of Dorry Emmer and Sarah Entsminger. Twenty-three quilters have lent their work to be hung on display at this exhibit, which will continue until March 2.
"I do believe that there is now an increase in interest in learning textile arts as compared to the 1980s and '90s," said Dorry Emmer, a resident of Great Falls. "Within quilting a subsection has sprung up called 'modern quilting' and this is attracting younger people as they see it being more contemporary. But really, modern quilting has more similarities to traditional quilting than differences."
The exhibit began at ArtSpace Herndon on Jan. 14, and on Sunday, Jan. 26, there was an artists' reception at the gallery. Emmer has been a member of the Reston chapter of Quilters Unlimited since 2001. "In this area there is a group called Quilters Unlimited and that is broken down into eleven "town based" chapters," said Emmer. "All of the exhibitors in the show belong to Quilters Unlimited (or have, there are four who have moved away from the area recently because of retirement and the likes) .… Most all of them exhibited in the ArtSpace show in 2012 although there are a few new ladies," said Emmer.
At the reception, Herndon Foundation for the Cultural Arts (HFCA) Board President Harlon Reece introduced Dorry Emmer, and ArtSpace Herndon's new executive director, Lawrence "Larry" Verbiest. A resident of Fairfax, Verbiest joined the ArtSpace Herndon in January after previously serving as a senior associate with Booz Allen Hamilton and later with a small law firm. "Lawrence comes to us with outstanding education and experience credentials." said Reece, "His operational management and team building skills and his strategic insight will make him an immediate asset to our organization."
"You will see me frequently at ArtSpace Herndon during exhibits, visiting classes and at receptions and other scheduled events," said Verbiest.
"The exhibit is very colorful," said Marguerite Nafey, a resident of Reston. "It is interesting to see how somebody can take a piece of fabric and be so creative." Town of Herndon councilwoman Melissa Jonas came to the reception with her daughter, Claire, a 6th grade student at Herndon Elementary School. "My mom majored in home economics, so I think this exhibit is really cool," said Jonas. Her daughter Claire was impressed with the design of the quilt "Tie One On" by Lynn Purple.
The quilt exhibit is called "Something Blue" because it was a color that had to appear in the finished piece. "I also thought that blue would be a good color given the show was going to open in January when people might have the post holiday "blues" or "winter blues," said Emmer.
"I enjoy incorporating vintage linens into my designs," said Reston quilter Barbara Wise.
Anne Smyers answered questions about her work "It All Starts in the Water, The Five Elements in Flowers:" "The different colors portray a different element."
ArtSpace Herndon is located at 750 Center St. in Herndon. To learn more about ArtSpace Herndon and other upcoming events, visit www.artspaceherndon.com.