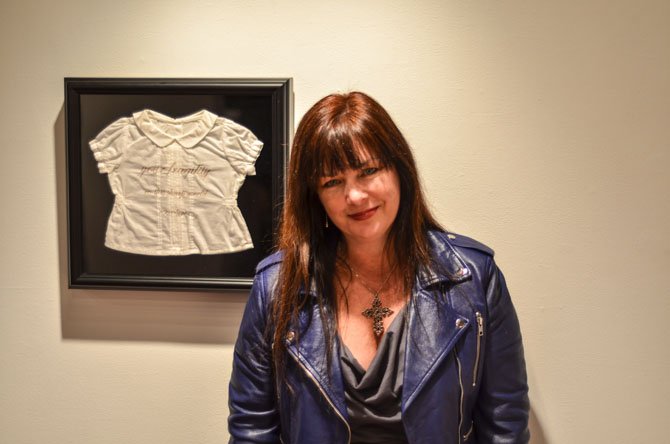 "I am really thrilled with the level of artists we were able to bring to this exhibition," said Holly McCullough, executive director and curator of exhibitions at the Greater Reston Arts Center (GRACE). "The work is such varied interpretations of needlework that it makes you rethink your preconceptions of what needlework is … the artists reverse our expectations of the medium." The exhibit STITCH is a group exhibition of needlework and its incorporation into forms of contemporary art.
On Thursday, Jan. 16, an opening reception at the GRACE art gallery was attended by many of the exhibiting artists. "Negative space often plays a role in my work," said Pam Rogers, a resident of Bethesda, Md. "I make my paint out of soil in minerals in my art work … often I sew into the work, creating new planes, repairing embellishing the images."
The art show STITCH exhibits the work of eight artists, five from the northern Virginia and D.C. region, two from New York City, and one from Delaware. "This is my second time showing here at GRACE," said Kate Kretz who is showing some of her more recent work. These pieces include embroidery featuring the grey hair of dozens of women.
"They are all done by hand," said Kretz. "For me it is an act of defiance in the age we live in the way I am choosing to spend my time." Kretz avoids using sewing machines as much as possible when doing her artwork. "I use my work to help process emotions," said Kretz.
Stephanie Booth, a resident of Alexandria, was also attending the reception. "I started embroidery on a limited basis when I was an undergraduate at Mary Washington College," said Booth. "For me, there is an undeniable urge to connect to the past and uncover my roots and origins." Included in Booth's display at GRACE is a set of self-photos taken wearing wigs that belonged to her grandmothers.
"I would say my work is about connections … what we do with our hands connects us to other people," said Rania Hassan who resides in Washington, D.C. "This series started because of my fascination with knitting, love for painting, and intrigue in the community of knitters worldwide." Other artists who have their work on display at this Reston exhibit are Orly Cogan, Suzi Fox, Erin Endicott Sheldon, and Nathan Vincent.
During the evening reception, McCullough greeted everyone attending the show, and spoke briefly about some of the exhibiting artists. McCullough also introduced Robert Goudie, chairman of the GRACE board of directors to the audience. Goudie announced GRACE had exceeded their fundraising goal, and with the help of GRACE board member Jim Cleveland, had raised $250,000 which can be used to expand marketing efforts and grow the quality of exhibitions. "I think we have really innovative artists here," said Goudie. "We are really excited Holly is our new director as her presence will add depth to the gallery's messaging."
The group exhibit STITCH will continue to be on display at GRACE until March 1.
Artists and art lovers founded GRACE in 1974 as a source of cultural enrichment for the new community of Reston. The gallery is located at 12001 Market St. #103 in Reston, and its website is www.restonarts.org.