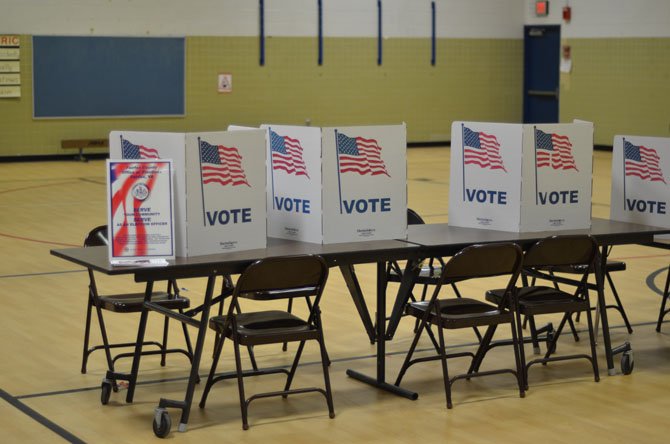 Despite a snow fall which closed Fairfax County Public Schools, 10 voting precincts in Fairfax County were open Tuesday, Jan. 21 for the special election to replace fill the State Senate for the 33rd District vacated by the election of Attorney General Mark Herring.
The district includes parts of Chantilly, Oak Hill, Herndon, Sterling and Leesburg, on Tuesday, Jan. 21. Twenty-eight percent of the 33rd District is in Fairfax County, and 72 percent is in Loudoun County.
"The turnout so far has been better than a primary election," said Michael Linck Jr., a resident of Herndon and Assistant Chief Election Officer stationed at Herndon Elementary School. "We had quite a few people showing up to vote but had to turn them away because they are not registered at the 33rd District."
The three contestants were Republican John Whitbeck, Democrat Jennifer Wexton, and Joe May, former Republican delegate running as an independent.
By 12:20 p.m. more than 680 votes had been cast at Herndon Elementary School. "The turnout has been medium, fairly steady" said Robert Walker, chief election officer at the Herndon Elementary School. "One of the touch screens was acting up, so we took it out, it did not have any votes on it."
The winner of this special election will hold the seat for just under two years, through the remainder of Herring's term, which ends Jan. 16, 2016. Herring's resignation from his State Senate seat officially became effective Saturday, Jan. 11.
At Herndon Community Center, Jay Donahue was handing out ballots for candidate Wexton. "The turnout looks pretty good," said Donahue, a resident of Herndon. Donahue had arrived at Herndon Community Center at 5:30 a.m. and was intending to stay until 3 p.m.
Lee Halpern, resident of Herndon was at the Community Center as Assistant Chief Election Office. "Turnout is higher than light, but driven by the weather," said Halpern.
At Herndon Middle School, the number of voters had decreased by the afternoon. "Before the snow hit, there was an aisle of incoming voters," said Chen Yang, designated chief election officer for Herndon Middle School. At 1:15 p.m. there were 494 total votes at the Middle School. "I'm not sure if voters will be scared off by the weather or not," said Yang.
By 1:30 p.m. all Fairfax County Government offices, parks, and libraries were closed, due to the inclement weather but the ten polling locations remained open.