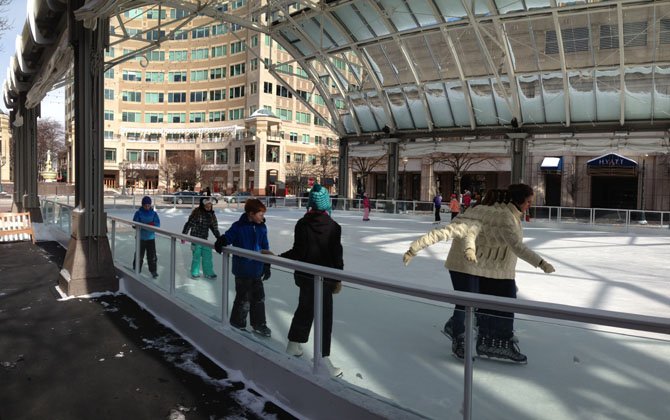 Winter Fun Activities in Reston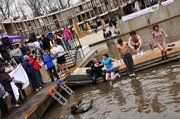 Just because it's cold out doesn't mean resident have to stay indoors. Reston has much to offer for families during February and March, with everything from plays, musical performances and art workshops to new restaurants and wine tastings at Reston Town Center.
Here are some ideas to get started:
Greater Reston Arts Center presents TGIF Free Friday on Feb. 7
Bring the whole family along for an evening of art and storytelling in the GRACE Gallery at 12001 Market St. in Reston Town Center from 5-7 p.m. Explore the gallery and see STITCH, a group exhibition showcasing trends of needlework in contemporary art that will be in the gallery until March 1. Children can participate in arts workshops led by GRACE staff members; call 703-471-9242 for more information.
Friday Night Rock n' Skate at the Reston Town Center Ice Skating Pavilion
Come ice skating with family and friends at Reston Town Center on Friday nights and enjoy a DJ, games and prizes from 8-10 p.m. (rink open until 11 p.m.). Cost for entrance is $10 for adults, $8 for children, plus $5 for skate rentals. For more information call 703-709-6300.
"Be Our Valentine" on Saturday, Feb. 8
This event hosted by Reston Regional Library celebrating Valentine's Day is appropriate for all ages. Beginning at 11a.m., children will enjoy a kazoo band and plenty of dancing, as well as Valentine's Day-themed fun and games. For more information call the library at 703-689-2700.
"Calling all Poets" Writers Group on Thursday, Feb. 27
What better time to brush up on your poetry for National Poetry Month in April than now? Unleash that inner poet or poetry lover and join the community in sharing poetry at the Reston Regional Library from 7-8:30p.m. Coffee and light refreshments will be served; call the library at 703-689-2700 for more information.
Reston Community Players present "Xanadu" at RCC CenterStage
Come see this musical tale of a Greek goddess searching to bring the world its first ever roller disco. The Reston Community Players, directed by Joshua Redord and Matt Jeffrey, will be performing this 1980s musical from March 7 – 29, with matinee options on March 6 and 23. Tickets cost $23 for adults and $20 for students and seniors. Go to restonplayers.org for more information.

Freezin' for a Reason at Lake Anne on Saturday, Feb. 1
Be part of the annual mid-winter event that defies rationality during the cold months by jumping into Lake Anne. The 7th Annual Freezin' for a Reason Polar Dip will aim to raise $100,000 for Camp Sunshine, a year-round national retreat for children with life-threatening illnesses. The cost per person is $100, and in addition to bragging rights, each participant will receive a commemorative "I Did It" shirt. Spectators are welcome to come and cheer.
Parents' Night Out at Walker Nature Center Feb. 14
Parents can have a chance to enjoy a romantic Valentine's Day by giving children ages 5-12 their own fun-filled day at the Walker Nature Center, located at 11450 Glade Drive. Beginning at 6:45 p.m., youngsters can enjoy a night of nature games, a night hike (weather permitting), and a movie with popcorn. Cost is $15 for Reston Association members, $20 for non-members. For more information call 703-476-9689.
Ted's Bulletin Opening at Reston Town Center
Try the newest restaurant to come to Reston Town Center, Ted's Bulletin, opening Thursday, Jan. 30. In addition to a dining room that seats more than 150 patrons, a semi-private meeting and event space, and an oversized projection screen, Ted's Bulletin brings a vintage 1930s feel and classic American cooking to Market Street. Opens Thursday, Jan. 30; for more information visit www.tedsbulletin.com or contact the Ted's team at 703-417-2702.
Jigsaw Puzzle Contest on Tuesday, March 25
Join as either an individual or a couple for this timed contest, which will also include, lunch, coffee and conversation from 10 a.m.-3 p.m. Participants will complete as many Reston-themed puzzles as they can during the allotted time period. The contest will be held at the Reston Association's headquarters at 12001 Sunrise Valley Drive. Cost is $9 for RA members, $13 for non-members.
Children's Pirate Party at Reston Association
Give your child the chance to finally be a pirate at this Reston Association event Tuesday, March 4. Children ages 3-5 will be able to dress up in pirate gear and enjoy games, arts and crafts and other activities. Cost of registration is $4 for Reston Association members, $6 for non-members. Registration required; for more information visit the Reston Association at 12001 Sunrise Valley Drive or call 703-435-6577.
Basilicata Wine Dinner at Il Forniao
Enjoy an evening of delicious food and fine wine at Il Forniao of Reston Town Center. Starting at 6:30 p.m. on Thursday, Feb. 27, guests will enjoy a five-course dinner paired with wine. Cost is $65 (gratuity and tax not included). To make a reservation, call 703-437-5544 or visit www.ilforniao.com.
Casino Night to benefit The Boys and Girls Clubs of Greater Washington, Fairfax County region.
The Ritz-Carlton of Tysons Corner is hosting a benefit on behalf of the Boys and Girls Clubs of Greater Washington, Fairfax County Region, on Friday, March 7, from 6:30-11:30 p.m. The event is open to the public.
Casino night admission includes an open bar, dinner buffet, gaming, and dancing. Live and silent auction prizes include weekend get-a-ways, dinner at award-winning restaurants, hotel-dinner-limo packages, sporting event tickets and more.
Guests receive funny money and a bidder number. Use the winnings from Black Jack, Texas Hold 'Em, Craps towards raffle tickets for prizes.
Tickets are priced at $95 per person or $175 per couple. The Ritz-Carlton offers a Casino Night overnight room rate specially-priced at $119.
More like this story