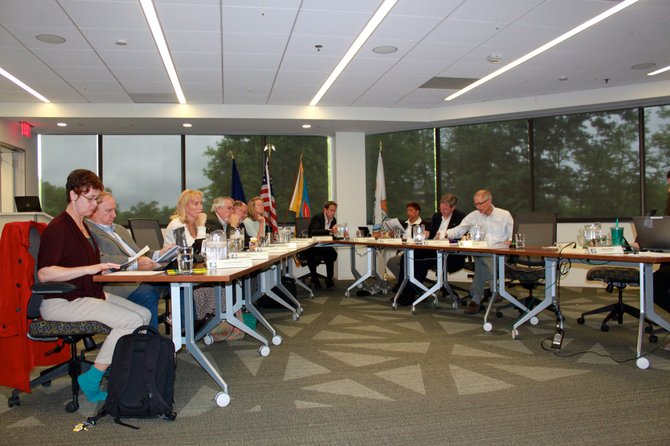 Deer have overstayed their welcome for some Reston residents.
Reston Association Board of Directors approved to allow some homeowners on Sourwood Lane to bow hunt through the 2016-17 archery season to manage the overabundant deer population in the area.
More extensive deer management methods will be explored during the RA Board of Directors meeting in September.
"We were talking about tree canopy on the last board item here, but if you look below the tree canopy on a lot of our properties, and certainly on a lot of the homeowners' properties as well, there's very little forest regeneration going on," said Larry Butler, Senior Director for Parks, Recreation and Community Resources.
Hunters have to be 75 yards away from any streets while hunting, according to the resolution. Additionally, hunting cannot take place during non-school days, weekends or holidays when children are likely to be outside. Deer are shot at from above so the arrow shoots downwards rather than through the air horizontally, minimizing the risk that it misses the deer and hits something else.
"What are the chances of, I live near there, and I really don't want to see a deer with an arrow in it in my yard," said board member Lucinda Shannon. "Would that happen? What are the chances of that happening?"
That question has been raised before in other area, according to Suburban Whitetail Management of Northern Virginia county coordinator Brian Gahagan.
"I can't stand up here and tell you that, definitively, there's no chance that will never happen," he said.
However, he said that data collected about the subject shows that the chances of that happening is miniscule in a deer management environment.
"If I was a betting man, I'd bet you wouldn't see that," he said.
A more comprehensive plan for the rest of Reston will be discussed in September for deer management.
"I recognize that the deer management issue is one that we need to look at in a more comprehensive way," said board member Jeff Thomas. "I have the feeling that this is going to be a small piece in a larger program to help us address this issue. I'm concerned about the undergrowth of the natural areas. Thirty years from now, we want to make sure we have good natural areas."