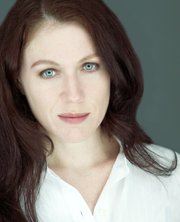 Life as a teenager can be fraught with anxiety. Now Fairfax's Hub Theater is bringing a premiere production inspired by "the regularly escalating violence that is being perpetrated in and on our schools" said Hub artistic director and playwright Helen Pafumi. The play is "Abominable."
Pafumi wanted to explore "what makes someone bully another, what makes them snap and go to a much larger scale of violence? I wanted to tackle these questions in a Hub way - with comedy, magical realism and hope."
"Abominable" focuses on a character named Sam. He is growing rapidly. Life is a hassle. At times he doesn't feel quite himself. Then a mysterious, beast-like footprint is found in town. Gossip and turmoil ensue as people try to understand what may be behind the unexpected footprints. Sam's mother becomes involved trying to find out what is terrifying her community, and what is happening to her son.
The six-member cast is directed by two time Helen Hayes nominee Kirsten Kelly. Kelly was intrigued by "Abominable's" mixture of "magic realism and exploring the moments of magic, connectedness and even humor which surge out of tragedy."
In describing "Abominable" Kelly said "this play will give us all a deeper understanding to a very complex issue…and with generosity, humor, fierceness and heartbreak, it examines so many of the human questions surrounding the cruelty that young people can face as they grow up."
Where and When
Hub Theatre presents the premiere of "Abominable" at the John Swayze Theatre, The New School, 9431 Silver King Court, Fairfax. Performances: July 11-Aug. 3. Friday-Saturdays at 8 p.m., Sundays at 2 p.m. Tickets: $20-$30. Visit www.hubtheatre.org or call 1.800.494.8497. Note: Recommended for those 12 and up. Dedicated performances with talk backs for teens and their parents on July 12, 19 and 27 after the matinee shows.
Chris Stinson plays the teenaged Sam who is "facing a confusing and often painful transition into adulthood," said Stinson. The show's sharp writing about bullying with "universal themes and mystery will really connect with grown-ups, and with those growing up too."
"The play tackles very difficult issues with a sense of humor and a little magic," notes Liz Osborn who plays Sam's mom, Gia. "Gia is just a mom trying to navigate the difficult task of raising a teen." Carla Briscoe is neighbor, Primavera. "I love how the play examines those things which are beyond our control and understanding...the shifting of a landscape...the hormonal overthrow that we call puberty," said Briscoe.
The Hub production of "Abominable" includes original music and sound design by Helen Hayes Awardee Matthew Nielson with scenic design by Hub veteran Kristen Morgan.
"The teenagers in this show drive the story," added Pafumi. "This is a unique perspective" that Pafumi hopes will open a conversation on "growing up and the changing landscape of school violence."