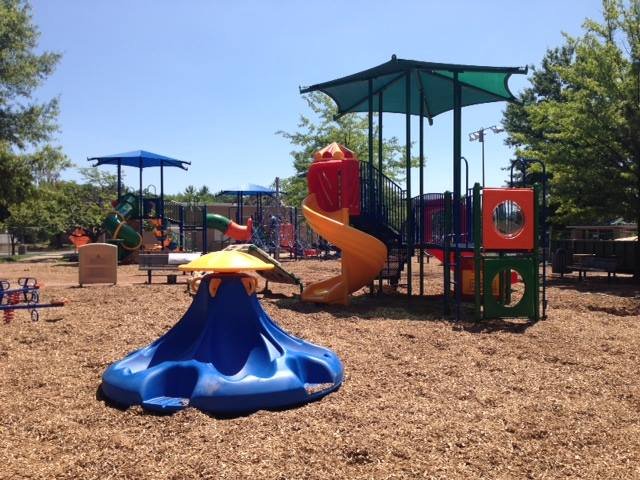 The Herndon Community Center located at Ferndale Avenue in Herndon reopened a new playground on Wednesday, June 25. "This playground packs as much as possible into the space, and incorporated most of the suggestions we gathered from the community and the school kids," stated Cynthia Hoftiezer, Project Coordinator for the Town of Herndon. "We've been thrilled with the response by our summer camp kids and park visitors. We welcome everyone to come out to the Grand Reopening of the playground on the 4th of July at 6:30 p.m."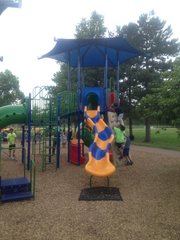 The playground at Bready Park was designed with input from the community and students from area elementary schools. From these conversations, the design included the barrel roller (reminiscent of the former playground), a ten spin, a net climber, a rock wall, double slides, spinning elements, a wiggly bridge, a see-through covered slide, shade toppers and much more. All renovations were implemented according to current playground safety guidelines and ADA standards. "We are excited about the playground," said Town of Herndon Mayor Lisa Merkel.
Bready Park will also be the location of a July 4th fireworks show choreographed to music. The firework show begins at dark, close to 9:30 p.m. With public schools now out, Herndon Community Center offers a variety of summer camps to provide children enriching experiences. Full-day, half-day, or just for a few hours, campers have the opportunity to learn and have some fun. The staff and counselors find the work engaging and rewarding, and many return for the next summer.
The community center still has some openings for enrollment in their summer camp program. Among the different camps are Teen Discovery, for children ages 12 to 15. In this program teenagers will spend two full weeks with friends, while traveling to their favorite summer destinations. There are different destinations each session. The Preschool Play Camp is programmed for ages 3 to 5. Themed activities include arts and crafts, music, and nature. The staff will actively encourage children to try new activities, make friends and learn new skills.
The Herndon Community Center is an award-winning fitness and recreation facility located within Bready Park in the Town of Herndon. Adjacent to the W&OD Trail, the Herndon Community Center is an excellent place to exercise, swim, play tennis, play basketball, or play racquetball. To learn more about Herndon Community Center, visit www.herndon-va.gov/Content/Parks_rec/