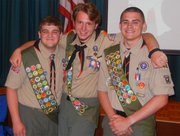 Three Scouts from Troop 944 recently earned the rank of Eagle Scout. These are the troop's 106-108th Eagle Scouts since the troop's founding in 1965. Troop 944 is sponsored by St. Raphael Catholic Church in Rockville.
Thomas DeGraba is a graduate of Good Counsel High School in Olney. Thomas plans to attend James Madison University in the fall. His Eagle project was to create a nature trail at St. Elizabeth Catholic School. The project included a trash cleanup of the area and the stream that the trail led to, the creation of a trail going to the stream and a trail going to a tree observation area, the creation of a trail head area, and the building of a table with benches to be used by classes.
Gerard Beaulieu is a graduate of Wootton High School in Rockville. He plans to attend Montgomery College this fall. Gerard's Eagle Scout project consisted of constructing two picnic tables for St. Raphael Church; the project was inspired by the two rotting and damaged tables that have sat outside of the meeting place for a number of years.
Walter Sprinkle is a senior at Walt Whitman High School in Bethesda. When he graduates, Walter plans to enter the military. For his Eagle Project, Walter constructed a 10' x 14' storage room within the Interfaith Services Homeless Shelter facility in Silver Spring. The storage room allows the shelter to provide resources such as clothing and backpacks to people in need while controlling access to those truly in need.
Thomas, Gerard and Walter are close friends and delayed their Eagle Court of Honor until all three had earned their Eagle Rank. Their Eagle Court of Honor was held on May 10.