Living Legends: The 2014 Project Living Legends of Alexandria is an ongoing 501(c)(3) photo-documentary project to identify, honor and chronicle the people making current history in Alexandria. The project was conceived in 2006 to create an enduring artistic record of the people whose vision and dedication make a positive, tangible difference to the quality of life in Alexandria. Platinum and Gold sponsors this year are the Alexandria Commission for the Arts, Alexandria Toyota, Club Managers Association of America , Dominion, Goodwin House, Inc., Gregg & Monica Murphy on behalf of Senior Services of Alexandria, Linda Hafer and Nina Tisara. This is one of a series of profiles that will appear this year. For information, to volunteer, become a sponsor or nominate a future Legend, visit www.AlexandriaLegends.com or contact Legends@AlexandriaLegends.com .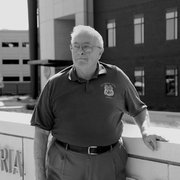 If the city ever establishes an official position of Alexandria Amanuensis, 2014 Living Legends Converse "Connie" West would be a shoo-in for the job. He has documented and continues to record officially the business of numerous Alexandria organizations as their secretary. Currently, he is secretary of Agenda:Alexandria, the Holmes Run Park Committee (which he has also chaired), and the Alexandria Federation of Civic Associations.
But West's contributions go well beyond serving as secretary. He was born in Greenfield, Mass. and raised in northern New Jersey, where his father was an accountant and his mom the town librarian giving him a double set of genes which may have contributed the traits that make him such an accurate and conscientious secretary. After graduating from Drew University in Madison, N.J., he tried a year of law school before being drafted into the U.S. Army. That 26- month service included a tour of duty in Korea. Some 50 years later, West's stepson was at the embassy in South Korea and Connie returned to a very different country. Except for the strained relation with North Korea, South Korea was an interesting place to visit and he enjoyed seeing the changes.
After military service, West settled in the Washington area where he pursued a 30-year career in insurance. The now retired life insurance underwriter moved to Alexandria in 1976 and has been active in numerous city organizations since his earliest days here. One of his longest connections with the city has been as a volunteer with the Police Department. He began in 1989 by answering telephones and taking routine reports, freeing officers from these desk duties. Eventually, he successfully completed some of the courses offered by the Police Academy and logged more than 5,200 volunteer hours of service, the equivalent of nearly three full-time years. So successful was this service that the city created part-time paid positions to perform these duties. Well into his 80s, West was selected for one of the three new jobs.
"The city always backed us up and gave us a lot of responsibility to perform our duties as volunteers. It hasn't changed that much since I became an employee, except I have a little more time to do my job. But the city always viewed volunteers as occupying full-fledged positions. It was surprising at first that they backed us so strongly. I really love this new job and enjoy going to work every day, not something I always felt about insurance I must confess especially when all those end of year reports were due. The people I am working with at the Police Department are wonderful."
He laughingly observed that coming into a job at this stage of life has the added advantage that you aren't very focused on your career path. Somehow, the next promotion is not all that important when you are in your 80s.
Asked if there were other volunteer duties that might be candidates for the same treatment, West mused that the volunteers liaising with pawn shops in Alexandria and along Route 1 might be a possibility. Every pawn ticket is checked against lists of stolen property and he said it is surprising how many items are recovered through these volunteer efforts. There are also translator jobs that could be possibilities for part-time paid work as well.
West served on the Alexandria Traffic and Parking Board for 22 years. He made a point of checking out every corner or stop sign in question each month and that pretty much covered all of Alexandria. He also served on the Alexandria Transportation Safety Commission from 1986 through 2010 including a term as chair. From 1993 to 1996, he chaired the Alexandria Crime Prevention Council and from 1992 until 2011 West was a member of the Regional Council of the Alexandria United Way. He currently serves as a member of the Alexandria Emergency Medical Services Council (beginning in 2009) and the board of directors of Hallmark Condominium which he rejoined in 2010 having been a member earlier from 1980 until 1986. The latter included a year as president. He has been an election official at every Alexandria election.
West was nominated by Roberta "Bobbie" O'Brien who wrote, "Connie has fulfilled all the volunteer roles that he has taken on with integrity and competence. He has done so with the steadiness and calm for which he has become so well known …. Connie continues to serve with enthusiasm on four civic commissions and boards but he has also been in the trenches and no job that needs to be done has been too small for him."
West slowed down for two years which he spent caring for his wife Nedja prior to her death in 2006. From Nedja, West inherited two stepsons who live with their families (including two step-grandsons) in this area.
West does find time for himself. He enjoys Public Broadcast productions such as Masterpiece Theatre and has a long queue of movies he wants to see on Netflix. Unfortunately, for each one he sees and returns he seems to add at least one new one. He enjoys reading mysteries including humorous ones by Janet Evanovich. He also enjoys adventures by Clive Cussler. He hasn't played sports since he played high school football but like many people in this area he follows the local teams, especially on television. He was never a season ticketholder but he did go to one or two Redskins games each year and he has been to the stadium to see the Nats play several times. In general, he prefers watching the games on television to going in person.
The biggest change he has seen since he arrived in Alexandria is the development of Carlyle. He walked over that area when he first arrived here and there was nothing there. Now, there are big buildings and the National Science Foundation will be coming soon. He sees the same sort of potential for Potomac Yard. And if they build it, West will probably record it.
Sherry Wilson Brown, the author of this article, is executive director of Agenda:Alexandria.