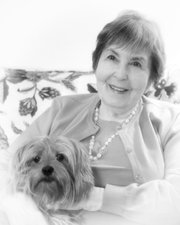 Elaine Shirley Miller Rosenberg, resident of Alexandria for 87 years died June 22, 2014.
Born to Eva and Manny Miller, of Miller's Hardware, and married to Jack Rosenberg, she is survived by sons Mark and Michael, daughter Penny of Pensacola, Fla., and brother, Sheldon Miller.
A graduate of George Washington High School Class of 1943, she attended William and Mary College, and graduated from George Washington University. She retired from government service, having worked for the Architect of the Capitol.
She found abundant joy in the multitude of friends with whom she played bridge. For nearly 50 years the Marathon Bridge Groups around the Beltway donated well over $350,000 to The Children's National Medical Center of Washington. Along with medical equipment, they donated rocking chairs so that staff, moms and dads could welcome the newborns in to the world. Hers was the final group of bridge ladies that kept the tradition alive.
In lieu of flowers send a gift to Children's National Medical Center, 801 Roeder Road, Suite 300, Silver Spring, MD 20910.