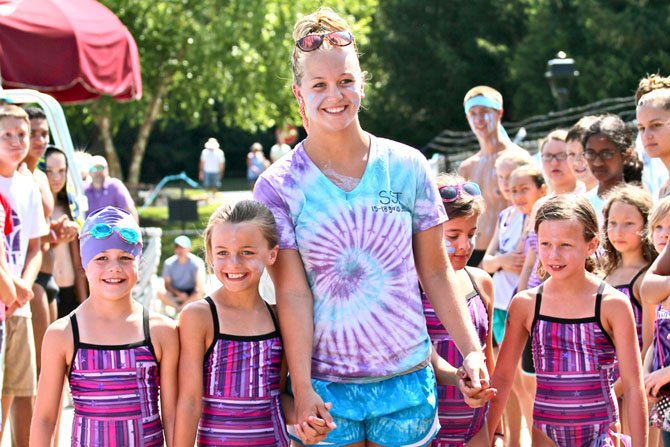 The Sully Station SSTs turned 25 this week. The celebrations continued throughout the weekend, with carnival games for the swimmers on Friday night, a home meet on Saturday, June 28, followed by a picnic with alumni and current swimmers, games and relay races. The festivity of the picnic was the perfect way to finish off the weekend and celebrate the team's second straight win, in a home meet over Crosspointe, 231-189. The SSTs swam hard with six sweeps, wins in more than half of the individual swims, seven out of 12 relay races and 58 percent of the swimmers earning personal best marks for a total of 69 time crushes.
Sully Station's younger swimmers started off with a sweep in the 8u Freestyle. Carter Kimmel and Tommy Townsend both beat their own last week's 1st Keira O'Neail also beat her previous win time, again securing the top spot. With 1st place finishes in Freestyle by Lily Render, Allison Hickey and Katie Stulga and a sweep by the 15-18 boys, Danial Okhvvatgilani, Collin Fiala and Michael McPherson, the SSTs set the tone for the rest of the meet.
The 15-18 boys won the SSTs a sweep in Backstroke with Collin Fiala triumphing over teammates Sam Wilson in 2nd and Matthew McPherson in 3rd. Tyler Whitacre, Kennedy O'Neail, Madison Moon and Bryan Patten reached the wall first in their own races while Elise Mozeleski, who beat her own 2013 11-12 Backstroke record last week, won her race only .03s shy of breaking her record again. In her final individual swim for the SSTs, Logan Haddock won the 15-18 Girls event.
Breaststroke proved more difficult for the SSTs, with only a handful of top finishes. Keira O'Neail out-swam Crosspointe, by 6.47s easily grabbing 1st while Gonzalo Lopez Olan had a similar swim, beating the 2nd by 5.79s. Allison Hickey tied for 1st Moore, Grace Robinson and Adriana Stockel posted a sweep for the 13-14 girls.
Sam Wilson won for the 15-18 boys.
The SSTs rebounded in the Butterfly events with Tyler Whitacre and Kennedy O'Neail winning the 8u events. Leah Mozeleski, Bryan Patten and Elise Mozeleski won their races, while Danial Okhovvatgilani, Michael McPherson and Carl Gerland brought home the 15-18 boys second sweep of the day.
Before the relays, the SSTs took a moment to honor Logan Haddock. Haddock a 2014 graduate of Chantilly High School, where she served as captain and MVP of the Swim & Dive Team, reported to the University of Tennessee this week to start training for her freshman swim season. An NVSL swimmer for 15 years, Haddock swam for the SSTs for four years. Haddock finished out her years with the SSTs with wins in both her relay events. First for the 15-18 girls in the 200m Medley along with Sophie Wilson, Zoe Hemmer and Megan Hickey and then the 18u 200m Mixed Age Relay with Allison Hickey, Leah Mozeleski and Payton Moore.
In Monday's B meet at Virginia Run, the SSTs swam hard with 22 first place finishes and 89 personal best marks. The younger swimmers in particular came together and slashed huge chunks of time from their previous best swims.
Luke Campet started the meet off with a win in the 6u Freestyle, followed by Connor Moon in 2nd and Harrison Brooks in 3rd. Campet and Moon both shaved time off. Six year olds, Kate McArthur and Charlotte McGonigle each improved by more than 7% during their 1st and 3rd
place wins, but it was teammate Brooke Long reaching the wall in 5th, who enjoyed the biggest improvement of the meet, crushing her best time by an unbelievable 36.14 percent. Rhea Maran also amazed, dropping 18.71 percent of her time in the Girls 7-8 Freestyle, while Alexis Kowalewski earned a 15.89 percent personal best mark for the 9-10s and Cayman Johnson, 16.85 percent for the 11-12 Boys. Finishing up the wins in the Freestyle events were Bryce Brown, Avery Moon, Jose Artieda and Matthew McPherson, Brown, Moon and Artieda each dropping time.
With six first place finishes in Backstroke the SSTs enjoyed significant improvement across the board, with five swimmers improving by more than 10 percent.
Connor Moon reduced his time by 11.83 percent, with a 3rd place finish in the boys' 6u event. Cameron Strawderman cut 13.50 percent from his previous time in this event. Winning for the 6u girls, Charlotte McGonigle slashed 17.22 percent from her time, while Kylie Brown, finishing 4th, noted an 11.50 percent improvement. Jacob Myers dropped 10.30 percent from his previous best swim. Nate Hamluk, Parker Brooks, Jose Artieda, Adison Moore and Dominic Huffman were victorious in their respective age groups, with Hamluk and Brooks netting faster swim times.
In Breaststroke, 20 SSTs earned personal best marks. Tucker Whitacre started it all off crushing his previous swim time by 18.55 percnet and securing the 3rd finish. Jakob Huse and Olivia Southerly achieved the first wins in Breaststroke for the 9-10s, Natalya Hamluk improved by 12.59 percent. Also winning in Breaststroke were Lara Zanotti for the 11-12 girls and Jack Tyskowski for the 15-18 boys.
Butterfly also resulted in notable improvement among swimmers, with four realizing improvement in the double digits. Nine year old Andrew Zanotti shattered his best time by 23.75 percent finishing 3rd unofficial brought her swim time below the 20 second mark, with an improvement of 16.64 percent. With her second win of the night, Olivia Southerly chopped 13.76 percent from her time. In the 11-12 races AJ Hamluk took 3rd place improving 16.60 percent, while Lara Zanotti won for the girls. Matthew McPherson winning for the 15-18 boys, also cut time.
Despite the late hour, the IM events were lively and competitive. Tyler Whitacre started it off with a win for the 8u boys setting a new best time of 1:53.41s. The girls' race was tight as twins Kennedy and Keira O'Neail kept each other close for most of the race. Kennedy picked up steam on the third turn, ultimately winning, with a personal best mark of 13.42 percent, with Keira close behind in 2nd place.
The 11-12 races had Bryan Patten winning for the boys. In the girls' event the SSTs grabbed the top six spots, led by Elise Mozeleski in 1st, Allison Hickey in 2nd, Jessica Dickinson in 3rd, Lara Zanotti in 4th, Adison Moore in 5th and Jessica Molloy in 6th. Marie McPherson and Emily Huse also had great swims in this event. Finally, Danial Okhovvatgilani won for the 15-18 boys, with a time of 1:06.08s.
In the week ahead, the SSTs will travel to Mantua for an A meet, Saturday, July 5 and again to Poplar Tree on Monday, July 7 for a B meet. On Wednesday, July 9, the SSTs will host the Dividion 5 Relay Carnival.