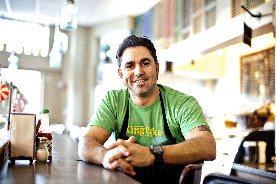 On Wednesday, July 2, McLean's own Chef David Guas took on television as host and co-judge of the Travel Channel's new show "American Grilled," in which he travels around the country hosting grilling competitions every Wednesday at 9 p.m.
Guas, a native of New Orleans, is no newcomer to the world of food, he said. "Food is a big part of the culture in New Orleans, and I was always around it," he said, adding that he got his first taste of grilling from his Dad, a "weekend warrior" who loved outdoor cooking.
But Guas didn't always aspire to be a chef. He first began cooking himself in a mall food court at a place called "Philly's Steak and Cheese," he said. "I loved cooking and the feeling of making something with my hands. Even in the simplest of forms, it's artistry."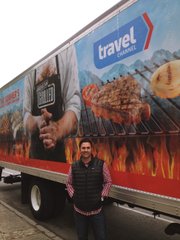 GROWING UP, he watched Justin Wilson on PBS. "He was the Cajun Julia Childs," Guas said, "and he was my celebrity." Guas' grandmother grew up with Wilson, so Guas talked to him on the phone when he was trying to pick a career to pursue. Wilson had a friend who owned a cooking school and pushed Guas to attend, he said.
"My Aunt was pushing me to pick a trade. 'Be exposed to things you're passionate about, and find something to learn,' she said, so I went to the cooking school," Guas said.
It was a short program, two or three months Guas said, so he then went looking for a job where he could continue to learn. "I wanted to work at the best place in the city, so I looked to the hotel environment," Guas said. Through one of his father's connections, he managed to get an interview at the Windsor Court Hotel.
And though he thought he had no chance of getting the job, Guas found himself working under a professionally trained German pastry chef within the week. The only problem was that he had no experience with pastries at all.
"I told the chef to just show me once, and I'll do what it takes to learn," he said. "The rest is history," Guas added, saying that he learned so much he didn't even consider working with savory foods.
After two years, he was given the opportunity to move to D.C. with two partners and be the executive pastry chef of DC Coast, a new restaurant they were planning to open in 1998. He stayed with Passion Food Hospitality as they opened more restaurants in D.C. for the next 10 years, he said.
Then Hurricane Katrina hit. "My parents decided not to move back to New Orleans, and I struggled with that," Guas said. He felt as if he was losing his identity and his anchor, he said, so Guas decided to write a book, "DamGoodSweet: Desserts to Satisfy Your Sweet Tooth, New Orleans Style."
It was 2009, and Guas started working on Bayou Bakery, his coffee bar and eatery in Arlington and soon-to-be Capitol Hill. "I didn't want to be known for one thing, and I wanted a place that had a little bit of everything," he said of the concept for his own business. "This is an homage to my childhood and home state," he said while motioning around Bayou Bakery.
Guas finally "gave in" and appeared in an episode of "Chopped" on the Food Network in 2012, warming him up to television. He has also appeared in interviews throughout the years and enjoyed them, he said, so when he was approached for a Travel Channel show he was excited.
AFTER INTERVIEWS and phone conversations for months, Guas was finally offered something he couldn't resist: "Wanna make a show?" asked an executive from the Travel Channel. "Let's do this," Guas replied.
He filmed three cities in one month, then the episodes were sent to focus groups for review. "They were blown out of the water," Guas said, so they filmed another 10, traveling from city to city and grilling all the way. "It's just straight up grilling — something people can relate to," he said.
Guas said it hasn't hit him yet that he hosts a television show, placing him in the same ranks as his idol, Justin Wilson. "I just do what I love to do," he said.