Herndon ceramics business Potter's Fire awarded trophies for the first Potter's Fire Throwdown contest on July 7 in downtown Herndon. The Potter's Fire Throwdown is a contest developed to challenge other businesses in Herndon to decorate their storefronts for the patriotic holidays from May 10 to the 4th of July. This year there were nine contestants. Donations for the event were divided between The Fisher House Foundation and The Pride of Herndon Marching Band. Approximately $650 was raised for the Town of Herndon Marching Band.
Potter's Fire owner, Mike Faul, developed the idea of a local community competition. Faul pitched this idea to Town of Herndon Mayor Lisa Merkel and the town council, who complimented his plan and encouraged other local businesses to participate. "I think it was a great idea for a new business in the community to engage everybody," said Cindy Roeder, director of the Herndon Parks and Recreation Department. Roeder attended the award ceremony along with Town of Herndon Economic Development Manager Dennis Holste, Jr.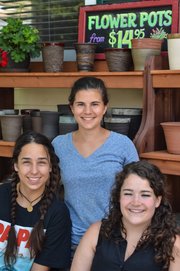 "It was good to see community within the local businesses," said Holste. Three local judges evaluated the contestants. One of the judges was Herndon resident and Executive Director of the Council for the Arts of Herndon Signe Friedrichs. "I think [the contest] was a great idea and give my congratulations to all the winners," said Friedrichs. "I look forward to when more businesses will participate." Herndon Florists won third place, Green Lizard Cycling won second place, and first place won by Abrams Landau, Ltd. Law Practice.
"We were proud to be a part of honoring our troops," said Beth R. Meyer, co-owner of Green Lizard Cycling. "It was a blast," said Herndon Florists owner Anne Harvey. "We had a great time. It was a great idea and everyone loved it." The first place prize trophy, The Patriot's Cup, will remain in the possession of the winner for a year until the next competition.
"I think Mike Faul has had a great impact on the downtown Herndon area," said contest winner Doug Landau. "I think it is important for local businesses to show their civic pride." A member of the bars of Florida, Connecticut, Virginia, New Jersey, and the District of Columbia, and the Federal Circuit Courts, Doug Landau teaches and focuses on the areas of catastrophic personal injury; state workers' compensation; Social Security Disability; occupational disease; and product, airport, and premises liability claims. The practice office is located at 797 Center Street. "I hope this event will create some synergy for downtown Herndon," said Landau. "Everyone likes a little friendly competition."
Potter's Fire had its grand opening in October 2013, and employs five potters. In addition to handmade dinnerware and houseware collections, the business has been developing a line of garden ware. The garden line was launched in May of this year, and Potters Fire intends to sell its wares to local gardening centers in the northern Virginia and D.C. metro areas. For more information on Potter's Fire, visit pottersfire.com.