Upcoming Events
MCA and Great Falls Citizens Association are hosting a congressional debate for John Foust and Barbara Comstock from 7:30 to 9 p.m. Sept. 18 at the McLean Community Center.
A transportation meeting is planned for around Oct. 14.
An education meeting with Dr. Garza is planned for Dec. 9.
Horn reminded members that the MCA Centennial Celebration is on Nov. 20.
The next meeting will be Sept. 3 at Tysons-Pimmet Regional Library at 7584 Leesburg Pike.
As the Silver Line Metro stations prepare to open this month, McLean Citizens Association is educating its members about the county's comprehensive plan for Tysons.
MCA held a Tysons 101 informative session at its July 2 meeting to bring its members up to date on land use transportation issues in the urban center's future.
"The county wants to have 200,000 workers there - double the current size," said MCA Tysons Liaison Co-Chairman Robert Jackson. "They want to have 100,000 residents there."
Growth predictions calculate there will be 44,000 residents and 167,000 employees in Tysons Corner by 2030. Tyson's residential and employee statistics expect to double in size by 2050.
Jackson said a huge part of the "traffic nightmare" happens during morning and evening rush hour because of the number of single occupancy vehicles traveling into or through Tysons Corner to get to Washington D.C.
He said that, with the metro stations opening, traffic in McLean may get worse before it gets better.
"If it's a road that you can get to and from Tysons, it's going to get more crowded," he said.
Tysons Liaison Co-Chairman Mark Zetts said the original comprehensive plan suggested two to three lanes would be needed on the Dulles Toll Road. The newest amendment proposes only one additional eastbound and westbound lane.
"I don't think this is adequate," he said.
ADDITIONAL RAMPS AND CONNECTORS will be added to Tysons, but much of the construction will not happen for several more years to come.
Land use amendments include not building density along bus routes and keeping much of the density around the four metro stations in Tysons.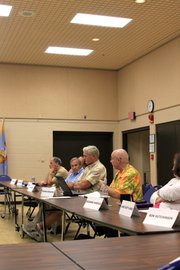 "We want density along the metro, not along a bus route that can change from year to year," said Zetts.
A new wave of rezonings are expected to be approved in the next 18 months as developers get a better idea of what Tysons' future will look like.
"These developers are asking for a lot," said Zetts. "They're asking for the world."
At the moment, there is a 400 foot height limit on buildings being approved, but "gateway" buildings can be taller.
Many of the newest buildings will be hotels and apartments for people who want to live closer to where they work.
"There is a huge push to have more residents there, more people," said Jackson.
However, he warned that the more public facilities, like libraries, police stations and schools need to be added to the comprehensive plan, or Tysons residents will be forced to use McLean facilities.
"If there aren't parks in Tysons, guess whose they're going to use?" he said. "If there aren't any libraries in Tysons, guess whose they're going to use?"
CURRENTLY, according to Zetts, Tysons Corner has 26.8 million square feet of office space, 4.9 million square feet of retail space and 2.6 million square feet of hotel space. Most of the rezoning is expected to take place in east and west Tysons, since most of central Tysons has been claimed.
"Are we going to have the same McLean or the same Tysons as we have now? No," said MCA President Sally Horn. "But we do have a role in how it is shaped."