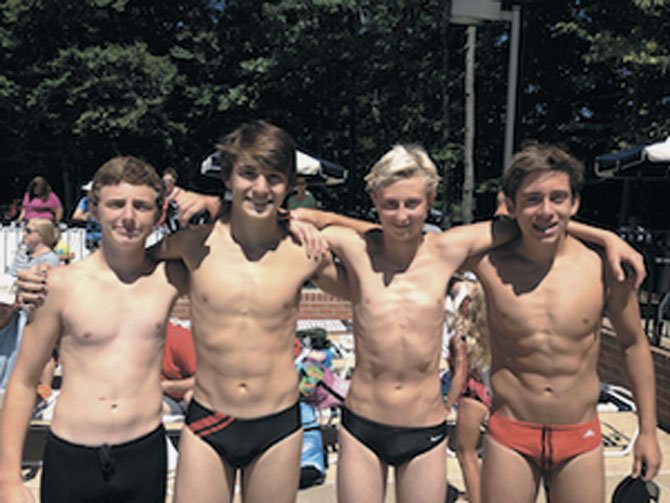 Poplar Tree Pirates Edge Crosspointe Cruisers
On Saturday, July 5, the Poplar Tree Pirates came out on top of what was the closest match of the 2014 season.
The first victories of the meet came in the 8-and-under freestyle events, with Adrian Coray and Nick Chernisky finishing first and second for the boys, and Lauren Radcliffe and Marissa Erickson placing first and third for the girls. Analiese de Leon went on to take third place in the girls' 9-10 freestyle.
In the boys' 11-12 freestyle, Nels Williams placed third in the event. The 13-14 boys and girls followed up with strong finishes in their freestyle events with Marcelo Coray and Nick David finishing first and second, and Lauren Young and Haley Alderman coming in second and third, respectively. To round out the freestyle events, Evan Baker and Steven Longino placed first and third for the boys, and Lauren Hensley finished in second place for the girls.
In the backstroke, the Pirates' 8-under-boys' and girls' swimmers came up strong, placing first in both events. Coray and Chernisky finished first and third, and Chloe de Leon and Marissa Erickson placed first and second in their events. For the 9-10 Pirates' boys and girls, Nathan Warnick took second and Emma Chernisky came in third in their backstroke events. Backstrokers Parker Agan and Nels Williams placed second and third for the 11-12 boys, and Mary Kominski came in third in the 11-12 girls' event. Following up solid in the 13-14 backstroke events, Fletcher Madsen took first place for the boys and Lauren Young and Julia Young came in first and second for the girls. To close out the backstroke events, Pirate swimmers Michael Amico and Steven Longino came in first and third in the boys' 15-18 event, while Hannah Warnick placed first in the girls 15-18 event.
Moving into breaststroke, the Pirates continued their streak with the 8-and-under boys' team of Blake Madsen and Ben Farello taking second and third in their event, and Skylar Small and Kathy Nie placing first and second for the girls. Breaststroker Kai Taft went on to finish first in the boys' 9-10 event, and Neha Balaji and JoJo Ellis took second and third for the girls. In the 11-12 boys' and girls' events, Sam Brunner and Conner Madsen placed second and third, and Mary Kominski and Natalie Farello came in first and second. The Pirates put a definitive statement on breaststroke through its victories in the 13-14 boys' and girls' events, with Fletcher Madsen coming in first for the boys and Corinne Kominski and Melanie Hardmon finishing first and third for the girls. Michael Amico came in second for the 15-18 boys, and Lauren Hensley and Brianna Fridy placed first and third to round out the breaststroke series.
The Pirate butterfly swimmers kicked off the butterfly events victorious with Blake Madsen and Ben Farello finishing first and second, and Lauren Radcliffe and Sydney Erickson placing first and third in the boys' and girls' 8-and-under events, respectively. Not to be outdone, 9-10 Pirate swimmers finished strong with Kai Taft winning the boys' event, Analiese de Leon placing first and Caroline Messier coming in third in for the girls. In the 11-12 races, Conner Madsen placed third for the boys, and Sara Radcliffe came in third for the girls. Pirate domination in butterfly continued with victories in the 13-14 age group. Pirate boys Marcelo Coray and Nick David came in first and second, and Haley Alderman and Corinne Kominski placed first and second for the girls. To close out the butterfly events, Evan Baker took first in the boys' 15-18 event, and Brianna Fridy and Briley Rickard finished strong, taking second and third for the girls.
As so often happens in a tightly contested match, it came down to the relays. The Poplar Tree Pirates' 8-and-under freestyle relay team of Ben Farello, Nick Chernisky, Blake Madsen, and Adrian Coray won it for the boys, while the girls' team of Marissa Erickson, Emily Radcliffe, Skylar Small, and Lauren Radcliffe took it for the girls.
The 13-14 boys' 100-meter medley team of Marcelo Coray, Fletcher Madsen, Nick David and Jared Brennan finished strong, setting a new team record for Poplar Tree with a time of 58.91 seconds.
Following up on the boys' victory was the 13-14 girls' 100 medley winning team of Julia Young, Corinne Kominski, Haley Alderman, and Lauren Young. Finally, in the 15-18 boys' 200 medley relay, the team of Steven Longino, Michael Amico, Evan Baker and Jack David closed out the meet with a win. The Pirates came out on top of this meet with a final score of 214-205.
Single individual event winners: Chloe de Leon (8-and-under back), Sklyar Small (8-and-under breast), Blake Madsen (8-and-under fly), Analiese de Leon (9-10 fly), Mary Kominski (11-12 breast), Corinne Kominski (13-14 breast), Haley Alderman (13-14 fly), Lauren Young (13-14 back), Lauren Hensley (15-18 breast), Hannah Warnick (15-18 back), and Michael Amico (15-18 back).
Double individual event winners: Lauren Radcliffe (8-and-under free & fly), Adrian Coray (8-and-undder free & back), Kai Taft (9-10 breast & fly), Marcelo Coray (13-14 free & fly), Fletcher Madsen (13-14 back & breast), and Evan Baker (15-18 free & fly).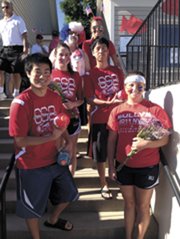 Sully Station II Competes Against Riverside Gardens
The Sully Station II Piranhas demonstrated true patriotic pride with fast swims and All-American sportsmanship on the July 5. Competing against a deep Riverside Gardens squad, the Piranhas churned out 32 best times, captured five relays, and notched an exciting sweep in the girls' 9-10 backstroke by Maddie Stalfort (46.63), Dorothy Cervarich (48.83), and Callie Ver Planck (51.74).
The 13-14 girls turned in another outstanding performance, swimming away with all four events under the leadership of Lauren Peters in freestyle (31.41) and backstroke (35.85), followed by Georgia Stamper in breaststroke (37.23) and butterfly (35.84). Teammate Karenna Hall brought home two second-place finishes and the girls combined with Hope Alston to earn the relay victory in a season-best time of 1:06.00.
Three other Piranhas notched double wins for the team, including 11-year old Faith Alston in free (30.78) and breaststroke (38.70), 14-year old Harmon Saint Germain in free (29.50) and breaststroke (38.20), and 17-year old Austen Bundy in back (32.18) and fly (28.90). Four more single-event victories were nabbed by Angela Cai in free (36.85), backstrokers Kellen Campbell (34.68) and Taylor Smith (39.50), and fly sprinter Caroline Li (18.28).
Piranhas were cheering throughout the meet and grooving to the music on the new sound system. The festive atmosphere inspired swimmers, and team points were tallied both individually and on relays by Hayley Norris, Brantley Cervarich, Ben Wu, Michael Jiang, Anthony Kang, Brody Campbell, Kevin Jiang, Madisyn Graham, Summer Franconeri, Juliet Chiapello, Emerson Saint Germain, Harrison Saint Germain, Aidan Crisci, Delaney Kennedy, Connor Pangman, Caitlin Campbell, Max Morris and Daeun Lee.
The team's graduating seniors were honored in front of an appreciative crowd and took a spirited stroll through the traditional Piranha Pass. Congratulations to Jocelyne Amos, Kevin Jiang, Olivia Witt, and Ben Wu. Piranha Nation is grateful for your contributions in the pool and for your leadership in the community.
SSII also gave special recognition to Swimmers of the Week Brody Haynes, Callie Ver Planck, Hayley Norris, and Jason Li.
Riptide Remains Unbeaten
The Virginia Run Riptide set off plenty of July 5 fireworks at the Mosby Woods Pool on Saturday, besting the Raiders 231-189. Exemplifying the meet theme "Spirit of America," 48 swimmers recorded 59 personal bests, with the 15-18 girls' medley relay of Chloe Hicks, Skyla Davidson, Mia Newkirk, and Serena Emanuel setting a new team record of 2:09.39 and Leo Wang setting a team record in 13-14 breaststroke of 32.94.
The freestyle events were competitive with lead changes and close races. The 8U boys started strong with an event sweep, led by Charles Beamon first, William Whitton second and Davis Collinsworth third. The 8U girls swam strong with Neha Srinivasan placing second and Natalie Orwat third. Jason Cheifetz placed second and Maddie Whitton took first to rack up crucial 9-10 points.
Anthony Arcomona swam to a first to win the only 11-12 points. The Riptide's momentum was grabbed by the 13-14 boys with Geoffrey Eisenhart taking first and Jordan Banzon second, following by Didi Pace winning first for 13-14 girls. In the 15-18 age group, Nick McGrath was second and Johnny Pace third, while Chloe Hicks finished first and Mia Newkirk third. By the end of the freestyle, the Riptide had a slight lead over the Raiders of 49-41.
As the backstrokers took to their lanes, the tension mounted. One again, the 8U boys accepted the challenge and swept the event with William Whitton first, Logan Dahm second and Ryder Hicks third.
After posting personal bests, Natalie Orwat took second and Owen Thomas third for additional 8U points. Andrew Boyle took second and Owen Thomas third, while Caitlin Kelliher took second and Valerie Tonnu third for the 9-10s. Anthony Arcomona and Olivia Masterson (11-12s) captured firsts to keep the meet close. When the 13-14-year-olds pushed off, the point spread began to flow in favor of the Riptide with Geoffrey Eisenhart taking a first and Charlie Gunn second for the boys, and Chanel Cogan taking second and Lauren Stovall third for the girls. A win by Joey Castro and Chloe Hicks in the 15-18-year-old group helped to widen the Riptide lead to 102-78 at the conclusion of the back stroke.
With a larger point spread favoring the Riptide, the breaststrokers began their events. For the 8Us, Charles Beamon took second and Griffin Osterhout third, and the girls achieved identical results with Laney Zimmerman in second and Allison Nguyen in third. For 9-10 boys, Michael Hart swam a personal best to finish first with Andrew Boyle taking third. For 9-10 girls, Emily Jon placed second and Nora Collinsworth third with both posting best times. William Beamon and Olivia Masterson both won their 11-12 breaststroke races with Jack Liskey claiming a third. Joel Cheifetz captured second and Thomas Beamon third while Did Pace took first and Lauren Stovall third in the 13-14-year-old events. Swimming up an age group didn't faze Leo Wang as he won the 15-18 race, with Patrick Kearney taking a third. In the ladies' 15-18, Skyla Davidson placed second and Serena Emanuel third.
As the butterfly began, the Riptide led by 32 points. First-place finishes were achieved by Maddie Whitton (9-10), William Beamon (9-10), Leo Wang (13-14) and Joey Castro (15-18). Ella Thomas (8U), Jason Cheifetz (9-10), Chanel Cogan (13-14) and Mia Newkirk (15-18) swam strong to capture seconds, while Logan Dahm (8U), Laney Zimmerman (8U), Sean Gunn (9-10), Tessa Orwat (9-10), Catie Gunn (11-12), Thomas Beamon (13-14), Patrick Kearney (15-18) and Serena Emanuel (15-18) won those important third-place points.
Entering the relay competition, the Riptide needed only three wins to secure a meet victory. The 8U boys' freestyle relay of William Whitton, Davis Collinsworth, Griffin Osterhout, and Charles Beamon led off with a convincing win. After three straight Mosby Raider wins, the Riptide 11-12 boys' relay of Anthony Tonthat, William Beamon, Anthony Arcomona, and Noah Schettini turned the tide with a win. Achieving a season's-best time, the undefeated 13-14 boys' relay of Geoffrey Eisenhart, Joel Cheifetz, Thomas Beamon, and Jordon Banzon secured the meet victory for the Riptide. Winning their races in quick succession were the girls' 13-14 relay of Lauren Stovall, Olivia Masterson, Sarah Boyle, and Didi Pace, the boys' 15-18 relay of Joey Castro, Leo Wang, Andrew Meredith, and Patrick Kearney, the girls' 15-18 relay of Chloe Hicks, Skyla Davidson, Mia Newkirk, and Serena Emanuel, and the boys' mixed-age relay of Anthony Arcomona, Jason Cheifetz, Geoffrey Eisenhart and Joey Castro.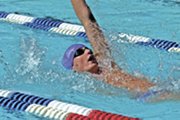 Sully Station SSTs Win, Again
Week 3. The halfway mark of the NVSL season. This is crunch time; when swimmers across Northern Virginia scramble to slash swim times in hopes of swimming in their respective divisional championship meet. The Sully Station SSTs are no different, filling more races with swimmers focusing on specific strokes and exerting extra effort to produce faster times.
Victorious for the third consecutive week, the SSTs faced a tough opponent in an A meet at Mantua, Saturday, July 5, competing in their tightest races yet, but ultimately prevailing, 221-198.
The two teams were in a virtual dead heat through freestyle and backstroke, with the SSTs securing the first-place spot in 11 of 20 events. In a challenging race, Leah Mozeleski surged ahead and touched the wall a half-second ahead of her opponent in the girls' 9-10 50 freestyle, putting the SSTs ahead by six points. The 15-18 boys swept their 50 freestyle, with Collin Fiala in first, just .16 seconds ahead of Danial Okhovvatgilani in second and Dominic Huffman in third. Closing out the freestyle events, excitement rose as the top four 15 -18 girls stayed with each other through the entire race, finishing with only 1.16 seconds between them. Sully Station's Zoe Hemmer was the winner, trimming 1.06 percent off of her time, while Megan Hickey placed third and Grace McKnight fourth. Twelve-year-olds Jessica Dickinson and Elise Mozeleski swam two of the most impressive backstroke races, with Dickinson easily winning with a time of 37.53 seconds, shaving .08 percent off her time for the 11-12 girls. Mozeleski, swimming up in the 13-14 event, landed a win with a time of 33.09, shedding .99 percent, breaking her own 11-12 record for the second time this season.
The SSTs picked up steam in breaststroke, winning the first seven of 10 events. Bryce Brown and Adam Jefferson, grabbing first and second respectively in the 9-10 50 event, each improved their swims, with Brown taking off 1.29 percent and Jefferson .13 percent. Butterfly also went exceptionally well, starting out with Tyler Whitacre for the 8U boys, winning with a time of 23.14, crushing his previous time by 4.5 percent. The SSTs second sweep came in the girls' 15-18 50 butterfly. Megan Hickey was the winner, while Emma Sax, bettering her time by 3.62 percent, squeaked out the second-place finish, beating out Grace McKnight in third by only .04.
Though the SSTs finished the individual races ahead by 23 points, the margin was not reassuring. Each relay is worth five points; faltering in the relays could have resulted in a loss. The races were tight with several being decided by less than two seconds. Ultimately, the SSTs hung on and won six relays, securing the win over Mantua with a final score of 221-198.
In Monday's B Meet at Poplar Tree, the SSTs delivered three sweeps, 14 additional first-place finishes and 60 personal-best marks. In event 1, the boys' 6U 25 freestyle, 5-year-old Luke Campet beat his six year old teammates to the wall, cutting his best time by 1.85 percent. Harrison Brooks was second and Connor Moon third. Moon shaved .72 percent. The 11-12 girls swept the 50 freestyle, led by Annemarie Townsend in first, Paige Jefferson in second and Jessica Molloy, slicing 1.53 percent off her best time, in third. Backstroke was tougher for the SSTs with Lara Zanotti and Hallie Puckett the only wins. Zanotti, swimming for the 11-12 girls, shaved .07 percent off her time.
The SSTs earned 11 personal-best marks in the breaststroke events, with 6-year-old Tucker Whitacre grabbing the top spot in the 8U 25 race, cutting a sizable 4.26 percent from his swim time. The 15-18 boys delivered the team's third sweep, in the 50 breaststroke. Jack Tyskowski was the winner, with Arun Maran, dropping .75 percent in second place and Josh Dill in third. Asha Maran won for the girls in the 11-12 50 butterfly. She crushed her time by 4.62 percent. In the 100 individual medley, three SSTs, Tyler Whitacre, Jessica Dickinson and Amy Layne were victorious, Dickinson reaching the wall 1.35 percent faster than her previous time.
Each Monday, the SSTs' younger swimmers are increasing their strength and stamina, with most consistently trampling over their previous swim times. This week, four SSTs earned personal-best marks exemplifying this. Six-year-old Kylie Brown blasted her 25 freestyle time by 13.18 percent, while 5-year-old Siena Boettcher knocked off 10.49 percent. Siblings Addison and Jacob Myers earned two tremendous improvements, with 5-year-old Addison shattering her freestyle time by 15.72 percent and brother Jacob slashing 15.39 percent in the boys' 8U 25 event.
On Saturday, July 12, the team will visit Poplar Tree again, this time for an A meet. On Monday, July 14, the SSTs will swim a B meet at Greenbriar.