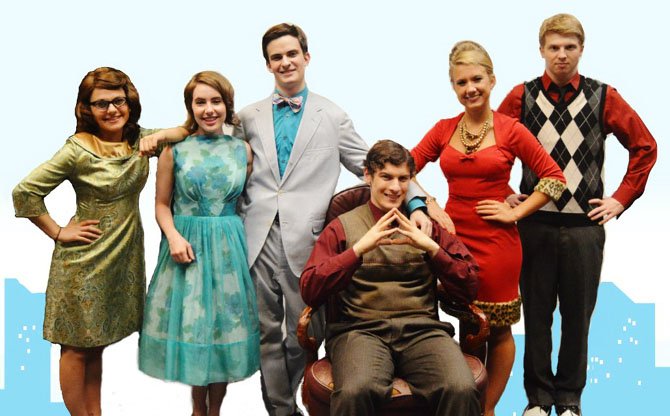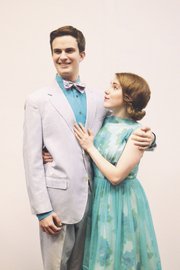 Featuring a cast and crew of 85, the musical, "How to Succeed in Business without Really Trying," is ready to burst upon the stage. A production of Westfield Summer Stage, all performances are at Westfield High.
The curtain rises Friday-Saturday, July 18-19 and July 25-26, at 7:30 p.m., and Sunday, July 20, at 2 p.m. Tickets are $12 in advance; $15, at the door. Seating is reserved; buy tickets at www.westfieldtheatreboosters.com.
"It's a fun show, good for all ages," said choreographer Yvonne Henry. "Our leads are Cappie-nominated and winning students, which lends itself to a phenomenal song-and-dance show." This is also the 14th stage production that Henry's choreographed, and her 40th musical overall.
"The story follows the meteoric rise of J. Pierrepont Finch, who uses a handbook called 'How To Succeed In Business Without Really Trying' to climb the corporate ladder at World Wide Wickets," said Director Lori Knickerbocker. "He goes from lowly window washer to high-powered executive, tackling [challenges including] the aggressively compliant company man, the office party, backstabbing co-workers, caffeine addiction and, of course, true love."
Rehearsals began before school ended in June and, said Henry, "We've made great progress in a short amount of time. Westfield grad Rachel Shirley is co-choreographing, and there are nine, big, production numbers, plus some smaller ones. Some even include everyone in the cast dancing among some large set pieces."
The two-level set depicts an office with a cityscape behind it. And thanks to theater moms Patti Dezelick and Karen Perigard plus the designers, said Henry, "The costumes are gorgeous. It's a great story with an awesome set and wonderful actors. The kids are from all over, and they've formed great friendships because they share the same passions."
"I look forward to doing this all year long because I love teaching dance," she continued. "I love the kids because they keep me energized and having fun. And after 14 years, Westfield Summer Stage has a great reputation of putting on stellar productions."
New Westfield grad TJ Vinsavich, who'll major in theater at VCU, plays Finch. "He's ambitious and charismatic and uses a book to trick people to get ahead in the business world," said Vinsavich. "Yet, at the same time, he's very likeable. It's fun experimenting with new ways to say his lines because he acts differently with different characters to manipulate them."
Vinsavich's favorite number is "Brotherhood of Man," the musical's last big number. "It's really energetic," he said. "There's exciting choreography and the show builds to a crescendo with this song. The audience will like the show's funny characters, plus the satire – poking fun at the business world and its inefficiency – and how everybody is so focused on image that they don't realize how foolish they are."
Portraying secretary Rosemary Pilkington, who wants to marry Finch, is Robinson Secondary grad Maddy Ingram. "She wants to be a typical, 1960s housewife," said Ingram. "She's naïve, but driven, and can be a bit of a ditz; but she's also passionate about becoming a wife."
Ingram likes the "Act I Finale" number because "it's the first time Finch realizes he's actually in love with Rosemary and it's not just her chasing him. The show spoofs the 1960s ideal, is fast-paced and has so much going on that it's fun to watch; and the audience will love all the good one-liners."
Centreville High senior Joshua Ewalt plays company President J.B. Biggley.
"He's the big boss, but he's not the one in charge when it comes to his wife and mistress," said Ewalt. "Despite being an authoritative type, he also likes things like knitting because it calms him. He's attached to his college, Old Ivy, and he uses different voices on the phone, depending who he's talking to."
He's fun to play, said Ewalt, because "he's a goofy character with so many parts of his personality and mannerisms at odds with each other. And I get to make funny voices and faces." Ewalt especially likes the song, "I Believe in You," which Finch sings to himself in a mirror, because "it's an amazing ballad and one of the show's high points."
"It's an incredibly funny musical," he continued. "There's slapstick for kids and smart jokes for adults and tons of wonderful music. Our sets and costumes are excellent, and it's a colorful and vibrant show."
Playing Biggley's nephew, Bud Frump, is Robinson grad Jamie Green. He knows the role well, since he understudied it in Robinson's 2012 production of this show. "Frump's snide, arrogant and not a good worker," said Green. "He has neither the talent, nor the will, to strive in his job. He only has it because he's the boss's nephew, and he does lots of nefarious plotting and blackmail."
It's fun to play, said Green, because "Who doesn't want to be a snide, annoying, little brat? He's never dull, and I have lots of good lines and a song to myself." He said the audience will enjoy this show's "cheeky dialogue and attitude – everyone's plotting against somebody else. And the set's really impressive; it's huge and even has a working elevator. There's a talented cast and I'm really happy to be part of it."
Westfield junior Shaina Greenberg plays Smitty, a secretary in personnel.
"She's Rosemary's rational side and nerdy best friend," said Greenberg. "She wears quirky glasses and is a distinct character. She also helps Rosemary get with Finch and is the glue that holds the office together. She's sarcastic and dry, and it's fun playing someone I can connect with so well because my dad and brother are sarcastic, too."
Greenberg likes the song, "Coffee Break," because it's "super-physical and the dancing's fun to do. And I like singing it because it takes something so common and makes it really dramatic – and the music, itself, is great." As for the show, she said, "People who've worked will be familiar with what goes on in this office. But with all the business, love and comedy, there's something for everybody."