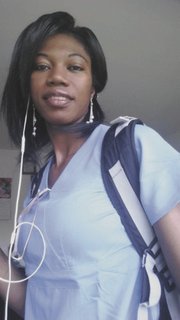 The Commonwealth Long Term Care Foundation announced Arielle Mewou as the recipient of this year's Regirer Nurse Scholarship. Mewou is a certified nursing assistant at Vinson Hall Retirement Community.
The Regirer Nurse Scholarship Program was started to promote and support the education of nurses working in Virginia Health Care Association facilities. The Program's aim "is to inspire, teach, and empower nurse managers seeking to grow as leaders and become catalysts for change." The Commonwealth Long Term Care Foundation awarded 36 recipients $1,500 towards furthering their nursing education.
Mewou's application for the scholarship was a lengthy process. She was interviewed by a member of the foundation's committee before being selected. To qualify for a scholarship Mewou says that, "Besides working with Vinson Hall Retirement Community [a VHCA facility] for more than a year, candidates have to prove, during an interview, their capacity to handle the possible positions after they get their education." Mewou works as a certified nursing assistant at Arleigh Burke Pavilion, the assisted living facility of Vinson Hall Retirement Community. Since 2008, four Vinson Hall nursing assistants have received the Regirer Nursing Scholarship.
Mewou plans to use her scholarship funds right away. "I have plans to go further in education because I am already in school and my main goal is to be a Medical Surgical Nurse." Mewou is currently enrolled in the nursing program at Northern Virginia Community College. Receiving this award allows nursing assistants working in long-term healthcare to continue their education towards full nursing certifications. "This scholarship gives me more motivation and confidence, and my patients benefit from my skills and from the quality of care that I am learning." Each recipient agrees to continue working in long-term care after graduation.