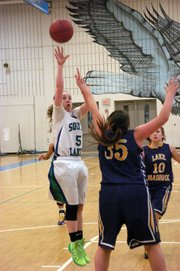 As a junior, Caitlin Jensen helped the South Lakes girls' basketball team reach the 2013 state tournament, providing a signature moment when she knocked down a game-winning, buzzer-beating jumper against a talented Mount Vernon team in the second round of the Northern Region tournament.
As a senior captain, Jensen was part of a Seahawks team that finished 23-4 and captured the 2014 Conference 6 championship. She participated in the 10th Suburban Classic all-star game on March 23, knocking down four 3-pointers en route to a game-high 22 points.
Now, the recent South Lakes graduate is taking classes at the University of Mary Washington and will play point guard for the women's basketball team in the winter. Jensen recently participated in a Q and A via email with The Connection.
*Connection: What made Mary Washington the right fit for you?
Jensen: I chose Mary Washington because I loved the fact that it was academically challenging but still a very competitive athletics school. It also gives me a chance to come in right away and make a difference on the team. The girls on the team welcomed me as if I had been playing with them for years and the coaching staff did everything in their power to make me feel at home.
*Connection: What is your major?
Jensen: My major is going to be in business with hopefully a double minor in social justice and biology.
*Connection: What position will you play?
Jensen: I play point guard.
*Connection: At what age did you start playing basketball? When did you realize playing college basketball was a possibility for you?
Jensen: I started playing basketball ever since I could remember. I would always go outside with my dad or grandpa and make them rebound for me. I started realizing it was a real option for me because of both my trainer, Mandy, and my coach, Christy Winters Scott. Both of them were willing to help me and gave me advice on how to contact colleges, gave me film to watch to improve and always pushed me to play with the older girls, which made me see that I could play at the same level they were playing.
*Connection: What is your favorite memory of playing basketball at South Lakes?
Jensen: My favorite memory would just be anything with my teammates --- celebrating after wins, going out to eat with them after, our dancing before the games. They were the best teammates I could have asked for and thankfully we have all stayed close!
*Connection: If you could go back and change one thing about your high school athletic career, what would it be?
Jensen: I would have to say there are three things. The first one would be stopping [Madison's] Megan LeDuc from shooting that [game-winning] half-court shot in the district semifinals two years ago. The second would be our loss to Centreville [in the 2014 region tournament] and not stepping up as a leader or player as much as I could have. Lastly, I would say I wish I had played better than I had. Some games I disappeared and now looking back at that I wish I had stepped up more, but it has only made me grow as a player.
*Connection: What are you most looking forward to about the transition from high school to college?
Jensen: I am definitely looking forward to the freedom and the complete access to gyms and weight rooms instead of having to wait for gym space to open up or calling my coach so that she would come open the gym. I am also excited about being away from home so that I can grow and start to learn how to really balance my schedule.
*Connection: Who is your favorite music artist? Why?
Jensen: My favorite music artist would have to be almost anything country, like Carrie Underwood or Florida Georgia Line. Country is just something I can listen to on long road trips and it can be very relaxing.
*Connection: What is your favorite movie? Why?
Jensen: My favorite movie is "Bridesmaids" or "Pitch Perfect." Both movies were basically team movies where we would always quote them or watch them together, not to mention they are both hilarious.
*Connection: What is your favorite food?
Jensen: Chipotle. I eat it all the time and never hear the end of it from anyone!
*Connection: What is your favorite hobby outside of basketball?
Jensen: I actually love working. It's nice to hang out with friends and go exploring, but working has given me a very satisfying feeling and working in a very friendly and open environment makes it even better.
*Connection: What location is the farthest you have traveled from the Washington, D.C. metro area?
Jensen: The farthest I have ever been would probably be when my family took a trip to Sicily and Naples.
*Connection: Did you follow the World Cup? If so, for which team(s) did you cheer?
Jensen: I follow the World Cup very closely and since the beginning I have wanted Germany to win!