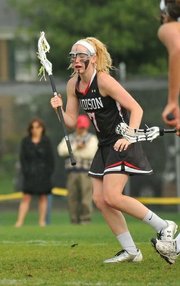 Katie Kerrigan was a two-sport standout at Madison High School known for her hustle and play-making ability. On the basketball court, Kerrigan was a relentless defender who helped bring the Warhawks within one victory of the state tournament during the 2013-14 season. On the lacrosse field, the 2014 graduate was an offensive threat who helped win two state championships in her four varsity seasons.
"She's one of those girls if she decided basketball was her main sport, she would have been a Division I basketball player," Madison girls' basketball coach Kirsten Stone said. "She's just an athlete and a workhorse."
Kerrigan, however, chose to play lacrosse in college, and she will suit up for Ohio State University in the spring. Kerrigan recently participated in a Q and A via email with The Connection.
*Connection: What made Ohio State the right fit for you?
Kerrigan: I chose Ohio State because I've always wanted to go to a big school that was so involved with athletics. It also has a great atmosphere and great academics. I also chose it because right when I met my coaching staff, off the bat I thought they were great and had a winning vision for the program.
*Connection: What is your major? What position will you play?
Kerrigan: I want to major in communications/journalism. I'm not really sure what position I'll play just yet. I'll play attack/midfield.
*Connection: At what age did you start playing lacrosse? When did you realize playing college lacrosse was a possibility for you?
Kerrigan: I started playing lacrosse in sixth grade. I realized playing college lacrosse was a possibility for me when I made the U-15 all-tournament team at nationals with the top lacrosse players in the nation in the summer going into my freshman year. I started getting interest from college coaches in the fall of my sophomore year.
*Connection: You were also a standout basketball player at Madison. Did you ever give any thought to playing basketball in college?
Kerrigan: Since basketball was my main sport, I always thought I was going to play Division I basketball in college. I played AAU basketball starting in third grade and I always pictured myself playing college basketball. But then I caught the lacrosse bug. Through my senior year of basketball, college coaches were still interested. I wish I could play both!
*Connection: What is your favorite memory of playing high school lacrosse?
Kerrigan: Winning two state championships.
*Connection: If you could go back and change one thing about your high school athletic career, what would it be?
Kerrigan: I'd work on my basketball shooting game more during the offseason.
*Connection: What are you most looking forward to about the transition from high school to college?
Kerrigan: I'm excited about the new environment and the challenge of playing lacrosse in the new Big Ten. I'll be competing against the top teams and players in the country.
*Connection: Who is your favorite music artist? Why?
Kerrigan: Mat Kearney, because I really enjoy his songs and they're soothing.
*Connection: What is your favorite movie? Why?
Kerrigan: My favorite movie is 'Elf,' because I love Christmas and Will Ferrell is hilarious.
*Connection: What is your favorite food?
Kerrigan: My mom's lobster bisque soup.
*Connection: What is your favorite hobby outside of lacrosse and basketball?
Kerrigan: I enjoy painting and drawing.
*Connection: What location is the farthest you have traveled from the Washington, D.C. metro area?
Kerrigan: California is the farthest I've traveled.
*Connection: Did you follow the World Cup? If so, for which team(s) did you cheer?
Kerrigan: Yes. Team USA, of course!